Obi-Wan Finale - The Loop
Play Sound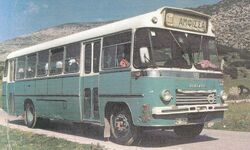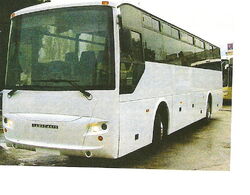 Saracakis Brothers group of companies is a major Greek Commercial and Industrial group, for two decades a traditional competitor to Biamax (between themselves the two companies virtually dominated the bus market in Greece). Two of the most talented Greek vehicle engineers who had worked for Biamax, A. Rizos and I. Dracoulis also worked for Saracakis, Dracoulis having designed the company's characteristic 'Σ' logo, recognizable anywhere in the country.
History
Ioannis Saracakis started his company in Thessaloniki in 1923 importing and selling vehicles and vehicle parts. In 1941 headquarters were moved to Athens, where the Group was formally created in 1954. Production of bus bodies on imported chassis started in 1962, but in 1966 the company introduced its own-developed chassis with Volvo engines. From then on, all Saracakis' own chassis types had designations starting with 'SB' (standing for 'Saracakis Brothers') the first being the SB55 line, on which a variety of city and inter-city buses were developed, followed by SB556, SB85 and SB95. Its first chassisless bus type was the SBAV of 1974, a type improved over the years up to the innovative SBAV90 of 1990. Exports were also made, mainly to the Middle East.
In addition to building complete vehicles (which included light three-wheeler trucks), the company remained a major bus and truck body builder, also assembling 4x4's, tractors, motorbikes, construction equipment, etc.
Its best known bus bodies on Volvo chassis were the articulated models for Athens and Thessaloniki (the company boasts the world's first low-floor articulated bus). Saracakis survived the storm of the early 1980s (the opening of the Greek market to used imports) that almost wiped out the Greek Commercial Vehicle industry, but its import and trading sectors became predominant. Construction of complete vehicles has stopped, but production of bodies continues to date, on a limited scale.
Model range
Add model listing here
References
L.S. Skartsis and G.A. Avramidis, 'Made in Greece', Typorama, Patras, Greece (2003).
External links