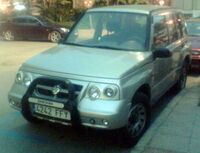 Santana Motor S.A. was a Spanish car manufacturer based in Linares, in the province of Jaén, Spain[2]. The company was founded as "Metalúrgica de Santa Ana, SA" and originally manufactured agricultural equipment.
Santana was set up with a start up of just 3 million pesetas following a drive by the Spanish government in 1954 who were offering start-up incentives to local businesses to encourage development in the Andalucia region of Southern Spain[3]. The company decided to expand beyond its original products line and entered into talks with the Rover car company in 1956 in an attempt to get a licensing agreement to build Land Rover Series models in their factory, in a similar way to the Minerva company in Belgium and Tempo in Germany, both of which built Series Land Rovers under license. An agreement was reached in 1956 and production began in 1958 it was licensed to build Land Rover models. The Santana Motor company built Series Land Rovers under license in CKD form (Complete Knocked Down kits); essentially parts were shipped over from the Land Rover factory in Solihull, and the Land Rovers were built up from this 'kit' at the Santana factory in Spain.
From 1968 Santana began to develop its own versions of the Land Rover Series Models, developing new engines and new models and this close relationship with Land Rover led to the company to change its name from "Metalúrgica de Santa Ana, SA" to "Land Rover Santana, SA" [3].

Also in the 1960s, Santana entered into an agreement with the British Commer truck manufacturer, and produced Commer-Santana branded trucks.
In 1962 the company became responsible for promoting the Santana and Land Rover brands in the Central and South American Markets as well as Africa. CKD kits were also supplied to the Morrocan and Costa Rican markets by the company. Because of the harsh working lives vehicles lead in these environments, customer feedback on the range meant that Santana were often far more aware of each model's failings than the Land Rover company itself was. Because of the tight financial position of British Leyland in this period (who owned Land Rover), Santana were often better placed than Land Rover was to deal with these failings. This meant that Santana began to engineer its own solutions to common problems into the models it produced and so originality between Santana's models and Land Rover's equivalents - a trend which lead to the companies position today. Up to the late 1980s the Santana models - supposed to be quickly and cheaply built versions of Land Rover's own product, often ended up being superior to the Land Rover equivalent. For instance Santana models featured anatomical seats, disc-brakes, turbo diesel engines, taper-leaf springs, parabolic springs, and civilian specification Forward Control models before the Land Rover equivalents and even a civilian version of the Land Rover Lightweight called the "Ligero", which was never released by Land Rover[3].
The Santana Motor Company ended its agreement with Land Rover in 1983 but continued to develop its own range of vehicles which remained visually similar to Land Rover's Series and Defender range.
The Santana Motor Company began a relationship with Suzuki in the early 1980s when Suzuki bought a 20% stake in the company and from 1986 Santana started to produce licensed versions of Suzuki models such as the Suzuki Jimny/SJ and Suzuki Vitara. Although many of its products like the Santana Series VI/2500 were still visually similar to those of the Land Rover range the company moved even closer to Suzuki in 1991 when Suzuki gained a 49% in the company becoming the majority shareholder. A name change followed to Santana Motor,SA in the same year.[4]
By the mid-1990s Santana's relationship with Land Rover seemed to have completely ceased as it was now only producing licensed Suzuki models and production of the Santana Series VI/2500; the last Santana with visual similarities to Land Rover's current utility equivalent - the Defender, ended in 1994. The end of production of the Series VI/2500 was forced by the new owners Suzuki who restructured the company and the production machinery and tooling for the Series VI/2500 was sold to Morattab - an Iranian motor company[4].
However Suzuki did sign a new license contract with an agreement to produce new diesel engined Santana models. This contract was extended in 1997 to 2006 and eventually Santana's development of the Land Rover Defender design led to the production of the Santana PS-10.[5] The PS-10 was released as a concept vehicle in 1999, but production of the PS-10 did not actually begin until 2002.
In 2006 Iveco and Santana signed a long-term agreement to co-develop products.[6] The first offshoot of this co-production was the Iveco Massif, a rebadged and restyled version of the Santana PS-10.[7] The Santana produced Massif will go into direct competition with the Land Rover Defender, the direct descendant of the original utility Series Land Rover which spawned the entire Santana Motor Company.
In 2008 Iveco announced that it has signed an option to buy Spanish government owned Santana Motor, depending on the success of Massif.[8]
In 2011 Santana closed the factory and 1,341 people were let go[1][9].
Past models (incomplete)
Edit
Santana Series II 1958-62
Santana Series IIa 1962-1974
Santana Series III 1974-1979
Santana Series IIIa 1979-1983 (a version of the Land Rover Series III with improvements carried out to common flaws of the model by the Santana Company themselves).
Santana Series VI (also known as Santana 2500) 1983-1994 (Santana's answer to Land Rover's launch of the 90 and 110 range).
Santana 1300 Forward Control 1967-1978 (equivalent to Land Rover's Series IIa/IIb Forward Control).
Santana 2000 Forward Control 1978-? (equivalent to Land Rover's 101 Forward Control).
Santana Militar 1969-? (Santana's equivalent of Land Rover's military vehicle - the Lightweight).
Santana Ligero 1980-? (A civilian version of the Militar).
Santana Cazorla 1982-?
Santana Anibal / Santana PS-10, the Santana Anibal or PS-10 is built on the basis of the Land Rover 109.
Santana 300/Santana 350, The Santana 300 and 350 is a copy of the Suzuki Vitara produced under licence. The 300 is a 3-door model, the 350 is a 5-door
Iveco Massif (produced jointly with Iveco,essentially a rebadged and branded PS-10)
References
Edit

Land Rover World Magazine July 2005, pg66-72
External links
Edit
Community content is available under
CC-BY-SA
unless otherwise noted.