Saleen, Incorporated, commonly known as Saleen, was an American manufacturer of high performance sports cars and high performance automotive parts in Troy, Michigan, formerly based in Irvine, California. Founded by Steve Saleen in 1983, Saleen was a Delaware corporation owned by Hancock Park Associates from 2001 to 2009.
Saleen manufactured limited edition, high-performance vehicles. Saleen was an automotive original equipment manufacturer (OEM) and was the last American small car manufacturer bearing OEM status. Unlike aftermarket "tuner" companies, Saleen was subject to the same federal regulations governing design and testing of their automotive products as larger vehicle manufacturers such as Ford, General Motors, or Toyota. Most of Saleen's vehicles were highly modified versions of existing mass produced sports cars such as the Ford Mustang. Saleen produced over 8,000 modified Mustangs from 1983 through 2009. It also produced modified versions of a number of other Ford models.
Saleen's flagship car was the Saleen S7, introduced in 2000. The S7 is a mid-engine, high-performance sports car that was initially priced at just under US$400,000. The S7 won four different GT championships in 2001 and has broken records at the prestigious 24-Hour Le Mans race. The S7 was Saleen's only production car not based on an existing design or chassis.
The parts and gear department of the company marketed car parts and accessories such as custom wheels, exhaust systems, brakes and other high performance parts. Saleen operated a retail store at the Irvine Spectrum in Irvine, California to sell these car parts and accessories directly to customers and to offer vehicle sales without a need for a sales-lot. However, the store was quietly closed on December 7, 2007.
Saleen operated an assembly plant (Saleen Special Vehicles) in Troy, Michigan where it conducted assembly and painting for the Ford GT for Ford Motor Company and temporarily offered prototyping and show-car building services to other automotive OEMs.
As of mid-2005, Saleen discontinued manufacture of the "Nitrous-ready" N2O S121 Saleen Focus. The 550 hp (410 kW) naturally-aspirated mid-engine Saleen S7[1] was discontinued after the 2004 model year with the introduction of the Saleen S7TT although both editions are commonly referred to as the Saleen S7.
Early years
Edit
The company was founded in 1983 originally as Saleen Autosport by Steve Saleen, a former Formula Atlantic race car driver. The 1st Saleen wasn't produced until 1984 though when they built 3 cars as the first production run - a white hatchback, a copper glow hatchback, and a black hatchback. In 1984, Saleen Autosport became Saleen Performance, Incorporated. In 1985, Steve Saleen's secretary miscounted the vehicles produced that year, omitting vehicle number 6 as a result of confusing it with 9. Since 1985, Saleen has had the tradition of not issuing the #6 bumper number on any of its vehicles. Sometimes, a Mustang equipped with a Saleen aftermarket bodykit will bear 6 as its bumper number, signifying it as a "Fake" Saleen Mustang. Each year up through the eighties, Saleen was able to produce a new record volume of cars. In late 1990, Saleen contracted with Car & Concepts in St. Louis to produce the Saleen Mustang. As the recession of the early 90's hit, so did it a take a toll on production. Cars & Concepts continue production through the 1991 model year when they closed their facility due to their own financial woes. Production was returned in-house to Saleen Performance, Incorporated in 1992. By then, the production of cars had been reduced to 12 for the 1992 model year. Steve Saleen teamed up with comedian Tim Allen in 1993 who helped to promote the Saleen Mustang and received new financial backing through Hidden Creek Industries. With a new financial backing and all-new body style in '94, production numbers began growing again. Beginning in 1995, Saleen-Allen Racing facilitated the start of preparations for the development of a ground-up vehicle project by implementing a 7.0L V8 engine in their track-cars which eventually gave rise to the powerplant utilized in the S7. In 1997, Saleen competed at the 24 Hours of le Mans, ending a 30-year Mustang hiatus from the event. During the development of the Saleen SR, Saleen formed a strategic partnership with BASF that resulted in the development of unique paint color formulations coupled with advertising centered around Saleen products. During this time, the Saleen paint color liztick red, named for Steve's wife, Elizabeth, was developed.
Corporate maturity
Edit
In the late 1990s, the company was renamed Saleen, Incorporated. Hancock Park Associates provided an infusion of financial support to allow Saleen to grow. Beginning at the end of 2004, major shifts occurred in the corporate structure of Saleen, moving away from a race-team style hierarchy toward a structure commensurate with an automotive OEM. It was at this time that the Saleen workforce reached its largest size of 435. At the end of July 2006, to much fanfare, Saleen opened a retail store at the Irvine Spectrum in Irvine, California which quietly closed in December 2007. Beginning with the 2007 model year, the Saleen-designed 450 hp (340 kW) supercharger kit in the F-150-based S331 was offered by Ford as a ship-through Ford-endorsed performance option on Harley Davidson Edition F150s. In early 2007, Daniel Reiner was appointed Chairman and CEO of Saleen. At the 2007 New York International Auto Show, Chip Foose unveiled a Ford-endorsed limited edition F150, powered by the Saleen-designed powertrain used on the Saleen S331SC. On May 14, 2007, Steve Saleen and Billy Tally resigned from Saleen after nearly 24 and approximately 9 years with the company, respectively. At the time of his resignation, Steve Saleen was serving in the position of Vice Chairman of the Board of Directors while Billy Tally was the Chief Officer of Technology. John Spruill, having last served as domestic programs manager, resigned from Saleen in early June 2007 after a nine year tenure with the company to continue his career working with Saleen and Tally in a different business venture.
On August 8, 2007, Paul Wilbur was named President and CEO of Saleen to succeed Reiner while Chris Theodore, formerly VP of Product Development at Ford, was appointed to the position of CTO, filling the position vacated by Billy Tally.
Restructuring
Edit
In early 2008, Saleen began reducing the non-engineering staff located in Irvine, California and consolidating operations in its Troy, Michigan manufacturing plant, relocating its official headquarters to that location. Chris Theodore, previously in the position of CTO, was promoted to the position of CEO at Saleen on August 8, 2008 when Paul Wilbur vacated the position to pursue business opportunities outside of Saleen.[2]
On August 12, 2008 Miedema Auctioneering held a 10 hour auction for Saleen Inc. at 6567 Sterling Drive South, Sterling Heights, MI 48312. During the auction it was possible to obtain everything necessary to assemble a new Saleen Mustang. All factory furniture, tooling, and facilities were for auction. Computers, milling machines, work tables and office equipment hastily piled was listed for sale.[3] On August 18, 2008 Miedema Auctioneering executed a similar auction at Saleen Inc. 76 Fairbanks, Irvine, CA 92618 [4]
Corporate Operations Sale
Edit
On November 11, 2008, Saleen announced intentions for a sale of its corporate operations.[5] Shortly thereafter, the remainder of research and development operations ceased with the departure of the remaining Saleen engineering staff in December 2008. A few months later, on February 2, 2009, MJ Acquisitions acquired the tooling and rights to the design of Saleen's supercharger, along with the aftermarket and high performance street vehicle business units (Ford Mustang and Ford F150-related products). However, the business units associated with the S7 and S5S Raptor in addition to the paint operations (including the Dodge Viper contract) were integral components of Saleen not purchased in the sale.[6]
Originally, MJ Acquisitions stated, "Regrettably, Saleen Inc. is unable to honor any warranties" after ceasing operations.[7][8] Saleen Performance Vehicles, however, reversed their position with a press release on July 24, 2009, stating that all Saleen vehicles are still covered per their original warranties.[9]
The Saleen and Saleen Racecraft brands were owned and operated by MJ Acquisitions, Inc. then Revstone Aftermarket under the name Saleen Performance Vehicles although Saleen, Inc. no longer exists. In March 2011, Revstone Aftermarket, a division of Revstone Industries, announced that Saleen Performance Vehicles would cease production of automobiles under the Saleen brand (approximately three years after Steve Saleen's departure), in order to refocus resources on its more viable aftermarket parts and OEM Tier 1 operations.[10]
Secondary-Manufactured Automobiles
Edit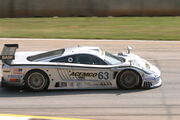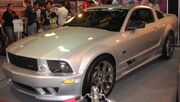 Saleen S281 3V - 360 hp (270 kW) - For the 2008 model year, the naturally aspirated 3-valve possessed an increased power rating in addition to a multitude of small refinements to improve the road-handling of the vehicle.
Saleen S281 RF/AF - the Red Flag (RF) and American Flag (AF) are 465 hp (347 kW) surpercharged versions of the S281. These vehicles offer the thrill of supercharged fun at a discount price. Content such as the SC vented hood, SC rear wing, S281 quarter window trim, and standard S281 seating are omitted. The RF is available in black or alloy with standard red decals while the AF is available in torch red, vista blue, and white with red, white, blue exterior decals. Both came standard with chrome wheels.
Saleen S281 SC - a 465 hp (347 kW) supercharged version of the S281
Saleen S302 E - 620 hp (460 kW) - Borrowing from the S302PJ, the S302E utilizes an engine derived from that used on the Limited Edition but equipped with a Saleen Series VI Supercharger to maximize power. This model replaced the S281E for the 2008 model year.
Saleen SA-25 - Saleen's 25th anniversary, "Sterling Edition" of the S302E
Saleen S331SC - a supercharged, 450 hp (340 kW) performance sport truck based upon the Ford F-150 FX2 and available in both supercab and supercrew variants
Saleen H302 - 390 hp (290 kW) - A follow-on to the H281, this limited-production edition shares the majority of the bodywork of and possesses a high-compression, 302 CID based on those of the S302 Parnelli Jones Limited Edition. Unlike the H281, this version has the same hood scoop as on the S302PJ but lacks the chrome trim accents and is available in all Ford OEM colors except grabber orange. The body side stripes are identical to those on the H281.
Saleen H302 SC - 580 hp (430 kW) - Equipped with a Saleen forced-induction system, this version is an increased performance version of the H302 with options for some of the features that appeared on the S302PJ such as a Watts Link. Due to the supercharger, this vehicle is unable to be equipped with the hood scoop featured on the S302PJ.
Saleen H281 SC Dan Gurney Limited Edition - 465 hp (347 kW) A 2008 model year special edition run of 300 (100 Blue, 100 Red, 100 White) Mustang-based vehicles sporting styling reminiscent of DG's 1969 Boss 302 Trans-Am racer.
Silver-Anniversary Editions - A single, unique vehicle for each of Saleen's products, each vehicle (one each of the S281 3-Valve, S281SC, S302E, S331SC, S331SC Supercrew models) features a silver-themed interior and exterior trim package
Saleen H281 - Introduced for the 2007.5 model year, a limited-production (100-unit) version of the Mustang sharing some bodywork features with the Parnelli Jones Limited Edition but available in different colors and equipped with a 281 CID engine configured similarly to the S281 3-Valve. Key cosmetic differences from the Parnelli Jones Limited Edition include a smaller front air dam, omission of the chrome fascia trim, lack of a hood scoop, the addition of fender badges and a matte-black hood center.
Saleen SR - A 1990s Mustang GT modified with Saleen performance parts and a body kit.
Saleen SSC - A limited edition 1989 only Mustang, the first Saleen with engine and drivetrain modifications. All 161 cars were white hatchbacks with 16" white DP5 wheels, yellow and grey chevron stripes, and all but one omitted the rear seats.
Saleen SC - A limited edition Saleen Foxbody Mustang produced in 1990, 1991, and 1993. 13 Hatchbacks made in 1990; 10 hatchbacks made in 1991; and 3 hatchbacks 2 convertibles in 1993 with Vortech Supercharger.
Saleen SA-5 - A 1988 anniversary prototype. An all black hatchback with black DP5 wheels. Only one car was prototyped as Saleen was not yet ready to produce that year. The Saleen SSC model in 1989 was based on this prototype though the color scheme was changed to white/yellow.
Saleen SA-10 - A limited edition 1993 Mustang intended to commemorate the 10th anniversary of Saleen with 10 cars, but only 9 were built (SA-10 93-0004 wasn't produced). The cars sported a black and yellow paint scheme, 3-piece stern wheels, Alcon brakes, Vortech Supercharger and 2 vehicles featured leather Recaro seats (#03 featured SSC-style FloFits). Not all the SA-10 Mustangs were built identically as the list of performance engine options and interior options available to customers was extensive. Unusual marketing placed the SA-10s on a first-come, first-serve basis to the Saleen Owners and Enthusiasts Club (SOEC) members.
Saleen SA-15 - A Saleen Mustang that commemorated the 15th Anniversary of Saleen in 1998. The SA-15 is a yellow convertible with black decals, the inverse color scheme of the 10th anniversay car, the SA-10. Under the hood of the SA-15 is a supercharged 4.6L while the wheels are yellow 18" Speedline-style magnesium five star rims. First factory supercharged S281 using the Series 1 Eaton blower. Offered by Saleen directly to the customer through the SOEC.
Saleen SA-20 - Ten Custom Pearl White S281 SC Speedsters, featuring matching pearl wheels, black/yellow trim, and tu-tone charcoal/white Saleen seating. Cosmetics include a newly designed tonneau cover, S281 E center exhaust, and E rear spoiler. Ordered through Villa Ford in CA and sold through Saleen, these vehicles once again featured the open option limit to make each vehicle unique. First dibs were offered through the SOEC to current members.
Saleen S351 R-Code - Based upon a V6 (1994, 1996–2000) or GT (1995) Mustang utilizing a supercharged 5.8 Liter Ford Windsor V8
Saleen S281 - Based upon a Mustang GT (or SVT Cobra) with suspension upgrades and stock 4.6L SOHC V8(281 ci), debuted in 1996 and became flagship model for Saleen with the largest production of all Saleen Vehicles.
Saleen S281 3-valve - a 335 hp 5th Generation Ford Mustang with improved aerodynamics through the substitution of a front fascia, rocker panels, rear fascia, and spoiler offered from 2005 to 2007
Saleen S281 Scenic Roof, first edition - available in 3-valve, SC, and Extreme editions, this Mustang has a hand-installed glass full-roof panel and was offered for the 2006 model year with limited production into February 2007. Unlike the version offered across Saleen's models as an option, these were hand-manufactured by the Gaffoglio Family Metalcrafters in Fountain Valley, CA under contract with Saleen.
Saleen S281 Extreme - a 550 hp (410 kW) modified 5th Generation Mustang including a Saleen-built V8 engine replacing the Ford Engine. A front splitter and rear diffuser further improve vehicle aerodynamics. Interestingly, the 6-speed transmission used in this model was originally designed for the Pontiac GTO.
Saleen S302 Parnelli Jones Limited Edition - A 2007 model year special edition run of 500 Mustang-based vehicles sporting styling reminiscent of the 302 Boss for which the first customer vehicle deliveries occurred on 9 November 2006
Saleen S331 - a 325 hp (242 kW) Naturally-aspirated performance sport truck based upon the Ford F-150 FX2 introduced for the 2007 model year
Saleen XP8 - A performance SUV based upon the Ford Explorer with an eight cylinder engine
Saleen XP6 - A performance SUV based upon the Ford Explorer with a six cylinder engine. The Saleen XP6 was an "unintentional" product model; V6 Ford Explorer base vehicles were ordered accidentally and could not be returned to Ford, resulting in a financially-driven decision to convert and sell the vehicles.
Saleen Ranger - A performance truck based upon the Ford Ranger and originally developed for racing during the 1980s
N2O S121 Saleen Focus - a Ford Focus that was pre-wired for use with a Saleen-designed nitrous oxide system. If the system appeared to have been activated, the Ford warranty would be instantly voided. This was the last Saleen product line that was federally recognized as an aftermarket-manufactured vehicle.
Automobiles
Edit
Saleen S7 (2000–2004) - This naturally-aspirated version of the S7 was manufactured until the introduction of the S7 Twin Turbo for the 2005 model year
Saleen S7TT (2005–2006) - A 750 hp twin Turbo version of the S7 with aftermarket options for packages that offer 850 or 1080 hp. As of the 2007 model year, Saleen did not recertify the S7TT for EPA emissions, suggesting that manufacture of the United States street-legal version has terminated.
Saleen S7R (2005–2007) - a non-street legal racing-only version of the S7, intended for races such as the 24 Hours of Le Mans sharing the updated body styling of the S7TT
Saleen S7R (2000–2004) - the original edition of a racing-only version of the S7, designed for races such as the 24 Hours of Le Mans
Canceled programs
Edit
As with all automotive OEMs, Saleen, Incorporated has sustained a number of program cancellations.
Saleen Mustang GTS - A Saleen-built Ford Mustang based upon the V6 platform and sharing styling elements with the S302 Parnelli Jones Limited Edition. This project was canceled by Saleen Executive Management for undisclosed reasons.
Saleen S4 - A high performance sports car sharing styling elements with the Saleen S7 with more compact packaging and a superformed aluminum skin instead of carbon fiber. This vehicle was to have been offered in R (roadster) and C (coupe) variants prior to being canceled.
Saleen S5S Raptor - concept vehicle intended as a successor to the S7
Other products
Edit
iPod adapter - a factory-installed option that was available across all of Saleen's products line that provides for an integrated iPod connection to the radio head unit. Saleen also offered this option as an aftermarket-installed product through their Speedlabs division. Brandmotion was Saleen's supplier for the components of this option.
Series I Supercharger -
Series II Supercharger -
Series IV Supercharger -
Series VI Supercharger - the first forced-induction system developed entirely in-house by Saleen and designed around Lysholm-sourced compressor screws, this supercharger system is available in versions for the 2005-2009 Ford Mustang, the 2004-2008 Ford F-150 5.4L truck, Ford Expedition, Lincoln Mark LT, and Lincoln Navigator.
Saleen Shakercharger - A ram-air intake system for the Ford Mustang incorporating the Saleen Series VI supercharger with a functional hood scoop system borrowing its appearance from the S302PJ. This product was the result of design collaboration among Saleen's engineering interns in 2007 and 2008.
2005-2009 Mustang HID headlamps - OEM, DOT approved bi-xenon headlamps offered by Saleen that fit current-generation Mustangs. As of early 2007, these are the only OEM-grade, street-legal HID headlamps available for the Ford Mustang
Saleen Mustang Scenic Roof - Available across Saleen's mustang-based products, this comprises a glass full-roof panel that replaces the traditional mustang coupe roof in lieu of a sunroof option. The scenic roof was manufactured from tempered laminate glass and fully certified according to NHTSA standards.
Mustang "sleeper" package - a Saleen S281 Supercharger package offered for otherwise stock Ford Mustang GTs. Sold/offered by Saleen Dealers with a Saleen powertrain warranty and a limited number of non-Saleen Ford dealers without a Saleen powertrain warranty. Vehicles so equipped typically feature charcoal cloth interiors, IUP package, base painted 17" GT wheels, and a stock GT rear wing.
Media appearances
Edit
Saleen Vehicles have appeared in the following:[11]
"Bruce Almighty" Saleen S7 2003
"Hollywood Homicide" Saleen S281 SC 2003
"2 Fast 2 Furious" Saleen S281 SC 2003
"The Bachelor" Saleen S7 and S281 SC 2007
"Red Line" Saleen S7 Twin Turbo 2007
"Entourage" Saleen S7 Twin Turbo 2007
"Iron Man" Saleen S7 Twin Turbo 2007
"Transformers" Saleen S281 Extreme 2007 (When GM purchased the product placement rights of the heroic Autobot vehicles, a rival was needed. To avoid legal issues with Ford, Saleen was approached to supply the villainous police car.)[12]
References
Edit
External links
Edit

Community content is available under
CC-BY-SA
unless otherwise noted.