Jurassic World: Dominion Dominates Fandom Wikis - The Loop
Play Sound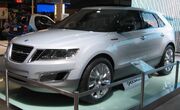 The Saab 9-4X is a mid-size crossover SUV introduced by Swedish automaker Saab Automobile at the LA Auto Show 2010. It is based on the all-wheel drive GM Theta Premium platform. The 9-4X will begin production in 2011[2] and is scheduled to be built at Ramos Arizpe, Mexico. The main challenge, according to Svante Kinell at the marketing department at Saab, is to find the right Diesel engines for the European market.[3] As a result, the vehicle is V6-only.
The focus of the 9-4X took shape once the Saab 9-6X project was cancelled, after the divestment by General Motors of its holding in Subaru. The 9-4X will replace the larger U.S. built Saab 9-7X SUV, production of which ceased in December 2008. The 9-4X concept made its debut at the 2008 North American International Auto Show.[4]
The Saab 9-4x crossover has entered production at General Motors' Ramos Arizpe, Mexico plant. Per the report, 147 examples of the 9-4x were produced, 49 of which occurred the week of January 23, 2010.[5]
The car will be released at the 2010 LA Auto Show as a 2012 model year vehicle. The production car will be almost identical to the concept on the exterior and be similar to the 2010 Saab 9-5 on the inside. The car is slated to be start selling as a 2012 model year vehicle in May in the US and in August elsewhere.
References
↑ "First Saab 9-4X rolls off the assembly line". autoblog.com. Retrieved on

2011-02-17

.
↑ Hetzner, Christiaan (January 13, 2009). "Saab's U.S. margins improve as sales plunge". Reuters. Retrieved on

January 17, 2009

.
↑ de Oliviera, Paolo Soares (November 14, 2005). "Saab considers sports car, plans SUV; two-seater concept will be shown at Geneva show". AutoWeek.
↑ "Saab small SUV set for production in Mexico". Auto123.com (October 8, 2007). Retrieved on

October 10, 2007

.
↑ "2011 Saab 9-4X Now In Production, Good Omen for Saab Survival?". TheCarConnection.com (January 25, 2010). Retrieved on

January 25, 2010

.
External links
Current owner
Previous owners
Current models

Saab 9-3

 •

Saab 9-3X

 •

Saab 9-5

Future models
Cancelled
Historic

Saab 92

 •

Saab 93

 •

Saab Sonett

 •

Saab GT750

 •

Saab Sport

 •

Saab Formula Junior

 •

Saab 95

 •

Saab 96

 •

Saab Sonett

 •

Saab 600

 •

Saab 99

 •

Saab 90

 •

Saab 900

 •

Saab 9000

 •

Saab 900 (NG)

 •

Saab 9-2X

 •

Saab 9-7X

Concept cars

Historic:

Saab Quantum

 •

Saab 98

 •

Saab EV-1

Recent:

Saab 9-X

 •

Saab 9-3X

 •

Saab Sport Hatch

 •

Saab Aero-X

 •

Saab 9-X Biohybrid

 •

Saab 9-X Air

 •

Saab PhoeniX

Prototypes

Historic:

Saab 92001

 •

Saab Toad

 •

Saab Catherina

 •

Saab Daihatsu

Recent:

Saab 900 Aero

 •

Saab 9-5 Aero BioPower

 •

Saab 9-3 BioPower Hybrid Convertible

Engines

Saab two-stroke

 •

Ford Taunus V4 engine

 •

Triumph Slant-4

 •

Saab B engine

 •

Saab H engine

 •

Saab V8