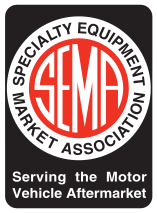 Specialty Equipment Market Association (SEMA) of the automobile aftermarket was formed in 1963 by Roy Richter, Ed Iskenderian, Willie Garner, Bob Hedman, John Bartlett, Phil Weiand, Jr., Al Segal, Dean Moon, and Vic Edelbrock, Jr. and now consists of 6,764 companies worldwide, bringing together aftermarket manufacturers, original equipment manufacturers, media, car dealers, specialty equipment distributors, installers, retailers and restoration specialists.
Products in this $27.8 billion-a-year industry include performance and racing components, cosmetic and functional accessories, wheels and tires, mobile electronics, safety products, restoration parts, handling equipment, drivetrain parts and more. The industry covers muscle cars, classics, luxury vehicles, sport compacts, street rods, light trucks (off-road and sport trucks) SUVs and recreational vehicles.
SEMA provides services for employees of its member companies that include education and professional development, market research, legislative and regulatory advocacy, industry publications, international business development and business to business events.
The largest of the SEMA events held annually during the first week of November is the SEMA Show at the Las Vegas Convention Center in Las Vegas, Nevada in conjunction with the Automotive Aftermarket Industry Week. As part of this event, SEMA and other automotive aftermarket trade groups make-up one of the single largest events on the Las Vegas calendar. This is a title formerly held by the now defunct COMDEX show. This auto show is not open to the public. Registration as media, manufacturer, buyer or exhibitor is required.
Originally, the SEMA acronym stood for Speed Equipment Manufacturing Association. In 1970, government regulations became an issue and the name was changed to Specialty to improve the overall image of the association.
Founding members of SEMA
| | |
| --- | --- |
| Company | Founder |
| Ansen Automotive Engineering | Louie Senter |
| B&M Automotive Products | Bob Spar |
| Cragar Industries Inc. | Roy Richter |
| Eelco Manufacturing & Supply | Els Lohn |
| Grant Industries | John Bartlett |
| Ed Iskenderian Racing Cams | Ed Iskenderian |
| Milodon Engineering | Don Alderson |
| Moon Equipment Company | Dean Moon |
| Schiefer Manufacturing | Paul Schiefer |
| Trans Dapt | Willie Garner |
| Weber Speed Equipment | Harry Weber |
| Weiand Power & Racing | Phil Weiand |
| Dempsey Wilson Racing Cams | Dempsey Wilson |
Charter members of SEMA
Former Chairmen
SEMA show
Edit
The SEMA Show is the premier automotive specialty products trade event in the worldLas Vegas Convention Center. As part of the AAIW, the SEMA Show attracts more than 100,000 visitors from over 100 countries in the automotive, truck and SUV, and RV markets. SEMA Show 2010 drew over 50,000 domestic and international buyers through two million square feet of exhibits. The displays are segmented into 12 sections, and a New Products Showcase featured nearly 2,000 newly introduced parts, tools and components. In addition, the SEMA Show provides attendees with educational seminars, product demonstrations, special events, networking opportunities and more. The next Show takes place at the Las Vegas Convention Center, Las Vegas, Nevada, from Tuesday, November 1 to Friday November 4, 2011.
. It draws the industry's newest products to one place, the
SEMA awards
Edit
Since 2003, the GT awards have been presented at the SEMA Auto Convention, and these include categories such as Best in Show, Best Hot Rod and Best European Import.[1][2][3]
SEMA Action Network
Edit
Since 1997, the SEMA Action Network (SAN) has been a grassroots network for the automotive hobby. The SEMA Action Network is a partnership between enthusiasts, vehicle clubs and members of the specialty automotive parts industry in the United States and Canada who have joined forces to promote automotive hobby-friendly legislation and oppose, what they consider, unfair laws.
In the past, the SAN has successfully:
Enacted street rod and custom vehicle (including kit cars and replicas) registration and titling laws in over 20 states
Protected classic vehicles waiting to be restored on private property from confiscation
Safeguarded legal off-road nitrous oxide use with SAN model legislation
Defended enthusiast's right to use aftermarket exhaust systems
Junked state level "Cash for Clunkers" legislation
Enacted legislation to lower taxes and fees for hobbyist vehicles
Advocated to ensure public lands remain open to responsible off-road recreation
See also
Edit
References
Edit
External links
Edit
Community content is available under
CC-BY-SA
unless otherwise noted.