Jurassic World: Dominion Dominates Fandom Wikis - The Loop
Play Sound
SAME Deutz-Fahr is an Italian manufacturer of tractors, combine harvesters, engines and equipment.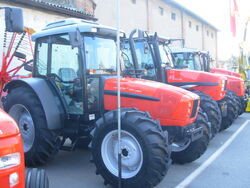 Summary
They build tractors under the SAME, Lamborghini, Hurlimann and Deutz-Fahr brands, and combines under the Deutz-Fahr and Ðuro Ðakovic brands, and Grape harvesters under the Gregoire brand. SDF builds some tractors for AGCO, of which they own a small percentage.
History
The SAME (Società accomandita motori endotermici) company was founded in Treviglio (Bergamo) by Eugenio and Francesco Cassani in 1942, right in the middle of World War II, with bombardments, lack of raw materials and very few production facilities.
At the end of the 1920s, Francesco Cassani had designed a tractor equipped with a diesel engine that, due to various constructive difficulties, had not been as successful as it technically deserved to be. In the 1930s, he also designed diesel oil engines for trucks (50 HP), for boats (6 cylinders with 6 opposed pistons) and for aeroplanes (800 HP).
During the same period, Francesco Cassani founded SPICA (Società pompe iniezione Cassani), a company specializing in the construction of injection apparatuses for diesel engines (pumps, automatic spark advance governors, injectors) achieving considerable success in spite of the technological, industrial, financial and political monopoly of the German company Bosch. SAME's first products were small engines for stationary applications, until, with a motorized mower first, and then in 1948 with the small all-purpose 10 HP tractor, it made its debut in the field of agricultural tractors.
And it is precisely in this sector that SAME was most comfortable, so much so, in fact, that after more than 50 years of continuous activity, and after having purchased the Hürlimann, Lamborghini and Deutz-Fahr brands, today it is the fourth leading tractor manufacturer in the world.
Time line
1927 - Francesco Cassani develops the first "farm tractor" in the world with a diesel engine, and in 1928 has plans for the four-wheel drive system.
1942 - after many years in cutting-edge diesel engine and injection pump design, Francesco Cassani founded SAME (società accomandita motori endotermici) at Treviglio with his brother Eugenio.
1951 - Francesco Cassani, who had always favoured air cooled engines, designed a new series of modular engines.
the SAME DA25, the first tractor with four wheel drive, together with SAME DA30, brought SAME four-wheel drive onto the market.
1958 - the first Automatic Control Station (SAC) was introduced by SAME. Over the next years this system was applied to the 240, 360 and 480 models known as the "intelligent tractors".
1961 - it is the year of SAMECAR's Puledro, the tractor that works the soil and carries products. Followed by the

SAMECar Toro

, a construction yard machine. A new line of 6 and 8-cylinder "V" engines at 60° is also born
In the sixties SAME continued to expand successfully abroad, beginning near at home: in Holland, Belgium, Switzerland, Britain, Spain, Greece and Portugal four-wheel drive began to take hold.
1965 - launch of the

SAME Centauro

60 hp (45 kW) tractor from which were derived the LEONE 70 and MINITAURO 55, the tractors which established SAME's reputation around the world.
1971 - the last official act of Cassani's life was the acquisition of Lamborghini Trattori S.p.A., which was founded by

Ferruccio Lamborghini

, creator of the Lamborghini cars.
July 1973 - Francesco Cassani died and the young Vittorio and Luisella found themselves with the daunting task of transforming a family business into an organization based on structured hierarchy and procedures.
1973 - the

SAME Panther

is launched with the 5 cylinder engine. SAME introduced distinctive immersed injection pumps, along with syncromesh gearbox and hydrostatic power steering.
1975 - launch of

SAME Tiger 100

with original SAME cab and oil immersed disc brakes hailed as the best European tractor in the 100 hp range.
1977 - the group was given the opportunity to make a new prestigious takeover, this time in Switzerland: HURLIMANN.
1979 - SAME become officially the SAME-Lamborghini-Hurlimann (SLH) group, the second largest tractor manufacturer in Italy and one of the world leaders.
1983 - launch of the LASER and EXPLORER model families with 1000cc engines and three-shaft gear boxes. For the first time close attention was paid to aesthetic styling by GIUGIARO's ITALDESIGN.
1991 - the TITAN is introduced with the new SLH Electronic Full-Power Shift transmission (27F+27R in three ranges)). The design is used also in tractors of other engine outputs.
1993 - Small tractors are designed, a range of low-power machines for traditional applications, not only for agricultural uses.
1976 - SAME purchased Hurlimann, based in Switzerland, and later changed their name to S-L-H (SAME-Lamborghini-Hurlimann).
1995 - SAME purchased Deutz-Fahr from KHD in Germany, and changed the corporate name to SAME Deutz-Fahr. The production of combines was out-sourced to AGCO.
2002 - SDF bought out Greaves of India. They were in a joint venture with the Greaves company of India and built the Same Greaves tractors.
2003 - SDF invested in Deutz AG, the German engine-manufacturer, also formerly part of

KHD Group

.
2003 - SDF also purchased 10% of the Finland-based Sampo Rosenlew, a manufacturer of forestry equipment and combines.
2005 - SDF purchased the Ðuro Ðakovic combine business based in [[[Croatia]]. Ðuro Ðakovic built combines licensed from Deutz-Fahr, and provided SDF with combine manufacturing facilities.
May 2008 - SDF signed an agreement with Argentinean combine maker Vassalli Fabril to use its existing rotary combine technology in its Deutz-Fahr combines. The two companies will also work jointly on developing the technology in the future.[3][4]
2011 - Agreement to purchase French-based

Gregoire

, a manufacturer of grape harvesting equipment.[5]
2011 - 50/50 joint venture formed with Shandong Changlin: Shandong Changlin DEUTZ-FAHR Machinery CO., LTD., to manufacture and distribute tractors from 25 to 110 Hp under the

SH Deutz-Fahr

brand and from 110 to 300 Hp under the Deutz-Fahr brand.
2012 - SAME Deutz-Fahr Kirovets Ltd, a 50/50 joint venture between SAME Deutz-Fahr and JSC Kirovsky Zavod or Russia, is formed. The company produces tractors under the Deutz-Fahr Kirovets brand.[6]
Model range
See separate pages for the different brands.
See also
Related companies
Collecting
References
External links
Template:SAME Deutz-Fahr group
Early Makes - pre 1940s

1940s to 1980s

Modern post 1980s

SAME Deutz-Fahr Group

Independents
North America

Europe

India & Pakistan

Middle East
(Turkey, Iran,
Iraq, Syria etc...)

Far East
(Australasia, China,
Japan, Korea, Thailand,
Vietnam etc...)

South America
(Argentina, Brazil,
Uruguay etc)

Africa

Asia
(Russia, Tajikstan,
Uzbekistan, Ukraine)

Specialist types of tractor

Notable People - associated with the tractor industry

Inventors