The Ruston-Bucyrus company of Lincoln was created by Ruston & Hornsby of Lincoln, England and Bucyrus-Erie of Ohio, America.
History
Formed in 1930 by Ruston & Hornsby of Lincoln, England and Bucyrus-Erie of Ohio, America. The Ruston company already had a long history of producing Steam excavators from the earliest machines. Both companies having then moved on to produce the new engine driven machines replacing steam driven ones.
The Beginnings of Steam Excavators
Earliest history to go here e.g. Otis steam excavator patent.
The Ruston Proctor Years
The Ruston Hornsby Years
Ruston-Bucyrus Ltd era
Ruston-Bucyrus Ltd was established in 1930 and jointly owned by Ruston and Hornsby based in Lincoln, England and Bucyrus-Erie based in Bucyrus, Ohio, the latter of which had operational control[1] and into which the excavator manufacturing operation of Ruston and Hornsby was transferred. (Rustons then concentrated on engines and other machinery such as rail locomotives). Ruston-Bucyrus fitting Ruston engines to many of there machines.
The Bucyrus-Erie Years
Gradually Universal Excavators designed by Bucyrus-Erie replaced Ruston and Hornsby designed models[1] Ruston-Bucyrus built larger machines for the British market to Bucyrus-Erie designs. The Bucyrus-Monigan 5W was a top seller for export by Ruston-Bucyrus, thus they started building it. This was a walking dragline, with either Diesel or electric powered options.
Split from Bucyrus
The UK Firm was split in 1985 into Bucyrus Europe Ltd and RB Lincoln Ltd.
RB Lincoln then acquired the Pegson Crusher lines in 1989, and the Priestman excavators and grabs lines in from the failed Sanderson Group (the Winget Dumpers range went to Seddons Plant & Engineers of Bolton and the Forklifts went to Avelling Barford who continued to build the Telehandlers but the are reputed to have suffered from quality control issues. then to Caterpillar). Pegson crushers were subsequently sold off in 1996 to Powerscreen who were then taken over by Terex group when they had financial difficulties in 1999.[2]
Bucyrus Europe then went on to acquire the Rapier

Walking Dragline

division from NCK-Rapier parent company

Newton, Chambers & Co.

.
The R-B International era
In 1985 Ruston Bucyrus was bought by its management, severing all links with Bucyrus-Erie resulting in the formation of R-B Lincoln, which became R-B International, a subsidiary of Lincoln Industries (part of The Heather Corporation Ltd).[1] Production of existing Ruston-Bucyrus designed cable excavator/crane models from the 22RB to the 71RB continued at the Lincoln factory with 'Improved Crane Dragline' versions also offered.
From 1985 onwards all new machines carried the 'RB' name instead of 'Ruston-Bucyrus'.
In 1987 a new mechanical/hydraulic powered 51-60 model developed from the 38-RB was offered for use as a crane or dragline excavator.[1]
In 1990 RB bought from its rival Priestman, the design and manufacturing rights to Priestman's Variable Counterbalance hydraulic/cable long reach excavator range and its extensive range of Grabs.
In 1992 RB introduced its CH series of fully hyrdraulic crane/dragline models with further models added in 1999.
In 1996 R-B changed ownership in a buy-in management buy out,[3] but in 2000 R-B International entered voluntary administration as a tough trading environment including a strong Pound and stiff competition from overseas competitors meant it could no longer continue as a going concern without a significant injection of capital.[4][5]
RB Cranes era
Having entered administration on the July 3, 2000[5] and following unsuccessful attempts by Daniel E. Davisto, former president of Favelle Favco to buy the company.[6] R-B International was sold on December 22, 2000 to Langley Holdings plc as a going-concern and a new company 'RB Cranes Ltd' was created. A day earlier on December 21, 2000, Langley Holdings plc had acquired the material-handling division of Rolls-Royce PLC which became the Clarke Chapman Group comprising Cowans Sheldon, RB Cranes, Stothert & Pitt, Wellman Booth as its principal subsidiary companies.
In January 2001 Clarke Chapman ceased production at RB's Lincoln works with production transferred to facilities in

Retford

and

Gainsborough

.
Following a rationalisation of the RB product line, as of 2008 RB continue to offer the CH40, CH50, CH70, CH80, CH100, CH135 and CH135LJ Hydraulic Crawler Cranes as well as specialist variants for Dockside usage[7][8] RB also offer the CH E (Series CH50E & CH70E) for dragline and clamshell grab applications [9] and the CH HD (Heavy Duty) (Series CH50D & CH70D) for adaption for piling and foundation engineering applications e.g. as a piling rig.[9]
RB continued to offer four models of Variable Counter-balance hydraulic long reach excavators, the VC20-15, VC20-17,VC20-20 and VC20-22 [10] and also continued to offer the RB Priestman range of grabs for excavation and material rehandling applications.[11]
More change
On October 14, 2009 the business RB Cranes was sold by Langley Holdings plc to Delden CSE Limited, the business has been moved to Delden CSE's pemises in Selston, Nottinghamshire.[12]
Other Ruston-Bucyrus Products
In 1934 they started building Rock (blast) hole drilling rigs for use in quarries, opencast sites and Civil engineering applications. Thes could drill from 4" up to 12" Dia. holes and down to 700 ft.
In 1937 they started making Bulldozer gear to fit to International Crawler tractors, as was supplied in American by Bucyrus-Erie.
In 1938 they introduced a range of towed scrapers to complement the Bulldozers. These were again based on B-E designs.
Model Range Listing
Rustons
Ruston No. 60

Ruston No. 75

Ruston No. 100

Ruston No. 120

Ruston No. 160

Ruston No. 250

Ruston No. 135 Stripper

Ruston No. 300

Ruston No. 6 Excavator

Ruston No. 4 Universal

- 1926-34 Various engine options, 360 sold by 1931 when MkII introduced. Ultimately replaced by the

10-RB

in 1934.

Ruston No. 3 Universal

- 1929-1934 29 hp 4 cylinder petrol engined, with just 14 no. built
A special m/c a Shale cutter was designed for cutting clay for London Brick Company. 5 built of various chain lengths.
RB Models
Ruston-Bucyrus No.4

- 1932 1/2 cu yd

Ruston-Bucyrus 21-B

- 1932-39 3/4 cy yd Universal

Ruston-Bucyrus 32-B

- 1932-38 1 cu yd Universal

Ruston-Bucyrus 37-B

&

37-RB

- 1932-49 1-1/2 cu yd Universal

Ruston-Bucyrus 43-B

& 43-RB - 1931-55 1-3/4 cu yd

Ruston-Bucyrus 52-B

- 1931-36 2-1/4 cu yd Quarry & Mining Shovel

Ruston-Bucyrus 52-B Ward Leonard

- Electrical control system

Ruston-Bucyrus 55-RB

- 1936-45 2-1/2 cy yd Face shovel

Ruston-Bucyrus 100-RB

- 1933 3 cu yd

Ruston-Bucyrus 14-RB

- 1934-37 1/2 cu yd Universal ( replaced no.4) (115 built)

Ruston-Bucyrus 16-RB

- 1934-37 5/8 cu yd Universal (123 built)
Ruston-Bucyrus 10-RB - 1934 3/8 cu yd Universal To compete with Priestman Cub (in Dragline, Face shovel, Skimmer or Backactor form) Welded frame construction.

Ruston-Bucyrus 17-RB

- 1937 1/2 yd

Ruston-Bucyrus 19-RB

- 1937-67 5/8 yd

Ruston-Bucyrus 20-RB

- 1939 3/4 cu yd

Ruston-Bucyrus 30-RB

Ruston-Bucyrus 37-B

Ruston-Bucyrus 38-RB

Ruston-Bucyrus 50-RB

Ruston-Bucyrus 61-RB Face Shovel

71-RB

Dragline 4.5 cu yd. Bucket, 246 hp Cummins NT 855 PTC 6-cylinder or a 265 hp GM Detroit Diesel 12V-71N 12-cylinder engine. 90 ton

Ruston-Bucyrus 110-RB Face shovel

Ruston-Bucyrus 150-RB Face shovel

Ruston-Bucyrus 190-RB
Blast hole Drills
Ruston-Bucyrus Model 26 Drill

Ruston-Bucyrus Model 30 Well Drill

Ruston-Bucyrus RB 22-W

/

Ruston-Bucyrus 22-RW

Ruston-Bucyrus RB 27-T

/

Ruston-Bucyrus 27-RT

Ruston-Bucyrus RB 42-T

/

Ruston-Bucyrus 42-RT

Ruston-Bucyrus RB 60-RL

- 1952
RB Bulldozers and scrapers
RB S-46 5 cu yd
RB S-68 6 cu yd
RB S-91 8 Cu yd
RB S-152 10 cu yd
RB Hydraulic Machines
RB 3-RB

- 1963 1st hydraulic machine

RB H-1

- 1971

RB 375-RH

- 1976 Hydraulic Shovel

RB 375-RSS

- 1983

RB 220-RHI

- 1983

RB 220-RS

- 1983

RB 220-RH

RB 195-RB

- 1974 Hydraulic Face shovel

RB 190-RH

RB 175-RH

- 1983

RB 150 RHW

- 1983

RB 150-RH

- 1974
Ex Priestman/Sanderson long reach models aquired in 1990
RB VC-15

RB VC-20

RB VC-30
Preserved Machines
There are quite a number of machines preserved in the UK, several in museums. Others in private collections, some of which have been restored to working order.
This machine was originally used at a chalk pit at Arlesey, in Bedfordshire, England. After the pit was closed, the steam navvy was simply abandoned and 'lost' as the pit became flooded with water. By the mid-1970s, the area had become a local beauty spot, known as The Blue Lagoon (from chemicals from the quarry colouring the water), and after long periods of no rainfall, the top of the rusty navvy could be seen protruding from the water. Ruston & Hornsby expert Ray Hooley got to hear of its existence, and organised the difficult task of rescuing it from the water-filled pit. Ray arranged for its complete restoration to working order by apprentices at the Ruston-Bucyrus works. Subsequently it passed into the care of "The Museum of Lincoln Life", although it is not known whether it remains in operational condition.
From wikipedia entry on steam excavators: http://en.wikipedia.org/wiki/Steam_shovel
Other Preserved Machines
VET Collection
The Vintage Excavator Trust (VET) has a collection of RB machines in various states of restoration at there site in Threkeld in Cumbria.
110-RB Face shovel from a Lancashire quarry.
38-RB Face shovel
38-RB Dragline /Crane
22-RB
10-RB
As well as a NCK-Rapier 605 face shovel
A selection of machines belonging to other people are also stored on site;
Ruston-Bucyrus 21-B from 1935
10-RB fitted with grab
10-RB Shimmer
20-RB
S.E.Davis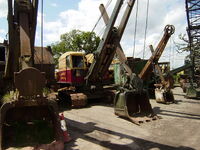 S.E. Davis & Son Ltd. of Astwood Bank, Redditch. has a large collection of plant, which include several RB's as well as Caterpillar, Allen, Vickers, International, Cletrac, Bristol, JCB and may other makes, as well as Steam Engines, & Tractors.
38-RB

Unrestored

30-RB

of 1966 fitted with Face Shovel gear (Full repaint) was Displayed at SED 2007

?-RB

Face shovel

10-RB

of 1945 with Lincoln Cab
Several Dragline as well as other makes,inc. Priestman, and NCK Rapier
See also
Reference
Ruston History, The Story of Lincoln's excavators
↑ Lincolns Excavators, The Ruston-Bucyrus years 1930-1945, by Peter Robinson, ISBN 1-871565-48-0
External links