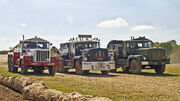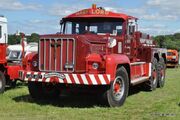 ROTINOFF MOTORS LIMITED 1952-1960 Langley near Colnbrook, Buckinghamshire England
LOMOUNT VEHICLES & ENGINEERING LIMITED 1960-1963 Colnbrook near Slough, Buckinghamshire England
Rotinoff Motors Ltd was a small British manufacturer of commercial vehicles that specialized in Heavy Haulage units. Founded by the son of a Russian engineer in 1952 in England.
Company history
Edit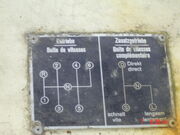 George Rotinoff, son of a Russian engineer set up Rotinoff Motors Ltd at Colnbrook near Slough in 1952 to build heavy haulage tractors.[1] He developed the 140 tons gross "Atlantic", and the 330 tons gross "Super Atlantic". The trucks were fitted with Kirkstall axles. Also built were 2 long wheelbase "Viscounts" which were of a lighter construction and went to Australia for use as cattle hauling roadtrains for the Vestey Bros Northern Cattle Transport Company. The company also built a one-off dumper was built known as a "Pacific" which it is believed was built as a prototype.
In the 1960s ROTINOFF MOTORS were taken over by another company called Lomount Vehicle & Engineering Ltd. Later still, when Lomount ended production in 1962, the design rights were acquired by Atkinson Vehicles Ltd of Walton-le-Dale, Preston, Lancashire, in England, who briefly marketed the trucks under the Atkinson name badge.
Atkinson Vehicles developed the ATKINSON Omega 6X6model specially designed for Construction and Haulage roles that was powered by the same Rolls Royce Diesel engines of which a few examples are believed to be still around.
The Swiss Army had a number of Rotinoffs Atlantic and Super Atlantics Haultractors for tank transporters and the only one example was sold new into UK heavy haulage to Sunter Bros of Northallerton.
Several vehicles were later re-imported into the UK and sold on by dealers Walkers Machinery of Oxford.
Do you know more of the history ? if so click here and help build the Wiki database up.

ROTINOFF MOTORS LIMITED The company was founded in 1952 by the Belarusian émigré George Rotinoff. The Rotinoff company specialized in the production of ballast tractors and heavy transport vehicles. The vehicles of Rotinoff were widely used in Europe as tractors for tank transporters. In the Swiss army, the Rotinoff Atlantic GR 7 was used from 1958 - 1991 by the tank troops to haul Centurion tanks. More Rotinoff transporters were in use as road trains in Australia for the transport of cattle.
George Rotinoff died in 1959, and the brand name Rotinoff was then discontinued. Worldwide there are still Rotinoff vehicles in operation today and they are coveted collectibles.
ROTINOFF INFORMATION UPDATES April 2018 "ROTINOFF Rotinoff Motors Ltd was formed at Colnbrook, near Slough in Buckinghamshire, in 1952 by George Rotinoff, a White Russian immigrant with some mechanical experience started his industrial career by converting disused working Sherman Armytanks into useful bulldozers of which many of these were sold all over the UK. Later he designed and produced a few heavy tractors suitable for military tank transport and other haulage duties. After suitability trials, the Rotinoff Atlantic GR7 6X4 was approved by the Swiss Army, of which the first example appeared in 1955.
It had a maximum gross train weight rating of 140 tons, was powered by a 12.17 litre/ 743cu in Rolls Royce C6.SFL Series 109 direct-injection supercharged diesel developing 190-250bhp, and had a David Brown 6-speed main & 3-speed auxiliary transmission both of which were synchromesh with Kirkstall axles were also fitted. A heavier version called the Super Atlantic GR7 took the C8.TFL 16.2 litre/ 988cu in "straight eight" Rolls Royce supercharged diesel giving 335bhp. These were also fitted with 18-speed transmissions and were capable of gross train weights up to 300 tons. As well as the Atlantic and Super Atlantic, Rotinoff also built another different model the Viscount GR37 AU 6X4 lorry using an all new 7.3m/24ft wheelbase built as load-carrying drawbar tractor suitable for Australian road train operations.
This had the additional option of a Rolls Royce B.81.8P 8-cylinder gasoline engine rated at 220bhp, designated the Viscount 64.GKS. Also listed was a forward-control Viscount 84.BJS rigid eight drawbar tractor. An estimated 35 Rotinoffs were built. From 1960 onwards the company changed its name from Rotinoff Motors to Lomount Vehicle & Engineering Ltd. Later still, when Lomount company ended production in 1962, the design rights were acquired by Atkinson Vehicles Limited of Walton-le-Dale, Preston in Lancashire who briefly marketed these trucks under the Atkinson name badge."
ROTINOFF Heavy Truck Model Range
Edit
Rotinoff Atlantic ballast tractors Rotinoff Atlantic Rotinoff Super Atlantic Rotinoff Viscount, cattle transporters (2 examples built) Rotinoff Pacific Rotinoff Atkinson
Models Built
Edit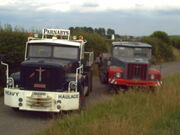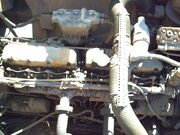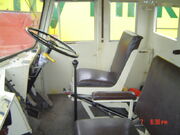 Preserved machines
Edit
Out of the 35 built apparently 11 still survive including the 2 sold to Australia.
The photo above is of Mark Lord's Rotinoff Atlantic UAS 407 that was at the Duncombe Park Steam Rally 2017 in the Vintage trucks section.
A Sunters livery machine was at GDSF in 2008 Photo here on the CMN web site This is not the 'Actual' Sunters machine as that one is in a museum.
The Sunters Rotinoff reg no. RPY 767 now resides in the The Science Museum Large objects store at Wroughton Airfield near Swindon. (some of this collection is displayed occasionally at special events).
A Military version is in a Swiss museum.[2]
The 11 trucks known are:-
2 in Yorkshire Dave Weedon collection, UAS 347(in Sunters livery)(Atlantic) and Q43 GFR- Excalibur(Super Atlantic)(ex Parnabys)
2 at Walker Machinery, (Both Super Atlantic)
1 UAS 407 Is with Mark Lord in North Yorkshire, (ex Swiss Army)(Atlantic)
1 SBS114 is in Malta (ex JCB), (carries a Malta reg no)(Super Atlantic)
2 In Australia, (Viscounts) built for the Vestry meat empire. Both are in the National Transport Hall Of Fame at Alice Springs, Northern Territory. 1 is fully restored.
1 In The Science Museum, RPY 767(Atlantic)
1 In Jamaica,(Super Atlantic)
1 In a Swiss Museum (Super Atlantic)
The Australian Rotinoff's
Other Rotinoff's
Scale models
Edit
Matchbox produced a version of the Rotinoff as No.15. One was sold recently for £2400 on E bay.[3]
Wikimedia Commons has media related to Rotinoff Motors.
Video Rotinoff Atlantic Photo Rotinoff Atlantic flickr photo group on Rotinoff Trucks (please add web link below in external. Links section)
References
Edit
External links
Edit
Community content is available under
CC-BY-SA
unless otherwise noted.