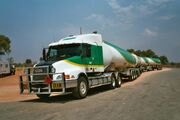 A road train or roadtrain is a trucking concept used in remote areas of Argentina, Australia, Mexico, the United States and Canada to move bulky loads efficiently. The term "road train" is most often used in Australia. In the U.S. and Canada the terms "triples," "Turnpike doubles" and "Rocky Mountain doubles" are commonly used for longer combination vehicles (LCVs).[1] A road train consists of a relatively conventional tractor unit, but instead of pulling one trailer or semi-trailer, the road train pulls two or more of them. These should not be confused with land trains, which are relatively lightweight vehicles used for moving passengers.
In the 1930s, the Government of South Australia operated a fleet of AEC 8x8 military trucks to transport freight and supplies into the Northern Territory, replacing the Afghan camel trains that had been trekking through the deserts since the late 1800s. These trucks pulled two or three 6m (18 ft) Dyson four-axle self tracking trailers. With 130hp engines, the AEC's were grossly underpowered by today's standards, and drivers and offsiders routinely froze in winter and sweltered in summer due to the truck's open cab design and the position of the engine radiator behind the seats.
Australian Kurt Johansson is recognised as the inventor of the modern road-train.[2] After transporting stud bulls 200 miles (320 km) to an outback property, Johansson was challenged to build a truck to carry 100 head of cattle instead of the original load of 20. Provided with financing of a couple thousand pounds and inspired by the tracking abilities of the Government roadtrain, Johansson began construction. Two years later his first road train was running.[3]
Johansson's first roadtrain consisted of a US Army WW2-surplus Diamond-T tank carrier, nicknamed "Bertha", and two home-built self tracking trailers. Both wheelsets on each trailer could steer, and therefore could negotiate the tight and narrow tracks and creek crossings that existed throughout Central Australia in the earlier part of last century. Freighter Trailers in Australia viewed this improved invention and went on to build self-tracking trailers for Kurt and other customers, and went on to become innovators in transport machinery for Australia.
This first example of the modern roadtrain, along with the AEC Government Roadtrain, forms part of the huge collection at the National Road Transport Hall of Fame in Alice Springs, Northern Territory (Australia).
Australia
Edit
Australia has the largest and heaviest road-legal vehicles in the world, with some configurations topping out at close to 200 tonnes (440,000 lb). The majority are between 80 and 120 t (180,000 and 260,000 lb). Two-trailer road trains, or "doubles," are allowed in most parts of Australia, with the exception of some urban areas. Three trailer road trains (triples) operate in western New South Wales, western Queensland, South Australia, Western Australia and the Northern Territory, with the last three states also allowing AB-Quads (3.5 trailers). Darwin is the only capital city in the world that will allow triples and quads to within 1 km (0.62 mi) of the central business district (CBD). [4] Victoria and Tasmania do not allow the operation of roadtrains on any of their roads.
Strict regulations regarding licensing, registration , weights and experience apply to all operators of road trains throughout Australia.
Road trains are used for transporting all manner of materials, with livestock, fuel, mineral ores and general freight the most common. Their cost-effective transport has played a significant part in the economic development of remote areas, with some communities totally reliant on a regular service.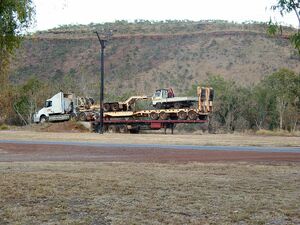 Overtaking a road train can be quite difficult. Patience, assistance from the driver, and large amounts of clear road are required. On the unsealed outback roads the road trains create huge amounts of dust that need to be reckoned with when overtaking.[5]
The multiple dog-trailers (defined below) are unhooked, the dollys removed and then connected individually to multiple trucks at "assembly" yards when the road train gets close to populated areas.
When the flat-top trailers of a road train need to be transported empty, it is common practice to stack them. This is commonly referred to as "doubled-up" or "doubling-up."See illustration. Sometimes, if many trailers are required to be moved at the one time, they will be tripled stacked, or "tripled-up."
In Canada, road trains are more commonly referred to as Long Combination Vehicles (LCVs), as Extended Length Vehicles (ELVs), or Energy Efficient Motor Vehicles (EEMVs).
Four types of LCV are permitted; turnpike doubles, triples, rocky mountain doubles, and queen city triples.
Turnpike doubles consist of a tractor unit pulling a semi-trailer (up to 53 feet (16 m) long). An A-type or C-type converter is connected to the rear of the trailer, and carries a second trailer. Alternatively, the lead trailer may have a hideaway fifth wheel, which enables direct coupling of the second trailer without a converter. The total permissible length is 38 m (120 ft).
Triples may be up to 35 m (110 ft) in length when using A or C converters, or 38 m (120 ft) in B-train configuration.
Rocky mountain doubles are limited to 31 m (100 ft) in overall length, but have the advantage of being legal on two-lane, undivided roads. A, B and C-train variants are used. Other LCVs may only be used on divided highways.
Queen city triples consist of a tractor unit pulling one semi-trailer up to 53 feet (16 m) long and two shorter "pup" trailers up to 32 feet (9.8 m) long. Queen city triples are only permitted between the cities of Saskatoon and Regina Saskatchewan. These are the longest combinations allowed in North America on public highways.
Western Canada
Edit
British Columbia restricts LCV operation to the Coquihalla highway (formerly a toll road) between Hope and Meritt.
Alberta allows LCV operation on most major highways. The Queen Elizabeth II highway between Calgary and Edmonton carries the majority of turnpike doubles and triples. Theoretically, these vehicles could be used on Highway 16 as far west as Hinton AB and Highway 43 as far north as Valleyview AB, but are rarely used on these routes. LCV operation north and west of Edmonton is limited to rocky mountain doubles, since the road is undivided north of Valleyview. The destination of most rocky mountain doubles is Yellowknife in the Northwest Territories.
The Northwest Territories allows LVCs of up to 31 m (100 ft) in length. These vehicles are restricted to specific destinations in Hay River and Yellowknife. LCVs do not operate north of Yellowknife.
Saskatchewan restricts LCVs to divided highways, but appears to allow them to use undivided sections of those highways.
Licencing of LCV drivers
Edit
(Information restricted to Alberta and NWT.) Prospective LCV drivers must have held a licence for legal length articulated vehicles for two years (five years in the North West Territories.). They may have no more than two moving offences recorded within three years and may not have any vehicle-related criminal code violations. They are required to pass a PDIC (professional driver improvement course) every four years. They are required to pull an LCV at least once a year in order to keep their LCV licence.
United States & Europe
Edit
In the United States, trucks on public roads are limited to three trailers (in some states only two)
, and the term "road train" is not commonly used. Triples are used for long-distance less-than-truckload (LTL) freight hauling (in which case the trailers are shorter than a typical single-unit trailer) or resource hauling in the interior west (such as ore or Construction aggregate). Triples are typically marked with "LONG LOAD" banners both front and rear.
In Finland, Sweden and in Denmark (for a period of three years commencing November 24, 2008),[6] Germany and the Netherlands trucks with trailers are allowed to be 25.25 m (82.8 ft)long, in opposite to the rest of the European Union, except in Norway (19,5m), where they can be only 18.75 m (61.5 ft) long. The trucks have a flat front, a high floor about 1.2 m (3.9 ft) above ground, and cab-over-engine design. The Scandinavian countries are less densely inhabited than the rest of the EU countries and distances especially in Finland and Sweden long, until the late 60s vehicles length was unlimited giving rise to long vehicles for economic goods handling. With heavier traffic this became more of a concern and the lengths where limited, albeit at a more generous level then in the rest of Europe.
Mexico allows LCV's consisting of double trailers around 12.5 m (41.0 ft) in length. They must display a sign reading "Precaucion: Doble Semi-remolque" (Caution: Double Semi Trailer) on the rear, indicating that it is a double length trailer in use. Mexico does not place special road restrictions on LCV's than those already in place for conventional tractor-trailers.
Trailer arrangements
Edit
A B-double (B-Train) consists of a prime mover towing a specialised trailer (known as a "lead" or "A"-trailer) that has a fifth-wheel mounted on the rear towing another semi-trailer, resulting in two articulation points.
Same as a B-double but with an additional tow trailer ("lead") behind the prime mover[7]. These are run in most states of Australia where double road trains are allowed. There is an exception, one operator in Victoria has special permission to run B-triples between the Ford Motor Company of Australia Engine Plant in Geelong and the Assembly plant in Broadmeadows.[8]
A C-train is a semi-trailer attached to a fifth-wheel on a C-dolly. The C-dolly is connected to the tractor or another trailer in front of it with two draw-bars, thus eliminating the drawbar connection as an articulation point. One of the axles on a C-dolly is self-steerable to prevent tire scrubbing.
Dog-trailer (Pup trailer)
Edit
A dog-trailer (also called a pup) is a trailer that has a converter dolly hooked in front of it, with a single A-frame drawbar that fits in the ringfeder on the rear of the trailer in front, giving the whole unit 3-5 articulation points and very little roll stiffness.
Rules and Regulations
Edit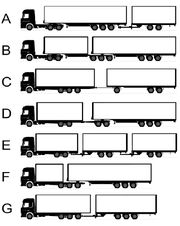 Interstate Road Transport registration
Edit
In 1991 at a Special Premiers Conference, Australian Heads of Government signed an Inter-governmental Agreement to establish a national heavy vehicle registration, regulation and charging scheme. Otherwise known as FIRS. [9]
Australian road trains have horizontal signs front and back with 180 mm (7.1 in) high black uppercase letters on a reflective yellow background reading "ROAD TRAIN". The sign(s) must have a black border and be at least 1.02 m (3.3 ft) long and 220 mm (8.7 in) high and be placed between 500 mm (20 in) and 1.8 m (5.9 ft) above the ground on the fore or rearmost surface of the unit.
Converter dollys must have a sign affixed horizontally to the rearmost point, complying to the same conditions, reading "LONG VEHICLE". This is required for when a dolly is towed behind a trailer.
Combination Lengths
Edit
B-Double- 26 m (85 ft) max.
B-Triple- 33.5 m (110 ft) max.
Pocket road train- 27.5 m (90 ft) max. This configuration is classed as a "Long Vehicle".
Double road train- 36.5 m (120 ft) max.
Triple and AB-Quad road trains- 53.5 m (180 ft) max.
Operating Weights
Edit
Operational weights are based on axle group masses, as follows:
Tandem axle grouping- 16.5 t (36,400 lb)
Tri axle grouping- 20.0 t (44,100 lb)
Therefore, a B-Double would weigh 62.5 t (138,000 lb) (6 + 16.5 + 20 + 20). A double road train would have an operational weight (without concessions) of 79 t (174,000 lb) (6 + 16.5 + 20 + 16.5 + 20). A triple is 79 t + 36.5 (16.5 + 20), giving an all up weight of 115.5 t (255,000 lb). Quads weigh in at 135.5 t (299,000 lb). Concessional weight additions (1 - 2.5 t per group) can see a quad end up weighing 149 t (328,000 lb). If a tri-drive prime mover is utilised, along with tri-axle dollys, weights can reach nearly 170 t (375,000 lb).
Speed Limits
Edit
The Australian national heavy vehicle speed limit is 100 km/h, excepting:
NSW and Queensland, where the speed limit for any road train is 90 km/h.
In western Canada, LCVs are restricted to 100 km/h, or the posted speed limit. Trucks of legal length (<25 metres) may travel at the posted speed limit.
World's longest road trains
Edit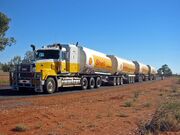 In the early 1990s, a few transport operators at Bourke, New South Wales got 30 trailers together for something to do on a quiet weekend. That was the first record to be set. It was towed by a Mack SuperLiner.
In 1999 the town of Merredin, Western Australia officially made it into the Guinness Book of Records, when Marleys Transport made a successful attempt on the record for the world's longest road train. The record was created when 45 trailers, driven by Greg Marley, weighing 603 t (1,330,000 lb) and measuring 610 m (2,000 ft) were pulled by a Kenworth 8x10 K100G for 8 km.
On October 19, 2000, Doug Gould set the first of his records[10] at Kalgoorlie, Western Australia, when a roadtrain made up of 79 trailers, measuring 1,018.2 m (3,341 ft) and weighing 1,072.3 t (2,364,000 lb), was pulled by a Kenworth C501T driven by Steven Matthews a distance of 8 km.
On March 29, 2003, the record was surpassed near Mungindi, New South Wales, by a road train consisting of 87 trailers and a single prime mover (measuring 1,235.3 m (4,053 ft) in length).
The record returned to Kalgoorlie, Western Australia, on October 17, 2004, when Doug Gould assembled 100 trailers for a total length of 1,442 m (4,731 ft). The record nearly didn't fall, as the first prime mover's main driveshaft broke when taking off. A second truck was quickly made available, and pulled the train a distance of 1 mi (1,600 m).
In 2006, a truck with 112 semi-trailers (at a length of 1,479.3 m (4,853 ft)) claimed a new record at Clifton, Queensland, pulled by a tri-drive Mack Titan.
See also
Edit
References
Edit
External links
Edit

Community content is available under
CC-BY-SA
unless otherwise noted.