The Renault Kerax is a medium- and heavy-duty truck aimed at the construction industry manufactured by Renault Trucks and is available as a rigid or tractor configuration. It was originally launched in 1997 and underwent a full upgrade in 2006.[1]
Specifications
Edit
Since 2009 the Kerax is powered by the DXi11 11.1 L 6-cylinder diesel engine[2] which is Euro 5 compliant, available in three states of tune: 380 bhp (283 kW/385 PS)/1,800 N·m (1,328 lb·ft), 430 bhp (321 kW/436 PS)/2,040 N·m (1,505 lb·ft) and 460 bhp (343 kW/466 PS)/2,200 N·m (1,623 lb·ft). There is a choice of 16 speed manual gearbox and an automated 12 speed gearbox.
Prior to 2009, the Kerax was powered by Euro 3 DXi11 10.8 L engines producing 330 bhp (246 kW/335 PS)/1,650 N·m (1,217 lb·ft), 380 bhp (283 kW/385 PS)/1,850 N·m (1,364 lb·ft) and 440 bhp (328 kW/446 PS)/2,000 N·m (1,475 lb·ft).
Suspension varies depending on model; parabolic on the 26t version and semi-elliptical for the 32t version. There are three cab options, all 2,300 mm (90.6 in) wide and vary from 1,600 mm (63.0 in) to 2,200 mm (86.6 in) long. Wheelbase can vary between 3,200 mm (126.0 in) and 6,000 mm (236.2 in).
The Kerax is manufactured in the Russian city of Kaluga at the Volvo Trucks factory which opened in 2009.[3]
Dakar Rally
Edit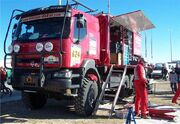 The Kerax is often used in the Dakar Rally as a support vehicle.[4]
References
Edit
External link
Edit
Community content is available under
CC-BY-SA
unless otherwise noted.