Main article: Renault Group
Louis Renault founded Renault in France. Renault tractors were first built in 1918.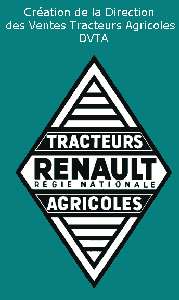 Renault started tractor building after the First World War. In 1919 they built the GP model using expertise gained building light tanks for the war. IN 1975, Renault sold the Spanish factory to Ebro, exiting the Spanish market.
For a time, they built some 55-85 horsepower tractors for John Deere. Some of Renault's vineyard & orchard tractors were built by Carraro (Agritalia) of Italy, which Renault then owned 16% of Agritalia. Some vineyard/orchard models were built by PGS of Italy.
In 2000, Renault purchased a 20% stake in Sonalika International, an Indian tractor manufacturer.
As of 2004, some of the vineyard tractors were built by Antonio Carraro.
In 2005, Renault/Claas decided to sell back its 20% stake of Sonalika.
Take Over
Edit
In 2002, the German firm of CLAAS purchased a 51% stake in Renault Agriculture, and purchased the last part of Renault in 2008. The tractors are now marketed as Claas throughout the world.
Model Range
Edit
UK Preservation
Edit
Please add details of any early or modern Renault tractor that are preserved in the UK.
List of all models of preserved Renault tractors
Make + Model No.
Reg No.
(if known)
Serial No.
Build-Date
Engine-Type/Make
Owner
(if known)
Photo
Were seen/Featured in
Other info
Renault D35 Type 7050

697 XUP

+
sn ?
1959
MWM 3 Cylinder Air cooled
D Murphy & D Markham
Essex Country Show 2009
Imported in 2006 as a wreck
Renault N73

988 XUU

+
sn unknown
1960
MWM
P. Dolman, Burwell ?
at the Woolpit Steam 2011
Vineyard tractor
Renault N73

472 XUD

+
sn unknown
1961
MWM
A Websdale, Reepham
A Woolpit Steam 2011
Renault R3042
EAS 272
sn unknown
1951
 ?
Steve Richards of Denbighshire, Wales.
seen at Isle of Anglesey Vintage Rally 2010
-
Please add any tractor with known reg or serial no. with Photo if possible.
Create a page (link) for an individual tractor by linking the reg or serial number using reg number or serial number in the relevant column. Then once saved click the red link to start the new page and add info on that tractor.
550x Temis year 01
Other French brands
Edit
References
Edit
External links
Edit
Early Makes - pre 1940s

1940s to 1980s

Modern post 1980s

Independents
North America

Europe

India & Pakistan

Middle East
(Turkey, Iran,
Iraq, Syria etc...)

Far East
(Australasia, China,
Japan, Korea, Thailand,
Vietnam etc...)

South America
(Argentina, Brazil,
Uruguay etc)

Africa

Asia
(Russia, Tajikstan,
Uzbekistan, Ukraine)

Specialist types of tractor

Notable People - associated with the tractor industry

Inventors
Community content is available under
CC-BY-SA
unless otherwise noted.