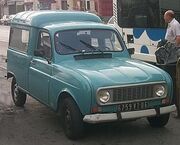 There were many different 'special edition' Renault 4s. Some (including the Safari, Sixties and Jogging) were sold in special colour schemes, upholstery and other details, while others (Clan, Savane) were really nothing more than standard models with decals.
There were also special models which were not solely a marketing exercise, such as the Renault 4 Sinpar 4x4, the Plein Air, a pickup truck, LPG versions and electric versions.
In 1978, the R4 GTL arrived. It had the 1108 cc engine from the Renault 6 TL, albeit with the performance reduced for better economy, and bigger drum brakes. The GTL was identifiable by its grey front grille, grey bumpers, and grey rubber strips along the bottoms of the doors. It also had an extra air intake below the front grille (as a result, the registration plate was moved down to the bumper), and 12 inch (304.8 mm) wiper blades instead of the original 10 inch (254 mm) ones. A year later, the GTL got front disc brakes (the handbrake now working on the rear wheels) then anothet year later (1980) the handbrake lever was moved to the floor, there was a modified dashboard and cloth seats.
There was also a panel van (Fourgonette) version of the R4, which with its "high cube" bodyshell and the unique 'giraffon' (giraffe hatch) at the rear became the idiosyncratic French "Boulangerie" van. For many years, this was surely the most successful vehicle of its type and for many people it represents their idea of a Renault 4 more than the passenger version. It remained on sale in Europe until 1993 and was replaced by the Renault Express (called Extra in UK and Ireland, Rapid in Germany), which was based on the second generation Renault 5 'Supercinq'.
In 1989, Colombian SOFASA produced the variants Brisa (Breeze) which was based on the French Plein Air and Jogging, which was marketed as a sportier version of the car and featured red accessories.
References
Edit
Community content is available under
CC-BY-SA
unless otherwise noted.