The Red Star Auto Manufacturing Company is a automobile manufacturer located in Shijiazhuang, Hebei, China. The company was founded in 1912 under the name Red Star Automobile Works. In its early days, the manufacturer was owned by the state.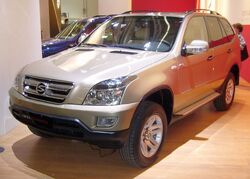 In 2002 Red Star (红星) was bought from the government by Shijiazhuang ShuangHuan Automobile Co., Ltd. Since that time, ShuangHuan continues the Red Star name. Current models produced by Red Star are the Red Star Noble and the ShuangHuan CEO. The Red Star vehicles can be distinguished on the brand logo and/or on the Vehicle Identification Number. Red Star is using the code LHA.
In addition to automotive production, the company maintains a network of dealers and repair shops under its Red Star brand name, which can be found in a lot of cities of the Hebei province.
References
External links