For Company history, see Ransomes, Sims & Jefferies.
Ramsomes were a manufacture of a range of market garden tractors of a crawler design.
| | |
| --- | --- |
| | It has been suggested that this article or section be merged with [[::Ransomes MG tractor|Ransomes MG tractor]]. (Discuss) |
The MG 2 was introduced in 1936 for market gardeners, as a mechanical horse, to pull compact garden ploughs and cultivators. with over 15,000 built between 1936 and 1965 of mainly the MG5 model. Other implements such as mounted Ploughs, Rotavators and bulldozer blades have been built, to compliment the tractors. The tractor used ruber jointed tracks built designed by Roadless Traction Ltd., as did the early Bristol crawler tractors which was introduced in 1932. The mg2 whas purchased by chris stout in derbyshire aged 17 and this was its first outing. It is still in preservation along with a single furrow plough and wil be as ashover show and sheffield stesm rally in 2012.
Model range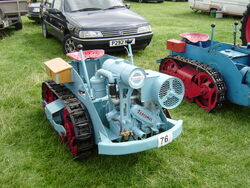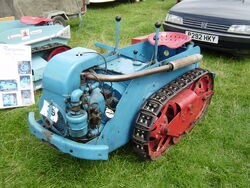 MG 2 1936-48 - 3202 built
MG 5 1948-53 - 5152 built
MG 6 1953- ? - 4800 built
MG 40 ? - 1965 - 2169 built
MG ITC - Industrial version of MG6 with driving position reversed. Some fitted with dumper bodies for water board.
Ransomes ITW - industrial version of MG 6 with rubber tyred wheels in place of tracks. only 3 are believed to still exist.
Preserved Machines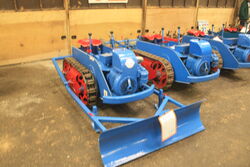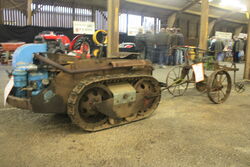 There are often examples of these strange machines at shows, as the are compact and easily transportable in a small van or trailer. Examples are pictured on here.
Please add details of any known examples to list below. (Include serial nos if possible)
Eight Ransomes MG tractors were on display at the 2008 National Tractor Show at Peterborough in November.
Ransomes MG Register
The register is run by Anthony Brennan. (ransomesmgregister@gmail.com) [1]
Ransomes MG5 serial no 4411 fitted with mechanical bulldozer blade. Peter McGuire Te Anau New Zealand petermcguire@mail.com
See also
References
External links
Early Makes - pre 1940s

1940s to 1980s

Modern post 1980s

Independents
North America

Europe

India & Pakistan

Middle East
(Turkey, Iran,
Iraq, Syria etc...)

Far East
(Australasia, China,
Japan, Korea, Thailand,
Vietnam etc...)

South America
(Argentina, Brazil,
Uruguay etc)

Africa

Asia
(Russia, Tajikstan,
Uzbekistan, Ukraine)

Specialist types of tractor

Notable People - associated with the tractor industry

Inventors
Community content is available under
CC-BY-SA
unless otherwise noted.