IMK 14.Oktobar was a tractor and construction plant manufacturer based in Krusevac, Yugoslavia (current day Serbia).
In 1950, IMK began producing tractors under the RATAR (14 Oktobar) brand in Yugoslavia, using licensed designs from Porsche/Allgaier.
History
IMK was established by Austrian and Hungarian investors in 1923 as a company specializing in the construction and repair of wagons. They expanded to heavier equipment, including military equipment. AFter World War II, the company was nationalized and 14.Oktobar was added to the name to represent the day in 1944 that Krusevac was liberated from the Nazi's. It was one of the largest producers of heavy machinery in Yugoslavia.[1]
In August 2015, after years of accumulated business losses, the company suspended its production.[2] From December 2014 through August 2015, nearly all of 1,500 employees left the company, using the social programs. In January 2016, the company declared bankruptcy.[3] In March 2016, a new company was register under name 14. oktobar. It took production facilities of the former company on lease.
Products
Tractors
Crawlers
IMK Crawler Tractor Models

| Model | Year(s) Produced | Horsepower | Engine Type | Misc Notes | Photo |
| --- | --- | --- | --- | --- | --- |
| TG-50 | | 82 hp (61 kW) | | | |
| TG-75 | | | | | |
| TG-80B | | | | | |
| TG-120K | | 125 hp (93 kW) | | | |
| TG-140 | | | | | |
| TG-160 | | 165 hp (123 kW) | | | |
| TG-170B | | | | | |
| TG-190 | | | | | |
| TG-220B | | | | | |
Wheel Loaders
Excavator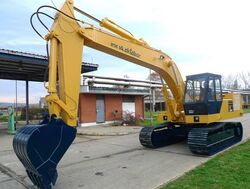 Military Program
LRSVM Morava

M-94 Plamen-S

M-96 Orkan II

Tank power packs
References
External Links
RATAR tractor range

Models
Early Makes - pre 1940s

1940s to 1980s

Modern post 1980s

Independents
North America

Europe

India & Pakistan

Middle East
(Turkey, Iran,
Iraq, Syria etc...)

Far East
(Australasia, China,
Japan, Korea, Thailand,
Vietnam etc...)

South America
(Argentina, Brazil,
Uruguay etc)

Africa

Asia
(Russia, Tajikstan,
Uzbekistan, Ukraine)

Specialist types of tractor

Notable People - associated with the tractor industry

Inventors