We're Getting Mutants in the MCU - The Loop
Play Sound
Proton is a Malaysian automobile manufacturer headquartered in Subang Jaya and Shah Alam, Selangor, Malaysia with a manufacturing plant in Tanjung Malim, Perak. Founded in 1983, it was Malaysia's only carmaker until the establishment of its competitor and arch-rival Perodua in 1993. Its name is a Malay acronym for Perusahaan Otomobil Nasional (English: National Automobile Enterprise).
It is a core member of Proton Holdings Berhad, the holding company which is listed on Bursa Malaysia. Over 42% of its equity is owned by a government-owned company Khazanah Nasional Berhad, making it government-linked. For more than a decade since its establishment, this stake was jointly owned by Mitsubishi Motors Corporation and Mitsubishi Corporation until they sold its stake in that company.
History
It was established in 1983 under the direction of the former Prime Minister, Dr. Mahathir Mohamad. Since then, it was Malaysia's dominant carmaker until the establishment of Perodua in 1993. Based on technology and parts from Mitsubishi Motors, production of the first model, the Proton Saga began in September 1985 at its first manufacturing plant in Shah Alam, Selangor. Initially the components of the car were entirely manufactured by Mitsubishi but slowly local parts were being used as technologies were transferred and skills were gained. The 100,000th Proton Saga was produced in January 1989.[1]
Until the end of the 1990s, the car's logo featured the crest from Malaysia's coat of arms, featuring a crescent and a fourteen-pointed star. The new Proton logo features a stylized tiger head, as well as the change from the lowercase italic text "proton" to uppercase "PROTON". In 1993, a model called Proton Wira was introduced based on the Mitsubishi Lancer/Colt. More than 220,000 units were sold between 1996 and 1998.[2] Proton Perdana, based on the Mitsubishi Galant/Eterna, was first produced in 1995, intended for higher end market. The Proton Waja (Proton Impian in UK), which launched early 2001, is the first car model designed internally by Proton. By 2002 Proton held a market share of over 60% in Malaysia, which was reduced to barely 30% by 2005 and is expected to reduce further in 2008 when AFTA mandates reduce import tariffs to a maximum of 5%.

With the acquisition of Lotus technologies in 1996 from ACBN Holdings (a company owned by Volkswagen), Proton has gained an additional source of engineering and automotive expertise. This led to the production of Proton Gen-2 which was code name Wira Replacement Model (WRM) before the launch. The Gen-2 is the first of cars to be manufactured and assembled at the new manufacturing plant in Tanjung Malim, Perak which is part of Proton City development project. The plant was opened in 2004. On 8 June 2005 Proton introduced the second model to be manufactured in Tanjung Malim, the 1,200 cc 5-door supermini, the Proton Savvy. Both the Gen-2 and Savvy, were models that MG Rover was looking to rebadge when the British firm entered into collaboration talks with Proton. However these joint-venture talks were unsuccessful and MG Rover subsequently collapsed.
In 2007, Proton launch its new sedan as replacement version for Wira Sedan but with new name, Persona, which was previously used as an export name for models outside Malaysia. The new Proton Saga replacement model (codename Proton BLM) was launched on 18 January 2008. The new Saga is based on the Savvy platform, but using Campro 1.3L instead of Renault engine. In addition, Proton has entered talks with Mitsubishi Motors once again,[3] and talks are going positive.[4] This includes the Waja replacement based on the Mitsubishi Lancer and the rebadging of Proton Persona and Proton Exora as Mitsubishi vehicles in certain markets.
As of 3 August 2008, Proton has produced 3 million cars since 1985, where the 3 millionth car is a second-generation Saga.
Exports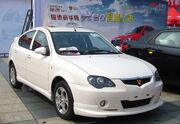 Proton exports cars to the United Kingdom, South Africa, and Australia and the company is aggressively marketing its cars in several other countries including the Middle East. Besides that, Proton has also been exporting a small volume of cars to Singapore, Brunei, Indonesia, Thailand, Nepal, Sri Lanka, Pakistan, Bangladesh, Taiwan , Cyprus and Mauritius. 14,706 Proton cars were exported in 2006[5]
Recently Proton returned to Guangdong, China, where it did business in the past but withdrew after having a poor sales record. In July 2007, Proton signed an agreement with Youngman Automobile Group Ltd. Co., paving the way for the national carmaker to offer its products and services in China. Under the agreements, Youngman will import 30,000 Gen.2 CBU (completely built-up) units and resell them under its own EuropeStar brand and eventually develop a new range of Made-in-China cars with the engineering services provided through Proton's Lotus.[6] Proton is expected to ship 1500 cars a month for 20 months starting December 2007 to fulfill the order.[7]
Proton began its exports from Malaysia to other right hand drive markets like New Zealand in the late 1980s, but its success was mostly limited to the United Kingdom (a market it entered along with Ireland in 1989). They advertised there with the slogan Japanese Technology, Malaysian Style. Proton cars proved popular among budget-oriented motorists, and like Japanese and South Korean models before them, led to the demise of manufacturers such as the Soviet Lada and ex-Yugoslavian (now Serbia) Zastava. By the 1990s, Proton had withdrawn from the New Zealand market after offering only the Saga four-door and Persona five-door models. The company also exited the Irish market in the early 1990s, following limited success in that country. The Persona and Natura models were sold in Chile briefly during the late nineties by a local Nissan importer, but few were sold and the venture ended after two years. Proton sales seem to be slowly declining in the United Kingdom with 2008 sales at 1518 (0.07% share of the market), compared to 2752 in 2002. These figures are insignificant compared to 2008 UK sales of 28,036 for South Korea's Hyundai and 29,397 for Spain's SEAT. In 2009 Proton's UK sales fell further and the marque sold only 960 cars with a reduced 0.05% market share. Proton enjoyed brief success as a few units of the Saga and Wira were exported to Trinidad & Tobago (Caribbean) during the late 90s where they were used mainly as rentals.
Proton now produces models in left-hand drive, for export to continental Europe. An entry into the United States market was considered by Malcolm Bricklin following Hyundai's successful launch in the mid 1980s. However, exports to the U.S. never materialized, as the cars required hundreds of changes to meet American safety standards in order to secure coverage from auto insurers and satisfy legislative requirements. Proton export models still do not comply to all environmental standards such as emission limits.
The model that Malaysia has followed with the formation of Proton may be used as a case study for rent seeking as tariffs on imported cars rose almost immediately following the formation of Proton. Also ASEAN Free Trade Area (AFTA) agreements on relaxing entries into the ASEAN marketplace had exemptions specifically for Proton. The Malaysian government gained a three-year exemption for Proton from 2002 to 2005 where entry tariffs had to be lowered to 5%. This was replaced by other duties resulting in no net decrease in automotive prices for importers.
In the United Kingdom, Proton cars suffer somewhat from a poor public image; they are considered poor quality products with very poor residual values compared to other cheap Pacific Rim cars from Kia, Chevrolet and Hyundai. In 1998 Proton attempted to change this by introducing the Proton Satria GTi - however, the car was somewhat out of reach to younger drivers due to high insurance premiums (the car was originally a group 16 and was reclassified in 2001 to group 14 but this still resulted in high premiums). The Satria GTi also sported a "Lotus Ride & Handling" badge which, coupled with an average security system, made it attractive to thieves. However, the vehicle was a success as far as handling was concerned which meant that, coupled with its 1.8 16-valve Double Overhead Cam Engine (which produced 133 bhp) a number were purchased by Octogon Race Circuits and used as track cars at Silverstone and Brands Hatch racing circuits.
Proton cars were imported into Trinidad and Tobago between 1993 and 2002. They were sold through a local dealer, H.E Robinson Ltd. Only the Saga and Wira ever reached this market with the Wira enjoying modest sales success. The bankruptcy of the dealership forced the exit of Proton from Trinidad and Tobago in 2002.
For a short time, the Proton Wira was marketed in the Philippines via LHD in 1994 with the establishment of Proton Pilipinas through the ASEAN Industrial Joint Venture (AIJV) Scheme[8][9] before they pulled out due to the 1997 Asian Financial Crisis.
Drop in sales
In 2006, Proton's sales dropped 30.4% from 166,118 in 2005 to 115,538 for the Malaysian market,[10][11] with a later report indicating a 55% fall of sales to 962.3 million ringgit, its lowest in at least seven years.[12] This allowed Perodua to overtake Proton as the country's largest passenger carmaker for the first time, with a 41.6% market share, while Proton's market share fell from 40% in 2005 to 32% in 2006. In the period ending December 31, 2006, Proton has also suffered three consecutive quarterly losses. Compared to a profit of 86.5 million ringgit in 2005, the car company lost 281.5 million ringgit in 2006. Proton blamed discounts from rivals. Total losses in 2007s financial year climbed to $169 million.[12]
The Employees Provident Fund (EPF) acquired an additional 830,000 shares in a transaction that spanned between January 5 and January 12, 2007.[13]
Joint ventures and partnerships
Abortive strategic partnership with Volkswagen AG
In October 2004, Proton announced that an understanding had been reached with Volkswagen AG of Germany to establish a strategic partnership. Under the tie-up, the two carmakers were expected to exploit each other's strengths. Proton would gain access to Volkswagen Group's superior technical capabilities and technology. In return, Volkswagen Group would utilise Proton's spare capacity at the latter's Tanjung Malim plant to assemble cars for export to the South-East Asian market, where the German auto giant had a weak presence.
On 13 January 2006, Volkswagen Group finally announced that negotiations about the partnership had failed because its desires clashed with the terms and conditions offered by Proton; their interest was more in eventually controlling Proton Holdings, rather than just being a strategic partner.[14] Despite this, Malaysian news announced that Volkswagen AG had signed an agreement to buy a 51% share in Proton on 26 January 2007, which turned out to be unfounded. Throughout most of 2007, rumours about continuing merger talks with Volkswagen Group, and occasionally General Motors surfaced in the local press and at briefings given by top government officials.
Finally however, on 20 November 2007, Proton announced that talks regarding any partnership with Volkswagen Group had ended with immediate effect, citing improving sales over the year, a favorable export outlook, and confidence in management turning around the company without external collaboration. This unexpected announcement resulted in a 19% overnight drop in Proton's share price to their lowest value in seven years, due to the market's perceived uncertainty about the future financial viability of the company in an increasingly competitive local and world market. Proton did however state that they may resume talks about collaborating with other manufacturers at later unspecified dates.
Detroit Electric
On 2 September 2008 Detroit Electric announced plans to progressively roll out affordable electric vehicles worldwide by the end of 2009. Proton cars are to be used and tested in order to validate Detroit Electric's technology and explore the potential to collaborate to create a range of pure electric cars. Detroit Electric has to date integrated its electric drive systems into Proton's Lotus Elise and two Proton passenger cars. Detroit Electric hoped to collaborate with Proton to sell electric cars for the Southeast Asian market or to use Proton's existing manufacturing platform to produce electric cars under the Detroit Electric brand. The company planned to roll out 30,000 electric cars by 2010, as he demonstrated their performance at a Proton test circuit in Shah Alam, west of the capital Kuala Lumpur.
Acquisitions
Lotus
In 1996, Proton acquired a 63.75% share in Lotus Group International Limited for £40,640,000.This was later increased to 100% in 2003. A later PriceWaterhouse Coopers audit would find that the CEO, Yahaya Ahmad, had inked the agreement on 16 October 1996. The agreement was presented to the board for approval on 27 November 1996. As part of the purchase agreement (signed prior to board agreement), there were restrictions placed on Proton's ownership of Lotus. One of the restrictions was a prohibition on diluting ACBN's remaining shareholding for a period of five years. This restricted Proton in its operation of the Lotus business and required Proton to guarantee a £40 million loan in 2000.
MV Agusta
In December 2005, Proton purchased a majority share in MV Agusta of Italy]at 70 million Euro. MV Agusta was the manufacturer of MV Agusta, Husqvarna, and Cagiva motorcycles. A year later, Proton sold off its 57.7% share in MV Agusta to Italy's GEVI Spa for a token of 1 Euro. Due to heavy debt by MV Agusta, the selling enabled Proton to write off the losses off its book, but the buyer would assume the €107 million ($174 million) debt. In August 2007, GEVI SpA the company that bought over MV Agusta for 1 Euro sold the brand Husqvarna and its factory to BMW for a reported 93 million Euros leading to speculations by the Malaysian public of bad management of the company's board of directors resulting in further loss of reputation for the company.
Charges of protectionism
When the first Proton appeared on Malaysian roads in 1985, local wits promptly dubbed the Proton Saga as the 'Potong Harga', meaning the 'cut-price'. And for good reason as the Proton was at least 20% cheaper than non-national makes in the same 1.3 to 1.5 litre class. With both the low price and a dash of national pride working for it, the Proton got a rapid hold on the market. By 1988 the Proton, with a model lineup of one, had overtaken all other makes and models and grabbed 73% of the Malaysian passenger car market.
In 1983, when the 'national car' was planned, Malaysia had an annual new car market of about 90,000 units, and the market was growing annually by 20%. The Proton plant was designed to produce 80,000 units a year and could be geared up to 120,000 units. But in Proton's first full year of production (1986), total car sales took a severe dip to 47,000 and next year, due to a worsening economic situation, just 35,000. Only in 1988 did the market begin a recovery to 54,000 units, by now most of them Protons. Since then, the market has grown steadily to a 2005 peak of 417,000 cars[15]
Government policy has kept the Proton cheaper than other makes by the simple strategy of taxing the competition, while giving Proton exemptions or rebates from these same taxes. Duties on packages of parts for assembly into complete cars in Malaysia is said to average about 30%. Proton is exempted from most of these[16]
On 1 January 2008, the postponed-several-times full implementation of an ASEAN Free Trade Agreement [17] which Malaysia originally signed on to in January 1992, was to finally have come into effect. The agreement would effectively bar practices that discriminate against goods (including vehicles) that are considered "Made in ASEAN" by the use of Tariff and/or Non-Tariff Barriers. This would practically eliminate most of the price advantage, achieved by way of the 50% rebate Proton (and other "Malaysian-made" cars) enjoy on a hefty (75 to 105%) engine-capacity-related Excise Duty applied to new cars sold in Malaysia.
This rebate is largely responsible for non-Malaysia ASEAN-made cars costing between 30 and 60 % more than an equivalent Malaysian-made vehicle. With a "level playing field", within the confines of CEPT[17] (which till end 2009 allows a maximum 5% import duty, reducing to zero in 2010) using existing FOB prices, an ASEAN (Thai-made) Honda or Toyota would sell for within 10% of a comparable Proton, and would probably result in the devastation of Proton's market share and the company. As it appears that this would be an unacceptable consequence to the Malaysian government, for the time being, local car manufacturers will be allowed to continue receiving the excise duty rebate, with the Malaysian Government picking up the tab for probable penalties it will have to pay to ASEAN members for violating established free-trade regulations.
As 2008 progressed, it became apparent that more and more global manufacturers reasoned that the level playing field stipulated by CEPT will continue to be ignored by the Malaysian government for as long as possible. This temporarily derailed these manufacturers' previous plans to use Thailand (principally) as their ASEAN manufacturing hub, and forced them to reintroduce Malaysian-assembly of some models from CKD. This move allowed these foreign marques to benefit from better tariff structures applied to such vehicles, in an effort to remain competitive (in the non-National car segment), and to narrow the price difference between their models and equivalent (Excise Duty rebated) Malaysian-made cars.
The very latest update to the Malaysian Automotive Policy framework (October 2009) fails to mention any change in this discriminatory rebate policy, thereby reinforcing the suspicion that the Government will not abide by stipulated "level playing field" requirements for the foreseeable future. It should be noted that the main "solution" being pushed by the Malaysian Government to maintain the pricing advantage of locally-made cars, by providing grants and subsidies (to counteract any potential removal of the excise Duty rebate) would also be deemed to be non-compliant with the Trade Agreement, contravening Non-tariff barriers to trade requirements.
The lack of direct competition at Proton models' price points (in Malaysia) has also allowed Proton, for many years, to continue selling very outdated designs, generally with scant regards to providing basic safety equipment such as airbags and anti-lock braking in domestic models. Additionally, J.D. Power survey results have consistently shown that Protons have poorer rankings in initial quality than the available competition[18]
Formula 1
Proton-backed Lotus F1 was granted entry into F1 following the departure of BMW Sauber in 2009. This move saw the return of Lotus to Formula 1 following a 15-year absence. The team raced under the full name Lotus F1 Racing, not Team Lotus which was the historic name of all previous Lotus F1 teams. When Lotus returned to F1, Mike Gascoyne was appointed as technical director, and Tony Fernandes was appointed as team principal. However, Tony Fernandes announced that he would step down at the start of the 2010 season, so Riad Asmat was appointed as his replacement.
Proton in Intercontinental Rally Challenge
Main article:

Proton R3 Malaysia Rally Team
Proton entered to Intercontinental Rally Challenge 2009 with Proton Satria Neo Super 2000. Their best result in IRC is Alister McRae finish 2nd place at 2009 Rally Scotland. Drivers in 2009 were Karamjit Singh, Guy Wilks, Bryan Bouffier and Alister McRae scoring 13 points. In 2010 Proton team had many retirements and did not score a single point. Drivers for 2010 were Alister McRae, Chris Atkinson, Niall McShea, Keith Cronin, Gilles Panizzi and privateer with factory support, Tom Cave. Best result of 2010 season was 22nd place of Gilles Panizzi at 2010 Rallye Sanremo, although it was the only finish of Proton Satria Neo S2000 in this season.
Two of the cars were also used in a rally challenge between the hosts of Top Gear UK (Series 16, Episode 03) and Top Gear Australia (The Ashes Special). The Stig (UK) and Steve Pizzati (Australia) drove the two cars while Richard Hammond (UK) and Ewen Page (Australia) guided the respective drivers across a rally track.
Sponsorship
From 2003 to 2006, Proton were the main sponsors of Norwich City F.C., the English football club. The Lotus brand was advertised on the club's away shirts.
See also
List of Proton car models

Team Lotus
References
External links
Proton road

vehicle

timelines, 1985-present
Type
1980s
1990s
2000s
2010s
5
6
7
8
9
0
1
2
3
4
5
6
7
8
9
0
1
2
3
4
5
6
7
8
9
0
1
Supermini

Tiara

Savvy

Subcompact

Satria / Compact / 300 series / Satria GTi

Satria Neo

Compact
Sedan

Saga / Knight / Saga Iswara / MPi

Saga / BLM / S16 / Saga FL

Wira / Persona / 400 series

Persona / Gen-2 Persona

Gen-2

Waja / Impian

Inspira

Mid-size

Perdana SEi

Perdana V6

Coupé

Putra / Coupe / M21

Coupé utility / Pick Up
Arena / Jumbuck
Microvan
Juara
MPV
Exora
Concept cars
Proton MPX 

·

Proton PM 5 

·

Proton Satria Gemilang 

·

EVE Hybrid Concept

 

·

Proton EMAS

 

·

Proton Tuah 

·

Proton Kasturi 

·

Proton Lekiu 

·

Proton Lekir 

·

Proton Jebat

Proton Satria Neo R3 Concept

Rally car

Proton PERT

 

·

Proton S2000

 

·

Limited Edition
Proton Waja R3 

·

Proton Gen2 R3 

·

Proton Satria R3

 

·

Proton Satria Neo R3 Lotus Racing

Limousine / Long Wheelbase

Proton Saga Limousine

 

·

Proton Wira Limousine

 

·

Proton Perdana Limousine 

·

Proton Perdana Grand Limousine 

·

Proton Waja Limousine 

·

Proton Chancellor