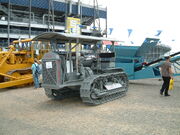 Powerscreen International is a Subsidiary of the Terex Corporation. Powerescreen was Founded in 1966 in Dungannon, Northern Ireland.[1]
Company history
The Company was founded by ? in 1996 and built Screeners & Conveyor units for the quarry industry.
The company grew rapidly in the 1980s taking over several well known firms but then hit problems in the late 1990s after accounting issues came to light about false invoices. A Fraud & false accounting case against several of Powerscreens directors / managers collapsed in 2004.[2] The Terex Group took them over in 1999 and integrated the operation into its global network of brands.

Power screen took over the Pegson crusher business and merged it with the Brown Lennox company that they also owned in 1996. Other acquisitions included Matbro and Moffett.
Matbro was aquired in 1991 from the Benson Group, and after an expansion in sales some production moved to Northern Ireland.[3]
At one stage the company acquired the Belique pottery business but this was divested to an Irish Born American.
In 2004 The company won the Exporter of the Year Award from "Invest Northern Ireland.[4]
Subsidiaries
Brown Lennox

- Crushers
Matbro - Forklifts & loaders
Moffett - Forklifts (truck mounted)
Pegson - Crushers
Product range
Details required of current and past models.
For the companies 40th anniversary in 2006 a very early screen was bought back from an irish quarry and refurbished. it was latter exhibited at the SED Show.[5] (in background of the photo above)
See also
References / sources
External links
this list is under construction
Please add any ommisins

Divisions

Terex Access machinery

 •

Terex Cranes

 • Excavators  •

Terex Mining machinery

 •

Terex Roadbuilding

 • small plant

Main Brands

Terex American

 •

Atlas

 •

Terex Bendini

 •

Terex Benford

 •

Terex Demag

 •

Terex Finlay

 •

Terex Fuchs

 •

Terex Pegson

 •

Powerscreen

 •

Terex PPM

Other Brands
Former Brands
Joint Ventures
(Partner + % share)
Acquisitions
(Subsidary Brands)

Powerscreen

Divestments
(Subsidary Brands)

Terex UK

Factories at Glasgow (to Volvo) and Coventry (to

Mecalec

) (Dumptrucks and Backhoes + site dumpers + small plant) Not the Quarry machinery lines made in Northern Ireland.