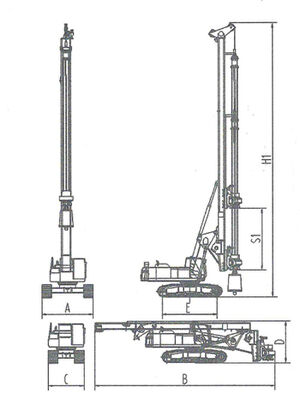 The Hydraulic Piling rig is a type of Special Purpose Machines used by the Construction and civil engineering industry.
Description
Edit
A Hydraulic piling rig is a construction machinery for piling in foundation engineering. It is mainly applied to drill in sandy soil, clay, silty clay, etc and widely used cast-in-place piles, diagram wall, foundation reinforcement and other foundation projects. Its rated power of engine is around 108-450kW, output torque 60-400kN•m, maximum pile diameter 1.5-4m, maximum pile depth 60-90m. It can meet construction requirement of kinds of foundation engineering projects. It generally applies hydraulic crawler chassis, automatic lift box-type mast, telescopic drill pipe, auto vertical adjuster, depth indicator, etc. Its operation applies hydraulic pilot control, load sensor, thus it is easy and comfortable to control. Main and auxiliary hoisting can meet different requirements in construction sites. The rig can be used on piling construction in dry (short screw), wet soil (rotary bucket) and rock (core drill) by equipping with drilling tool, and can be equipped with long screw drill, diagram wall grab, vibratory hammer, etc, to realize many functions. It is mainly used in foundation engineering of municipal construction, expressway, bridge, industrial and civil buildings, diagram wall, water conservancy project, slope protection, etc.
Manufacturers
Edit
References / sources
Edit
External links
Edit
Community content is available under
CC-BY-SA
unless otherwise noted.