Perley A. Thomas Car Works
Fate
Renamed Thomas Built Buses (1972)
Successor
Thomas Built Buses, Inc
Founded
High Point, North Carolina, 1917
Founder(s)
Perley A. Thomas
Defunct
1972
Headquarters

High Point, North Carolina

,
Area served
North America
Industry
Transportation
Products

streetcars


school buses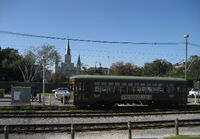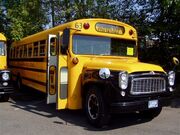 Perley A. Thomas Car Works, Inc. was a 20th century builder of wooden and steel streetcars, based in High Point, North Carolina in the United States. It was named for its founder, Perley A. Thomas. Thomas had been employed by Southern Car Works in High Point, who then formed his own company when Southern went out of business.
The company built many of the wooden electric overhead-trolley powered streetcars used throughout the United States primarily in the first half of the 20th century. Known for their workmanship and durability, some of the cars built by Perley A. Thomas Car Works in the early 1920s are still operating today in New Orleans. Thomas based the design of these cars on New Orleans' first order for double-ended, double-trucked, arch-roofed electric streetcars, the 400-series from Southern Car Works.
A famous Tennessee Williams play and later film of the same name was set in New Orleans, Louisiana where Perley A. Thomas streetcars were operated on the Desire Line around the period of 1947 in which the story was set, hence the name: A Streetcar Named Desire.
The Perley A. Thomas Car Works was reorganized as Thomas Built Buses, Inc., and became one of the three principal builders of large school buses in the United States by the end of the 20th century. It is still based in High Point, and is part of Freightliner Trucks of Daimler AG.
Perley A. Thomas, who died in 1958, was inducted into the North Carolina Hall of Fame.
Perley Thomas cars continue to run on New Orleans' historic St. Charles Avenue Streetcar line, and have "filled-in" for the Von Dullen Canal Street cars damaged in Hurricane Katrina.
A few Perley Thomas cars have been preserved outside of New Orleans. Examples include New Orleans Public Service car #836 at the Connecticut Trolley Museum, #966 at the Seashore Trolley Museum, #832 at the Pennsylvania Trolley Museum and #850 at the Shore Line Trolley Museum. Two cars, Car #913 and Car #952, are preserved in San Francisco's F Market & Wharves line. Car #913 is currently undergoing restoration.

Products
NOPSI

800 series DE streetcar

NOPSI

900 series DE streetcar

NOPSI

1000 series DE streetcar
References
External links
Active Manufacturers
Full-Size and Small Buses
Small Buses Only
Defunct Manufacturers (Including date of closure or last school bus manufacture)