Peerless Motor Company
Founded
1900
Defunct
1933
Headquarters

Cleveland, Ohio

, USA
Products
automobiles, trucks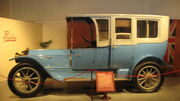 Peerless was a United States automobile produced by the Peerless Motor Car Company of Cleveland, Ohio, USA. The company was known for building high-quality, precision luxury automobiles. Peerless' factory was located at 9400 Quincy Avenue in Cleveland, Ohio.[1] The company also built heavy trucks from 1911 to 1918, with a large number being shipped to the UK during World War One.
Company History
Established in Cleveland in 1900, Peerless Motors began producing De Dion-Bouton "machines" under license from the French Company. At the time, Cleveland was the thriving center of automotive production in the United States. Peerless employed Barney Oldfield as a driver of its Green Dragon racecar; in early speed races Peerless proved the durability of the product and setting world speed records. Peerless was noted for its use of flat-plane crankshafts in its engine designs.
As the Peerless evolved, it, along with makes Packard and Pierce-Arrow, became known as the "Three-Ps of Motordom" (premium vehicles) in the United States.
Peerless' downfall was in its quality.Packard and the Studebaker President series.
In the 1920s, the company was producing conservatively-styled vehicles that would last for ten or more years. Current Peerless owners held onto their cars, which ran very well; new money buyers of luxury cars were attracted to LaSalle,
In 1930-31, Peerless commissioned Murphy Body Works of Pasadena, California, to design what the company envisioned as its 1933 model. The task was assigned to a young Frank Hershey. Hershey's design for Peerless was a remarkably clean, elegant vehicle, powered by the company's planned V16 engine.
Just as the car was ready to be shipped back to Cleveland, the Board of Directors pulled Peerless out of the automotive business and reoriented the company to brew beer under the Carling Black Label brand. Hershey's prototype was walled up in a room at the Peerless factory where it sat until the end of World War II. Hershey's prototype is now owned by the Crawford Auto-Aviation Museum in Cleveland.
The following Peerless vehicles are deemed "classic cars" by the Classic Car Club of America (CCCA): 1925 Series 67; 1926 — 1928 Series 69; 1930-1 Custom 8 and the 1932 Deluxe Custom 8. However, all Peerless vehicles are considered collectible.
Truck production
The company started building Tucks during 1911 fitted with their own 4-cylinder gasoline engine in the 3 to 6 ton class. These early designs were of the bonnedted layout with a chain drive transmission.[2] In 1916 they launched a 2-tonner with a shaft-drive. A large number were shipped to the UK following World War one to meet demand for trucks after large numbers were lost in France during the War and the Military place orders with US supliers. When the war ended the Military started to sell them off to the Civilian market through distributor Slough Lorries and Components Ltd.
Peerless Trading
In 1925 a New company Peerless Trading was set up in the UK to build British Peerless trucks from spare parts and locally sourced components.
In 1930 a British 8-tonner was introduced with a 4-cylinder Gardner diesel and optional pneumatic tyres based on a strengthened chassis of the earlier model. This was then followed by the Peerless Trader a new 8-tonner with a Meadows 6-cylinder engine.
The Peerless LA type was a 7-tonner of forward control layout fitted with a Gardner engine.
In 1931 a new updated range was introduced as the Peerless 90 series and heavy duty 12-tonner model on a six wheel chassis with shaft drive.
By 1933 production stopped & the company distributed Studebaker trucks as Peerless Motors
Model range
Cars
Trucks
See also
References
Kimes, Beverly R., Editor. Clark, Henry A. (1996). The Standard Catalog of American Cars 1805-1945. Kraus Publications. ISBN 0-87341-428-4.

 

Howell, James W. and Hershey, Hershey Franklin Q. Franklin Q. Hershey's Murphy-Bodied Peerless V-16 Prototype Collectible Automobile, Volume 12, Number 4, December 1995. pp. 56-63.
External links

Pearless (1957-1960)
Bearnard Rodgers Developments

Warwick GT

(1960-1963)(~40 built) -

Warwick 305GT

(1961)(2 only built)

Gordon-Keeble