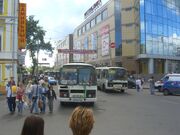 Pavlovsky Avtobusny Zavod is a manufacturer of buses in Russia, located in the city of Pavlovo, Nizhny Novgorod Oblast, Russia. The building of the factory started in 1952, and in the same year the first buses, of the model PAZ-651 (based on GAZ-51) were produced. The government had a plan to produce 10,000 buses per year. In 1960, the production of new model PAZ-652 started. It was replaced by PAZ-672 in early 1968, and this bus had a large family of various modifications. 1989 saw a start of production of the new modernised model PAZ-3205.
The small PAZ buses have long been used by Russian "fixed-route taxi" (marshrutka) operators.
Around the world
One PAZ 672 was sent to Chile in 1970-1971 with the building of the soviet KPD factory for manufacture of concrete blocks for prefabricated buildings, in Quilpué [1]. This was one of the many symbols of the relation between the Soviet Union and the Unidad Popular Government in Chile.
Model range
PAZ 651

- 1952-60

PAZ 652

- 1960-68

PAZ 672

- 1968-?

PAZ 3205

- 1989-?
References / sources
External links