Obi-Wan Finale - The Loop
Play Sound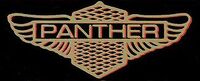 Panther Westwinds (commonly known as just Panther or Panther Cars) was a manufacturer of niche sports cars and luxury cars, based in Surrey, United Kingdom. Founded in 1972 by Robert Jankel, the Panther company enjoyed success throughout the 1970s with retro-styled cars based on the mechanical components of standard production cars from other manufacturers.
Notable examples included 1975's Panther Rio: based on the Triumph Dolomite, but appointed to "Rolls-Royce standards" — the cost of which was equivalent to three Triumph Dolomites. Another, and particularly unusual, model was the three-axled Panther 6.
The Panther company collapsed in 1980 and was purchased by Young Kim of Korea. He built a new British factory in Harlow, Essex, and began assembling cars using Korean-made bodies. In the 1980s the company moved into the sports car arena, culminating with the 1990 Panther Solo. Panther lost money on every Solo sold, and the company was then liquidated, with assets going to the Korean SsangYong Motor Company shortly afterwards.
List of Panther vehicles
1972–81

Panther J.72

1974–75

Panther FF

1974–74

Panther Lazer

1974–85

Panther De Ville

1975–77

Panther Rio

1976–82

Panther Lima

1977–78

Panther 6

1982–90 Panther Kallista
1989–90

Panther Solo
See also
References / sources
External links

Panther Westwinds
J72
 •
FF
 •
Lazer
 •
De Ville
 •
Rio
 •
Lima
 •
6
 •
Kallista
 •
Solo