Jurassic World: Dominion Dominates Fandom Wikis - The Loop
Play Sound
This article needs additional

citations

for

verification

. Please help improve this article by adding citations to

reliable sources

. Unsourced material may be challenged and

removed

. (January 2007)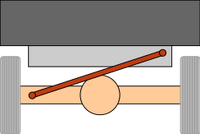 A Panhard rod (also called Panhard bar or track bar) is a component of a car suspension system that provides lateral location of the axle.[1] Originally invented by the Panhard automobile company of France in the early twentieth century, this device has been widely used ever since.
While the purpose of the suspension of an automobile is to allow the wheels to move vertically with respect to the body, it is undesirable to allow them to move forward and backwards (longitudinally), or side to side (laterally). The Panhard rod is designed to prevent lateral movement.[2] This is not to be confused with a traction bar which controls axle wrap and suspension loading. The track bar or Panhard bar is a simple device, consisting of a rigid bar running sideways in the same plane as the axle, connecting one end of the axle to the car body or chassis on the opposite side of the vehicle. The bar is attached on either end with pivots that permit it to swivel upwards and downwards only, so that the axle is allowed to move in the vertical plane only. This does not effectively locate the axle longitudinally, therefore it is usually used in conjunction with trailing arms which stabilize the axle in the longitudinal direction. This arrangement is not usually used with a leaf spring suspension, where the springs themselves supply enough lateral rigidity, but only with coil spring suspensions.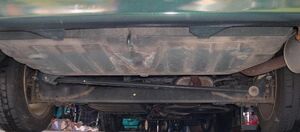 The advantage of the Panhard rod is its simplicity. Its major disadvantage is that the axle must necessarily move in an arc relative to the body, with the radius equal to the length of the Panhard rod. If the rod is too short, there will be excessive sideways movement between the axle and the body at the ends of the spring travel. Therefore, the Panhard rod is less desirable on smaller cars than larger ones. A suspension design that is similar but dramatically reduces the sideways component of the axle's vertical travel is Watt's linkage.
Some vehicles with live-axle suspensions, where Watt's linkage is not an option, e.g. a number of Land Rover models, use a Panhard rod as a component of the front suspension.
See also
References
Automotive engine

Transmission

Dual-clutch transmission

Easytronic

Electrohydraulic manual transmission

Electrorheological clutch

Epicyclic gearing

Fluid coupling

Hydramatic

Roto Hydramatic

Turbo-Hydramatic

Limited-slip differential

Locking differential

Multitronic

Parking pawl

Park by wire

Saxomat

Shift by wire

Super Turbine 300

Transmission control unit

Hybrid

Electric motor

Hybrid vehicle drivetrain

Electric generator

Portal

Category