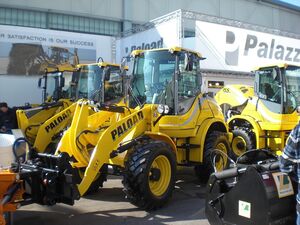 Palazzani is a Italian manufacturer of spider platform access, wheel loaders, backhoe loaders, mobile cranes founded in 1935 near Brescia. Palazzani has two divisions: Paload and Palift.
Wheel Loaders, Backhoe Loaders and Mobile Cranes are produced by Paload, while spider platforms are produced by Palift.
Palazzani is also a dealer of Atlas material handlers.

Wheel Loaders
Edit
Paload PL 145 - 69.5 hp (51.8 kW)
Paload PL 155 - 85 hp (63 kW)
Paload PL 165 - 85 hp (63 kW)
Paload PL 185 - 104 hp (78 kW)
Paload PL 195 - 130.4 hp (97.2 kW)
Paload PL 1105 - 148.5 hp (110.7 kW)
Paload PT 72 telescoping - 100 hp (75 kW)
Paload PT 82 telescoping - 123 hp (92 kW)
Aerial Platforms
Edit
Palift TSJ 25
Palift TSJ 27
Palift TSJ 30
Palift TSJ 35
Palift TSJ 39
Palift TZX 170
Palift TZX 190
Palift TZX 225
Palift XTJ 32
Palift XTJ 35
Palift XTJ 42
Palift XTJ 48
Palift FPB 100
Palift FPB 150
References
Edit
External Links
Edit