Officine Meccaniche
Fate
merged (as part of the Fiat Group) into IVECO.
Founded
1899
Defunct
1975
Headquarters
Milan, Italy (HQ)
Brescia, Italy (Automotive)

Industry

Automotive

Products

Automobiles
Railroad locomotives and equipment (Milan)
Cars and Sports Cars (Brescia, before 1934)
Commercial Vehicles (Brescia, 1925)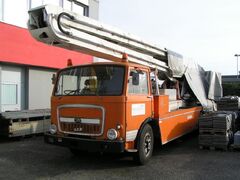 Officine Meccaniche (OM) was an Italian car, truck, tractor and locomotive manufacturing company, founded in 1899 in Milan as Societa Anonima Officine Meccaniche (SAOM).
The inception of the company had resulted from the merger of two companies,Grondona Comi & C and Miani Silvestri & C. Originally, OM manufactured railway stock. Car production started in 1918, using the plant of the former Brixia-Zust (Brixia-Züst), just after OM took over the Zust car company of Brescia, Northern Italy.
Fiat take-over and post-war years
OM was taken over by the Fiat Group in 1938 and in the following year passenger car production ceased, and OM became a commercial vehicle and train part manufacturer.
Main new product in the WWII post-war era was the Leoncino (1950) a light truck in the 2.0 to 2.5 tons range, which was an immediate success. It became the forefather of several series of heavier but structurally similar models, namely Tigrotto, Tigre, Lupetto, Cerbiatto and Daino, launched between 1957 and 1964. Bus chassis versions of several of these models were also available.
In the 60s and 70s the light and medium-weight OM truck ranges were sold in Switzerland as Saurer-OM or Berna-OM, in Austria as Steyr-OM, in France as Unic-OM, and in Germany as Büssing-OM.
The end of OM
In 1968 OM was definitively merged into the Fiat Group as a brand belonging to the Commercial Vehicles division, which also included Fiat and Unic.
In 1975 it was absorbed (as part of the Fiat Group) into IVECO and the OM brand disappeared from the truck and bus markets, although it still survives as an independent forklift manufacturer.
Productsom7c67a
OM Tractor Models

| Model | Year(s) Produced | Horsepower | Engine Type | Photo | Misc Notes |
| --- | --- | --- | --- | --- | --- |
| OM 2 T M | | | | | |
| OM 35/40 | 50s | | | | |
| OM 35/40 crawler | | | | | |
| OM 35/40 C crawler | | | | | |
| OM 35/40 CL crawler | | | | | |
| OM 35-40 R | | | | | |
| OM 45R | | | | | |
| OM 50C crawler | 1960s | | | | |
| OM 50CI crawler | 1960s | | | | |
| OM 50R | | | | | |
| OM 58C crawler | | | | | |
| OM T/240 | | | | | |
| OM 480 | | | | | |
| OM 500 | | | | | |
| OM 512 R | | | | | |
| OM 512 R Super | | | | | |
| OM 513 | 60s | | | | |
| OM 513 R | | | | | |
| OM 513 R Series 2 | | | | | |
| OM 540 | | | | | |
| OM 550 | | | | | |
| OM 555 | | | | | |
| OM 580 | | | | | |
| OM 600 | | | | | |
| OM 615 | 1960s | | | | |
| OM 640 | | 64 hp (48 kW) | | | |
| OM 650 | 1970s | | | | |
| OM 650 Special DT | 1970s | | | | |
| OM 655 CM crawler | | | | | |
| OM 670 | | 68 hp (51 kW) | | | |
| OM 680 | | 68 hp (51 kW) | | | |
| OM 750 | | 75 hp (56 kW) | | | |
| OM 750 DT | | 75 hp (56 kW) | | | |
| OM 750 Special DT | | 75 hp (56 kW) | | | |
| OM 780 | | 78 hp (58 kW) | | | |
| OM 850 | 1970s | 85 hp (63 kW) | | | |
| OM 850 DT | | 85 hp (63 kW) | | | |
| OM 880 | | 88 hp (66 kW) | | | |
| OM 1180 | | 115 hp (86 kW) | | | |
| OM AD 5 crawler | | | | | |
| OM Testa Calda | 1920s | | | | |
Former models
Add details of earlier products here pleaseom7c67a
See also
References
External links
Early Makes - pre 1940s

1940s to 1980s

Modern post 1980s

Independents
North America

Europe

India & Pakistan

Middle East
(Turkey, Iran,
Iraq, Syria etc...)

Far East
(Australasia, China,
Japan, Korea, Thailand,
Vietnam etc...)

South America
(Argentina, Brazil,
Uruguay etc)

Africa

Asia
(Russia, Tajikstan,
Uzbekistan, Ukraine)

Specialist types of tractor

Notable People - associated with the tractor industry

Inventors