Jurassic World: Dominion Dominates Fandom Wikis - The Loop
Play Sound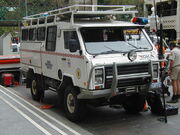 OKA Australia is a Western Australian based 4wd manufacturer mainly supplying 4wd tour buses and trucks. OKA is based in Bibra Lake, where all OKAs are made.OKA's current holding company is Reymer Pty Ltd.[1] Less than 500 OKAs have been built.[2]
History
OKA started in 1986 when a group of Australian mine executives discussed that each of them needed an off-road truck with a three ton payload and nothing on the market at the time filled those requirements. Those executives formed a consortium and the OKA brand was born.[1]
Having agreed on the blueprints, the group undertook a comprehensive market study covering over 1,200 mining companies, government departments, farmers, the Australian military and potential private users to establish the parameters for the design.In 1987, work on the first prototype began and in 1988, it underwent its first test. Prototypes continued to be produced even during production up until 1992.[1]
Soon after, the first production model, the 'XT', entered production. It was followed by the 'LT' which was also followed by the current model, the 'NT'. These vehicles have been supplied to government departments, tour bus operators, private industries, mining industries, the military and recreational companies and are currently being sold in Papua New Guinea and Africa (as well as Australia) and are being developed for the UAE, and Europe.[3]
Models
OKA has made and sold 2 models (the 'XT' and 'LT') and is currently making and selling another (the 'NT'). The models are sold in various body shapes including Cab Chassis, Single Cab, Dual Cab, Multi Cab and Tourbuses.
Technical calibration with Hindustan Motors
OKA has licensed its technologies to Indian auto maker Hindustan Motors to make their RTV brand of multi-utility vehicles.[4]
See also
List of Bus Manufacturers
References
External links

Modern wheeled infantry fighting vehicles and personnel carriers

4 × 4
6 × 6

ACMAT • Al-Faris 8-400 • Alvis Saracen • Arma • Patria AMV • AMX 10 RC • Armoured Multirole Carrier • AVGP Grizzly • BAE Caiman • Buffalo H • Ceradyne Bull • Cougar HE • Duro III • EE-9 Cascavel • EE-11 Urutu • ERC 90 Sagaie • F2 • FNSS Pars • Fuchs • Grizzly HPV • KTO Irbis • Land Rover Perentie • Mastiff PPV • MTVR • NIMR • Pandur 6x6 • Patria Pasi • Pindad Panser • Pasi • Pegaso BMR • Pegaso VEC-M1 • Pinzgauer • Piranha • Puma • Ratel • RG-33 • RG-35 • Shoet • TATRAPAN • WZ551 Type 92 • VBTP-MR • VAB • LKOV Valuk • Rheinmetall YAK

8 × 8

Al-Fahd • Arma • Patria AMV • ASLAV • AV-81 Terrex • Bison • Boxer MRAV • BTR-3 • BTR-4 • BTR-80 • BTR-90 • BTR-94 • Centauro VBC • CM-32 • Coyote • FNSS Pars • KTO Rosomak • KTO Ryś • Lazar BVT • LAV-25 • LAV III • SEP • Luchs • LVS • NZLAV • Pandur II 8x8 • Piranha • Rooikat • Saur 1 • Stryker • OT-64 SKOT • Tatra T815 • Type 96 • VBCI • VBTP-MR

10 × 10
Automotive industry in Australia

Economy of Australia

Transport in Australia

Australian vehicle
manufacturers

Alpha Sports

Bolwell

Borland Racing Developments

Bush Ranger

Coach Concepts

Coach Design

Denning Manufacturing

Devaux Cars

DRB Sports Cars

Elfin Sports Cars

Express Coach Builders

GDLS-Australia

Holden (

Holden Special Vehicles

)

Jacer

Minetti Sports Cars

Nota

OKA

P&D Coachworks

PRB

RFW

Thales Australia

Defunct vehicle
manufacturers

Birrana

Bowin Cars

Brabham

Buckle Motors

Cheetah Racing Cars

Ford Performance Vehicles

Giocattolo Motori

Goggomobil

Hartnett

Kaditcha

Mills-Tui

Parramatta-Ryde Bus Service

Purvis Cars

Ralt

Rennmax

Zeta

Components

Autobarn

Autopro

Beaurepaires

Bob Jane T-Marts

Kinetic Suspension Technology

Pedders

Rare Spares

Repco

Supercheap Auto

Subsidiaries of foreign companies

Tesla Australia

Volkswagen Group Australia

Related topics

ANCAP

Adelaide ToyoShow

Australian International Motor Show

Highways

Brisbane International Motor Show

Melbourne International Motor Show

Motorclassica

Perth Auto Expo