Jurassic World: Dominion Dominates Fandom Wikis - The Loop
Play Sound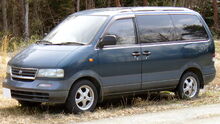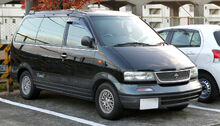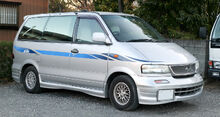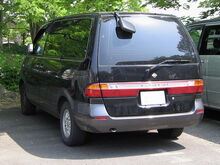 Largo was the model name used for a Nissan passenger van built over 2 different platforms from 1989 to 1998 in Japan and other markets. Most were 7 or 8 seater coaches and competed with the Toyota Tarago.
Series 1 was produced until 1992 and resembled a well appointed and restyled Vanette C22. Available as 2-litre 4 cylinder petrol, diesel (LD20-II) or turbo diesel (LD20T-II), with optional full-time four wheel drive.
Series 2 were upmarket versions of the Serena. They available with either a 2 or 2.4 litre petrol 4 cylinder, or turbo-diesel, with optional four wheel drive.
Vehicles

Current

Past

DC-3

 •

100NX

 •

1200

 •

210

 •

310

 •

180SX

 •

200SX

 •

B10

 •

B110

 •

B-210

 •

240SX

 •

240Z

 •

280ZX

 •

300C

 •

300ZX

 •

350Z

 •

510

 •

810

 •

Almera

 •

Almera Tino

 •

Altra (EV)

 •

Avenir

 •

Auster

 •

Bassara

 •

Be-1

 •

Caball

 •

Cablight

 •

Cedric

 •

Cefiro

 •

Cherry

 •

Cima

 •

Crew

 •

Datsun Truck

 •

Expert

 •

Fairlady

 •

Figaro

 •

Gazelle

 •

Gloria

 •

Hardbody Truck

 •

Hypermini

 •

Homy

 •

Interstar

 •

Junior

 •

Largo

 •

Laurel

 •

Leopard

 •

Liberty

 •

Mistral

 •

Multi

 •

NX

 •

Pao

 •

Pintara

 •

Pino

 •

Platina

 •

Prairie

 •

Presage

 •

Presea

 •

Primera

 •

President

 •

Pulsar

 •

Pulsar GTI-R

 •

R390 GT1

 •

R'nessa

 •

Rasheen

 •

Roadster-Road Star

 •

S-Cargo

 •

Saurus

 •

Saurus Jr

 •

Silvia

 •

Sileighty

 •

Skyline GT-R

 •

Stanza

 •

Stagea

 •

Sunny

 •

Terrano

 •

Terrano II

 •

Vanette

 •

Violet

Concept

126X • 216X • 270X • 300 Bambu • 315-a • AA-X •

Actic

 • AD-1 • AD-2 • AL-X • Alpha T • Amenio • AQ-X • AP-X • ARC-X • AXY •

AZEAL

 •

Bevel

 • Boga • C-Note • Chapeau • Chappo • Cocoon • CQ-X • Crossbow • CUE-X • Cypact • Duad • Dunehawk • Effis •

ESV

 • Evalia • EV Guide II • EV Truck • FEV • FEV-II •

Foria

 •

Forum

 • Fusion • Gobi • GR-1 • GR-2 •

GT-R

 • ideo • Intima • Jikoo • Judo • Jura • Kino • KYXX • Land Glider •

LEAF

 • LUC-2 •

MID4

 • Mixim •

mm.e

 •

Moco

 • Nails • NCS • NEO-X • NRV-II • NX-21 • NV2500 •

Pivo

 •

Pivo 2

 •

Qazana

 • Redigo • Round Box • Serenity • Sport Concept • Stylish VI •

Terranaut

 • Tone •

Townpod

 • Trailrunner • TRI-X •

URGE

 • UV-X • XIX •

XVL

 • Yanya • Zaroot

Engines

A

 •

BD

 •

C

 •

CA

 •

CD

 •

CG

 •

CR

 •

D

 •

E

 •

FJ

 •

G

 •

GA

 •

GB

 •

H

 •

HR

 •

J

 •

KA

 •

L

 •

LD

 •

MA

 •

MR

 •

NA

 •

QD

 •

QG

 •

QR

 •

SD

 •

SR

 •

TD

 •

YD

 •

Z

 •

ZD

FD

 •

H

 •

L

 •

LD

 •

P

 •

S20

 •

RB

 •

RD

 •

SD

 •

TB

 •

TD

VH

 •

VK

 •

Y

 • VEJ30 •

VRH35

GRX-3 • UD12 • VRT35

Marques
Tuners
See also