The Nissan Homy was built and sold by the Prince Motor Company before the merger of Nissan in 1965 and the Homy was the first vehicle to be acquired by Nissan. After the merger in August 1966, the Prince Homy name was changed to Nissan. The merger was complete by 1970. It shared a chassis with the Prince Homer, a small pickup truck.
The Homy was marketed as a twin to the Nissan Caravan and the Nissan Prince dealerships sold the Homy, allongside the Nissan Gloria and Nissan Skyline. The first generation series B640 which was changed to Nissan series T20 was built from 1965 - 1976, the second generation E20 was built from 1976 - 1980, and the third generation E23 was built from 1980-1986. The final generation E24 was built from 1986 - 1999, and replaced by the Nissan Elgrand. Mechanically, the Nissan Caravan and the Nissan Homy were identical. Its traditional competitor from Toyota is the Hiace.
First generation (1965 - 1976)
Edit
The Prince Homy had a seat capacity of up to 15 people. In 1966 as the Prince-Nissan merger began, it was initially called the Nissan Homy Prince, and the Prince name disappeared in 1970. In 1972, the vehicle was reclassified as a commercial vehicle, in order to comply with the 1970 Japanese Road Traffic Law. Nissan didn't have a companion vehicle for the Homy, so in 1973 the Homy was rebadged as the Nissan Caravan.
Second generation (1976 - 1980)
Edit
The second generation was essentially a cosmetic update with no major mechanical changes.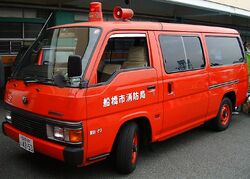 Third generation (1980 - 1986)
Edit
The Homy and its Caravan twin received their first full model change since the Homy was introduced in 1965. The engine was the 2.0L Straight-4 SOHC LD20T turbodiesel. The TD23 I4 was also available. In 1981, the Homy became a support vehicle for motorcades involving the Emperor of Japan.
Fourth generation
Edit
The Homy received its second full model change September 1986 and was given a 2.0 L Z20, as well as the LD20T turbodiesel. October 1987, AWD was added to the 2.7 L TD27 engine. March 1988, the premium grade "GT Limousine" was offered with a VG30DE allongside the 2.7 L turbodiesel. Yearly grade changes continued for the rest of the generation, adding items like cruise control, digital speedometers, larger wheels, upgraded interior and upholstery. August 1995, saw the Homy rebadged and sold as the Isuzu Fargo, using the TD27ETi diesel engine.
The Homy was replaced by the Nissan Elgrand in 1997.
References
Edit

Community content is available under
CC-BY-SA
unless otherwise noted.