New Holland TM150
Model history
Model introduced
2000
Model discontinued
2002
Model status
Discontinued
Superseded by

New Holland TM155

Engine Specification
Fuel type
Diesel
Power hp
120
Power kW
89
Cooling system
Water
Transmission Details
Transmission type
Unknown
Drive
2WD/MFWD
Linkage Category
Unknown
Other info
Factories
England
Plow rating

Unknown

Web site
http://www.newholland.com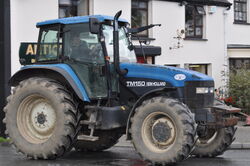 The New Holland TM150 was built in England by New Holland as part of the New Holland TM series. It features a 120 hp (89 kW) engine.
The TM150 was replaced by TM155
Model history
For brand history, see New Holland.
References
External links
Pre 1985
1986-2002
transition period with Ford-New Holland
then New Holland Branding used.
2002-2005
2006-2007

NH TJ SII

 •

NH TG SII

 •  •  •  •  •  •  •  •

2007-Present

T3000 series

 •

T6000 series

 •

T7000 series

 •

T7500 series

 •

T8000 series

 •

T9000 series

 •  •  •

T3000 series

T3010

 •

T3020

 •

T3030

 •

T3040

 •

T7000 series

T7000 series

T7500 series

T8000 series

T9000 series

TG SII

TG215

 •

TG245

 •

TG275

 •

TG305

 •  •  •

TJ SI

TJ SII

Unknown dates

TB series

 •

TC series

 •

TD series

 •

TL series

 •

TK series

 •

TN series

 •

TS series

 •

New Holland TT series

 •

TV series

 •

TZ series

 •

New Holland T? Series

Note this list is under development
please add the model of any page this template is added to
(please fix omission / correct errors of dates)
Early Makes - pre 1940s

1940s to 1980s

Modern post 1980s

Independents
North America

Europe

India & Pakistan

Middle East
(Turkey, Iran,
Iraq, Syria etc...)

Far East
(Australasia, China,
Japan, Korea, Thailand,
Vietnam etc...)

South America
(Argentina, Brazil,
Uruguay etc)

Africa

Asia
(Russia, Tajikstan,
Uzbekistan, Ukraine)

Specialist types of tractor

Notable People - associated with the tractor industry

Inventors