Ner-A-Car
Manufacturer
Ner-a-Car (United States)
Sheffield-Simplex (United Kingdom)
Also called
Neracar
Production
1921–1927
Transmission
5-position friction drive CVT, 3-speed manual
Frame type
Pressed steel perimeter frame
Suspension
Front: Double leading arms with hub-center steering
Rear:
Wheelbase
59 in (1,500 mm)
Turning radius
236 in (6,000 mm) turning circle
The Ner-a-Car was a type of feet forwards motorcycle designed by Carl Neracher in 1918. Around 6,500 Ner-a-Cars are believed to have been produced between 1921 and 1927 in England, and about 10,000 Neracars (note different spelling) in the USA. They were manufactured in England by the Sheffield-Simplex company and the Ner-a-Car Corporation in the United States.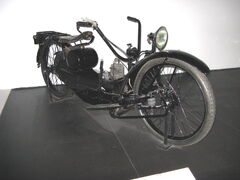 The design had several unusual features, including an infinitely-variable friction drive transmission, and a low-slung perimeter frame chassis that was closer to those found on contemporary cars than other motorcycles. It also featured the first production example of hub-center steering on a motorcycle.[1]
The earliest models had 221 cc two-stroke engines. Starting in 1923 a 285 cc engined model was introduced in England. In the US a 255 cc model was introduced in 1924. In 1924 a Blackburne sidevalve 348 cc engine driving through a three-speed manual transmission was introduced in England. The final English model was introduced in 1925 which differed from the 1924 model by using overhead valves.
A five-speed Ner-A-Car was advertised as a "Christmas Special" for US$175 in November 1927.[1]
Around 50 Ner-a-Cars are known to survive in England in 2001.
References
Edit
Brown, Roland (April 2003), "Alternative Motorcycling - First production motorcycle with hub-center steering", Classic Bike Guide (Horncastle, UK: Mortons Media Group) (144). ISSN 0959-7123, http://www.classicbikeguide.com/archive/apr2003/aprb2003.htm. Retrieved on

<time class="dtstart" datetime="July 12, 2006">July 12, 2006</time>

.

 

Willoughby, Vic [1975] (Third impression 1977). "Ner-a-Car", Classic Motorcycles. Hamlyn, 30–32. ISBN 0600318702.

 
External links
Edit
| | |
| --- | --- |
| | This motorcycle, scooter or moped-related article is a stub. You can help Tractor & Construction Plant Wiki by expanding it. |
Community content is available under
CC-BY-SA
unless otherwise noted.