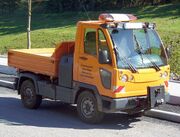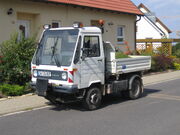 Multicar is the name for a small and specialized transporters, a tool holder and multifunctional vehicle that is manufactured by Multicar branch plant of Hako-Werke GmbH in Waltershausen, Germany. Multicar is thus the only brand that has survived from the East German vehicle industry.
In 1920 the present company was known as ADE Werkes (named after Arthur was founded Ade). They were produced agricultural equipment, trailers and clutches. After the Second World War, 1946 production as an Instrument Waltershausen was resumed.
In 1948 the company was named VEB Fahrzeugwerk Waltershausen, which it had until its privatization in 1991. In 1956 the production of the diesel truck DK 3 (also known as diesel ant) was added, this had been developed in the industrial plant Ludwigsfelde and actually a bearing with a diesel electric trucks. Two years later, the first Multicar, the M 21, was produced. By 1964, 14,000 units were built at the factory in Waltershausen. The following ten years, the M 22 was built, to the tune of 42,500 vehicles. Until 1978, the successor, M 24, had 25,600 models were leaving the factory, of which 48% was exported. The M 25 was a major export; 70% went to the states of the CMEA and other western countries. Its production was continued in 1991 with the Model 91 with a VW engine. Approximately 100,000 units were produced.
In 1991, the state-owned factory was privatized. A crucial driving force in the turnaround - after reunification, was the former director of materials management at Multicar, Manfred Windus, who was honored in 1993 as manager of the year. From 1993, the M 26 was produced. Hako-Werke took over in 1998 and became the majority shareholder. The products TREMO UX, and 100 were merged into Waltershausen. In 2001 production of a new series called FUMO (Function and Mobility) began. In cooperation with Krauss-Maffei Wegmann is produced since 2004, the Specialty Vehicle Mungo for use in the Bundeswehr. By 2009, the production of 388 vehicles is planned. The manager Walter Botschatzki was awarded the Order of Merit First Class in 2005 by the German Federal President Horst Köhler.
The current products M 26, and the particularly narrow FUMO TREMO carriers are equipped with engines that meet all of the Euro-4 standard. Currently, seven vehicles per day are produced.
References / sources
Edit
Literature
Edit
External Links
Edit

Community content is available under
CC-BY-SA
unless otherwise noted.