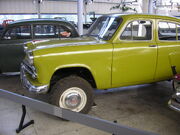 The Moskvitch 410 is a car which was made by Soviet manufacturer Moskvitch from 1957. The 410 was conceived as a four wheel drive version of the Moskvitch 402.
It was powered by a 35 hp (26 kW) engine, but in 1958 upgraded to the 410N (in Russian: 407Н), fitted with a more modern 45 hp (34 kW) unit, from Moskvitch 407[1]. An estate called the 411 was also made from 1958. Three-door wagon 431 remained a prototype. The production ceased in 1961, in a favour of increasing Moskvitch 407 production for export. In total only 7580 of model 410 and 1515 of model 411 were made[1]. Originally conceived as an economical and comfortable mean of transport for agricultural machines' repairing teams, it was the oldest vehicle to conform to crossover SUV criteria[1]. The oldest known SUV is the Gaz-M72 which started production 3 years earlier(1955). A standard equipment included radio and folding seats.
The ground clearance was 220 mm (8.7 in) under axles and 430 mm under a floor[1], it could cross water up to 0.3 metres (11.8 in) deep, and in first gear it could climb 33 degrees. The early version had a 3x2 speed + 1x2 rear gearbox which in 1960 was replaced by a 4x2 speed + 1x2 rear gearbox. The top speed was 90 km/h (56 mph).
References
External links

| | |
| --- | --- |
| | Add any external links that directly relate to this articles subject and have more info or have related images. Other general external links can be added to the web Site Links list. |

Template:Moskvitch range