The Mitsubishi eK is a Japanese kei car from Mitsubishi Motors, based on the long-running Mitsubishi Minica, and first introduced on October 11, 2001 at ¥910,000 to ¥1,108,000. According to the company the name stands for "excellent Keijidōsha", or "excellent minicar".[1]
In its first generation, it was available either as an eK Wagon (introduced on October 11, 2001), eK Sport (introduced on September 2, 2002), eK Classy (introduced on May 26, 2003) or eK Active (introduced on May 25, 2004). A facelifted eK Wagon was introduced on December 20, 2004. On December 20, 2005, the eK Classy was discontinued.
The second generation eK was released on September 13, 2006, priced from ¥913,500 to ¥1,484,700.[2] The eK Active was discontinued at the time of the second generation's launch.
Immediately upon its release it was the recipient of the "Good Design Award" by the Japanese Ministry of Economy, Trade and Industry in 2001.[3] While the initial sales target was 10,000 units per month, it sold 13,000 in its first four days, and 20,000 by the end of October 2001.[4][5] It is Mitsubishi's highest volume model in the Japanese domestic market,[6] and total sales to 2005 are approximately 480,000.[2] Since 2005, Nissan Motors has received 36,000 eK wagons annually from Mitsubishi, to be sold within the domestic market as the Nissan Otti.[7]
Technical details
Front: MacPherson struts
Rear: 3-link torque arm type
155/65R13 (Wagon)
165/55R14 (Sport)
Turning circle: 4.4 m
Seats: 4
Annual production and sales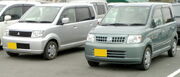 Production figures include OEM units manufactured on behalf of Nissan, while sales figures only include Mitsubishi-badged models.
| Year | Production | Sales |
| --- | --- | --- |
| 2001 | 97,390 | 86,465 |
| 2002 | 115,918 | 122,857 |
| 2003 | 119,652 | 118,567 |
| 2004 | 70,826 | 71,062 |
| 2005 | 118,480 | 73,277 |
| 2006 | 122,294 | 67,052 |
| 2007 | 77,875 | 56,686 |
| 2008 | 63,943 | 39,972 |
References
↑ "Mitsubishi Motors proudly introduces the next standard in mini-cars, the semi-tall "eK-WAGON"", Mitsubishi Motors press release, October 11, 2001
↑ 2.0 2.1 "Mitsubishi Motors launches new eK Wagon & eK Sport", Mitsubishi Motors press release, September 13, 2006
↑ "Mitsubishi Motors has Received the Good Design Award", Mitsubishi Motors press release, October 11, 2001
↑ "Brand-new eK-WAGON order top 13,000 in first 4 days after launch Way over 10,000 monthly target", Mitsubishi Motors press release, October 16, 2001
↑ "eK-WAGON orders top 20,000", Mitsubishi Motors press release, August 8, 2006
↑ "First drives - Mitsubishi eK Sport",

Auto Express

↑ "Nissan To Get New eK WAGON Supply from Mitsubishi", Mitsuishi Motors press release, October 31, 2001
External links