Jurassic World: Dominion Dominates Fandom Wikis - The Loop
Play Sound
The Mercury Mountaineer was a mid-size sport utility vehicle (SUV) manufactured by the Mercury brand name and owned by the Ford Motor Company from 1997 until the brand's demise in 2011. The Mountaineer shared many features with the Ford Explorer, and in terms of hardware, the vehicles were virtually identical.[1] Externally, they are styled somewhat differently, and the Mountaineer was positioned with a more upscale interior, with the Mountaineer's MSRP coming in at $1,000–$6,000 more than the Explorer.[2] It was mildly redesigned for the 2006 model year due to a new frame, but looks very similar to its previous model. Some controversy resulted after the media highlighted a number of rollovers involving Explorers and Mountaineers fitted with Firestone tires. The Mountaineer has been praised for its excellent handling and stability.[3] The Mountaineer was never sold in Canada. When Ford eliminated the Mercury division, production of the Mountaineer ended in late 2010.[4]
First generation (1997–2001)
First generation
Production
1997–2001
Engine(s)
4.0 L

Cologne

V6
5.0 L

Windsor

V8
Transmission(s)
4-speed automatic
5-speed automatic
Wheelbase
1997: 111.5 in (2832 mm)
1998–2001: 111.6 in (2835 mm)
Length
1997: 188.5 in (4788 mm)
1998–99: 190.1 in (4829 mm)
2000–01: 190.7 in (4844 mm)
Width
70.2 in (1783 mm)
Height
1997 2WD: 66.8 in (1697 mm)
1997 4WD: 66.7 in (1694 mm)
1998–2001 2WD: 70.5 in (1791 mm)
1998–2001 4WD: 70.3 in (1786 mm)
Related
Ford Explorer
Ford Ranger
Mazda B-Series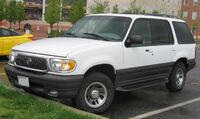 Although the redesigned Explorer had already been out for two years, Mercury introduced an Explorer twin called the Mountaineer. The Mountaineer was only slightly different from the Explorer, although it did offer a few extra luxury features that the Explorer lacked, such as a standard 302 cu in (5.0 L) 215 hp (160 kW) Windsor V8. First year sales for the Mountaineer did not meet Mercury's expectations. For 1998, so customers could differentiate the Mountaineer from the Explorer, the front fascia was flipped upside down, and the headlights were made smaller, while it got a new rear hatch and unique wheels. The new overhead-cam 4.0 L 205 hp (153 kW) Cologne V6 with a 5-speed 5R55E automatic was now the standard powerplant. Mountaineer sales sped up because of this, though they still lagged behind the Explorer.
Firestone Tire and Rollover Controversy
In 2000 the Firestone vs Ford Motor Company controversy arose after a large number of rollover accidents began to occur involving Explorers and Mountaineers. Ford blamed Firestone's faulty tires, which had tread separation problems, while Firestone blamed Ford, claiming that the Explorer and Mountaineer were inherently unsafe. The case was settled.
Car and Driver proved that a large amount of the rollovers were caused by poor techniques of drivers overreacting to the tire blow out.[1] Their test driver deemed the vehicle so inherently stable that he drove "no hands" during one of their 70 mph tread separation simulations.[2]
Second generation (2002–2005)
Second generation
Production
2002–2005
Engine(s)
4.0 L

Cologne

V6
4.6 L

Modular

V8
Transmission(s)
5-speed automatic
Wheelbase
2002–03: 113.7 in (2888 mm)
2004–05: 113.8 in (2891 mm)
Length
2002–03: 190.7 in (4844 mm)
2004–05: 190.9 in (4849 mm)
Width
2002–03: 72.1 in (1831 mm)
2004–05: 72.3 in (1836 mm)
Height
2002–03 2WD: 69.6 in (1768 mm)
2002–03 AWD: 71.5 in (1816 mm)
2004–05: 72.5 in (1842 mm)
Related
Ford Explorer
Lincoln Aviator
Ford Explorer Sport Trac
For 2002, Ford redesigned the Explorer and Mountaineer. This Mountaineer was new from the ground up, offering even more luxury features than the last generation. This Mountaineer offered features like woodgrain trim, rear radio deck, and a rear-seat TV/DVD player. Sales sped up drastically with the introduction of this generation, and it was a look ahead at the entire revamp of the Mercury line, to offer more luxurious looks and features. Some design cues found on this Mountaineer, like the waterfall grille and barred taillights, would go on to form Mercury's new signature look, which would appear on all its models. Mercury Mountaineer has enjoyed one of the highest owner loyalty ratings of any SUV.
Third generation (2006–2010)
For 2006, the Mountaineer was heavily redesigned on all but the virtually untouched exterior. The Mountaineer was mounted on a heavily revised frame, and it offered a more upscale interior, to make up for the cut Lincoln Aviator. This Mountaineer got new wheels and a DVD based navigation system with voice control, a feature not found on previous Mountaineers. In 2008, the Mountaineer was added with side curtain airbags, while the "MOUNTAINEER" badging was officially dropped from the front doors. In 2009, the Mountaineer got trailer sway control standard and the navigation system got traffic flow monitoring and gas prices updated from nearby stations.[5] In 2010, it added Ford's MyKey as a standard on all trims.
This was the final generation of the Mountaineer. Production ended on October 1, 2010, as it was discontinued with the rest of the Mercury brand.[6]
Firestone tire controversy
Main article:

Firestone vs Ford Motor Company controversy
In May 2000, the National Highway Traffic Safety Administration (NHTSA) contacted Ford and Firestone about the high incidence of tire failure on Mercury Mountaineers, Ford Explorers, and Mazda Navajos fitted with Firestone tires. Ford investigated and found that several models of 15-inch (381 mm) Firestone tires (ATX, ATX II, and Wilderness AT) had very high failure rates, especially those made at Firestone's Decatur, Illinois plant.
Awards
Class Exclusive Roll Stability Control (RSC) System.
Consumers Digest Best Buy for 2006 and 2007.
Sales
| Calendar Year | American sales |
| --- | --- |
| 1999[7] | 49,281 |
| 2000 | 46,547 |
| 2001[8] | 45,574 |
| 2002[9] | 48,144 |
| 2003 | 49,692 |
| 2004[10] | 43,916 |
| 2005 | 32,491 |
| 2006[11] | 29,567 |
| 2007 | 23,850 |
| 2008[12] | 10,596 |
| 2009[13] | 5,169 |
| 2010[14] | 5,791 |
References
External links

Final models
(2010-2011)
Historic models

Bobcat 

·

Brougham

 

·

Capri

 

·

Colony Park

 

·

Comet

 

·

Commuter

 

·

Custom

 

·

Cougar

 

·

Cyclone

 

·

Eight

 

·

LN7 

·

Lynx

 

·

M-Series 

·

Marauder

 

·

Marquis

 

·

Medalist

 

·

Meteor

 

·

Monarch

 

·

Montclair

 

·

Montego

 

·

Monterey (car) 

·

Monterey (mini-van) 

·

Mystique

 

·

Park Lane

Brougham

 

·

S-55

 

·

Sable

 

·

Topaz

 

·

Tracer

 

·

Turnpike Cruiser

 

·

Villager 

·

Voyager

 

·

Zephyr

Concept cars

Messenger

 

·

Meta One

 

·

My