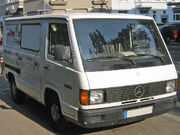 The Mercedes-Benz MB100 was a van made by Mercedes-Benz Espana SA from 1981 to 1995 at their Vitoria factory in northern Spain. It was offered as a cargo van, a passenger van, and a pickup truck.[1]
Mercedes-Benz España SA had obtained the Vitoria factory from Industrias del Motor S.A. (IMOSA), which had been making their F1000L van there. The F1000L was a development of the DKW Schnellaster, but with a Mercedes-Benz diesel engine instead of the original DKW 2-stroke petrol engine. The MB100 was a further development of IMOSA's F1000L van.
The MB100 was powered by a 2.4 litre diesel making about 55 kW (73 hp), an engine also used in the Mercedes Benz 207D.
The MB100 was offered in Germany from 1987 to 1995 as an extension of Daimler-Benz's commercial motor vehicle range.[1] In 1992 the MB100 was given a slanted radiator and an extended front end, intended among other things to enhance safety in a collision.
The MB100 was replaced by the Mercedes-Benz Vito in 1996.[2]
Pacific market MB100 and MB140
Edit
In 1999, DaimlerChrysler Australia/Pacific introduced the MB100 and the MB140, a larger derivative of the MB100, to the Australian and Pacific markets.[4] These vans were manufactured under licence by the SsangYong Motor Company, which also made a rebadged version called the SsangYong Istana.
↑

Mercedes-Benz Classic - Vans - 1994-2005 - 1996: The Mercedes-Benz Vito

↑

Mercedes-Benz MB100 Panel Van Specifications

↑

AutoWeb: Mercedes Unveils A New Vision In Vans, 26 November 1999
References
Edit
Community content is available under
CC-BY-SA
unless otherwise noted.