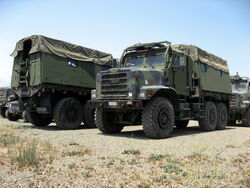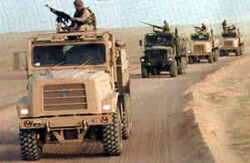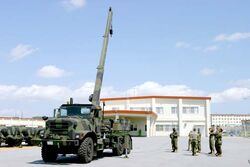 Medium Tactical Vehicle Replacement (MTVR) or 7-Ton, is a six-wheel drive all-terrain vehicle used by the United States Marine Corps and United States Navy.
It is designed to replace the old M939 tactical trucks, and was first fielded in 1998, after the contract was awarded to Oshkosh Truck Corporation. The MTVR comes in several variants, for a wide spectrum of tasks. It offers a major improvement in offroad capability.
The MTVR is often referred to as a 7-Ton as this denotes the vehicle's off-road cargo capacity. The MTVR's maximum payload on paved surfaces is 15 tons. The MTVR is the Marine Corps prime mover for the M777 howitzer, fuel and water assets, troops and a wide variety of equipment. Its wide versatility and offroad capability make the MTVR an integral part of the Marine Corps logistical backbone.
Variants
There are nine variations[1] of the 7-ton MTVR:

MK23 Cargo, standard wheelbase, w/o Self-Recovery Winch
MK25 Cargo, standard wheelbase, w/ Self-Recovery Winch
MK27 Cargo, extra-long wheelbase, w/o Self-Recovery Winch
MK28 Cargo, extra-long wheelbase, w/ Self Recovery Winch
MK29 Dump, standard wheelbase, w/o Self-Recovery Winch
MK30 Dump, standard wheelbase, w/ Self-Recovery Winch
MK31 Tractor, standard wheelbase w/ all-wheel steering
MK36 Wrecker, extra-long wheelbase

Standard wheelbase is 15.3 feet; extra-long wheelbase is 18 feet.
Features
All MTVR's are equipped with a Central Tire Inflation System (CTIS). This allows the operator to select tire inflation pressures in accordance to vehicle payload and terrain type.
Extra-long wheelbase MTVR's are capable of hauling a 1 TEU sized Shipping Container.
MK 23 through MK 29 MTVR models have stowable dropsides. This allows for flexibility in moving cargo and troops.
All models feature a built-in turret stand and roof opening for operating vehicle-mounted weapons.
Concerned Military Occupational Specialties
United States Marine Corps
Operation and 1st Echelon Maintenance of the MTVR and fall under the 3531 MOS Part of the larger 3500 series of MOS concerned with Motor Transport. Maintenance beyond the 2nd Echelon is the responsibility of Marines with the 3521 Organizational Automotive Mechanic MOS.
United States Navy
MTVR's are operated primarily by Seabees in Naval Mobile Construction Battalions with an EO (Equipment Operator) rating. Maintenance is the responsibility of Construction Mechanics (CM).
Operators
See also
References
External links

Community content is available under
CC-BY-SA
unless otherwise noted.