The Mazda Titan is a commercial truck produced by Mazda. From the fourth generation, the vehicle had become a rebadged Isuzu Elf truck.
First generation (1971–1980)
Edit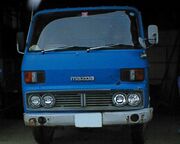 1971: E Series first presented as a successor.
1977: Minor change, face-lift , along with emblems of the Mazda logo (m mark) from "MAZDA" changed character.
Second generation (1980–1989)
Edit
1980: Announced the second generation. The 4000cc engine capacity was up to. This model shifts the two-way named Vice transmission had been set.
1984: Minor change.
1987: Minor change. Light from 04 square 04 round (both standard type ) change, DIN standard audio space is provided.

Third generation (1989–2000)
Edit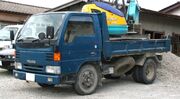 1989: Announced the third generation. TITAN Titan car name from the logo change. Mud is the third generation is "Titan" and enter.
1992: Minor change.
1995: Minor change. 1994 emissions standards compliance. The high output drive Isuzu 4HF1 / 4HG1 engines ) is adopted. "MAZDA" change the size of the logo.
1997: (October). Minor change. Headlamp to light four square to the deformed, "TITAN" change from red to white characters.
1999: (May). Meet emissions standards in 1998 (4000cc engine car in November.)
In export markets, the Titan was sold as the "Mazda T Series" and "Ford Trader". Buyers had a choice of rear ends that included ute bed, tray top, and a box which included a hydrological lifting tray. The choice of motor was either a 4 or 6 cyl diesel (possibly made by perkins) or a petrol engine with 4 or 6 cyl.

Fourth generation (2000–2004)
Edit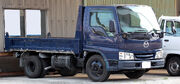 2000 May: 4th release.
October 2000: 1t payload featuring Bushido class (with which Bongoburonyi truck was discontinued.)
November 2000: CNG vehicles added.
June 2004: Titan (1.5-4t car) the fifth (of the Isuzu Elf OEM) transition. Bushido only continue production (Production Stamping commissioned.)
December 2004: New diesel regulations compatible short. All models driver's seat airbags are standard equipment.
August 2007: New long-term regulatory compliance.
August 2010: The Bushido was discontinued.

Fifth generation (2004–2007)
Edit
June 2004: Bushido became the only homegrown ,1.5-4t-class diesel specifications, the fifth generation Isuzu Elf was an OEM supplier. The fourth is the last home-grown 1.5-4t car production was only four years (the model life of the track is usually 10 years).

Sixth generation (2007–present)
Edit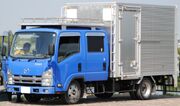 January 10, 2007: Remodeled, Isuzu Elf 6-generation vehicle OEM supply.

References
Edit
| | |
| --- | --- |
| | This article about a modern automobile produced after 1975 is a stub. You can help Tractor & Construction Plant Wiki by expanding it. |
Community content is available under
CC-BY-SA
unless otherwise noted.