Jurassic World: Dominion Dominates Fandom Wikis - The Loop
Play Sound
Mécanique Aviation Traction or Matra (Mécanique Aviation TRAction) was a French company covering a wide range of activities mainly related to automobiles, bicycles, aeronautics and weaponry. In 1994, it became a subsidiary of the Lagardère Group and now operates under that name.
Matra was owned by the Floirat family. The name Matra became famous in the 1960s when it went into car production by buying Automobiles René Bonnet. Matra Automobiles produced successful racing cars and sports cars.
Lagardère's involvement
By merging with various companies Matra's CEO Jean-Luc Lagardère built a group around Matra diversified in media, weaponry, state of the art technology, aeronautics and formerly in automobiles and records production and distribution. Matra was privatized in 1988, with Lagardère holding 6% of the stock and by 1992, 25%.
In 1992 the Lagardère Group was radically restructured; acquiring more shares in Matra from Floirat, Daimler Benz and GEC, and Hachette from Floirat, Crédit Lyonnais and Aberly. Lagardère merged Matra and Hachette to form Matra Hachette, of which Lagardère Group held 37.6%. Following a share swap in 1994 Lagardère held 93.3% of Matra Hachette's stock. In 1996 Matra Hachette was formally merged into Lagardère.
Matra Hautes Technologies
Matra Hautes Technologies (MHT) was the defence arm of Matra. The company was involved in aerospace, defence and telecommunications. In February 1999 Matra Hautes Technologies merged with Aérospatiale to form Aérospatiale-Matra. On July 10, 2000 Aérospatiale-Matra became part of EADS.
Divisions (as of Aérospatiale merger)
Matra Défense
Matra Systèmes & Information

Matra BAe Dynamics

(50% British Aerospace), formed in 1996, Matra BAe Dynamics brought together the missile business of BAe (

BAe Dynamics

) and half of the missile business of Matra Défense. (The other half remained as

Aerospatiale Matra Missiles

).

Matra Marconi Space

(49%

GEC

), was the space division of Matra which merged with the space operations of GEC (

Marconi Space Systems

) in 1989 to form Matra Marconi Space. In 2000, it was merged with the space division of DaimlerChrysler Aerospace AG (

DASA

) to form

Astrium

. This was later renamed to EADS Astrium.
Matra Nortel Communications (50%

Nortel

)
Weapons produced
R.511

air to air missiles

R.530

air to air missiles

Super 530

air to air missiles

R.550 Magic

air to air missiles

MICA

air to air missiles

R.422

surface to air missiles

Mistral

anti-aircraft missiles

Martel

anti-radar and anti-shipping missiles in association with Hawker Siddeley

ARMAT

anti-radar missiles

Otomat

anti-shipping missiles in association with

Oto Melara

BLG 66 Belouga

cluster bombs

Durandal

anti-runway bombs
Pods for the

SNEB

unguided rocket
Matra road cars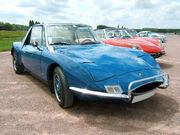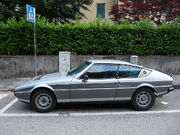 The company was created following the acquisition of the brand Automobiles René Bonnet in 1964 by Jean-Luc Lagardere and disappeared in 2003
The Matra name was first used for road cars with the Renault-powered Matra Djet (pronounced "jet"), which was an update of the Bonnet Jet, the Djet was replaced with the Matra 530, Bagheera, the Murena and the Rancho, an early type of SUV.
In 1984 Renault launched the Matra built Espace minivan, the car was a success.
After the discontinuation of the Renault Avantime (co-designed and built by Matra), on February 27, 2003, Matra announced its intention to close its automobile factory in Romorantin-Lanthenay a month later.
In September 2003, Pininfarina SpA acquired Matra Automobile's engineering, testing and prototype businesses. The company was subsequently named Matra Automobile Engineering. On January 13, 2009, Pininfarina sold its share in Matra Automobile Engineering to Segula Technologies.
Street models
Matra Djet

Matra 530

Matra Bagheera

Matra Murena
Motorsport
Main article:

Equipe Matra Sports
In the mid-1960s Matra enjoyed considerable success in Formula 3 and Formula 2 racing with (especially) its MS5 monocoque-based car, winning the French and European championships. Matra competed as a constructor in Formula One from 1967 to 1972 and as an engine supplier between 1975 to 1982, winning the drivers' and constructors' championships in 1969.
Matra also competed in sports car racing from 1966 to 1974 winning the 24 Hours of Le Mans in 1972, 1973 and 1974 and the World Championship for Makes in 1973 and 1974.
Football
Main article:

Racing Club de France football Colombes 92
Matra sponsored Racing Club de France in 1987~1989
Other activities
Matra produced a home computer, the Matra Alice
Matra produced a fiberglass 14 ft sailing

dinghy

with an innovative double bottom, self-bailing hull called the Capricorne. Though several hundred were sold and a class association briefly existed, it never really caught on against the better established

International 420

.
Matra created an automatic (driverless) light

rubber-tyred

metro

, the

Véhicule Automatique Léger

Matra attempted, and failed, to produce a

personal rapid transit

system,

Aramis

Today, Matra makes

electric bicycles

and

electric scooters

[1]

Matra i-step

Runner, Tourer and Force as well as

Matra i-flow

in

Romorantin

.
References
External links