Jurassic World: Dominion Dominates Fandom Wikis - The Loop
Play Sound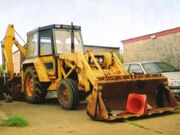 The Massey-Ferguson Industrial & Construction Division was set up to handle the construction products line & industrial tractors based mainly on Massey-Ferguson tractor skid units. The British-based unit became Fermec in the late 1990s and then ultimatly sold to Terex after a management buy-out. The South American MF Industrial brand was built by Iochpe-Maxion, a Massey Ferguson licensee in Brazil. Iochpe-Maxion was later purchased by AGCO in 1996. It continues to build MF Industrial backhoes.[1]
Industrial Massey Ferguson's also continue to be built by AGCO's MF division, and may be simply painted Industrial yellow or orange, or have Heavy Duty components added to it.
History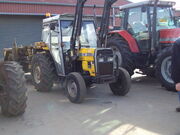 The new Industrial & Construction Equipment Division created to bring together various product lines from numerous factories in the group, following MFs decision to expand in the growing construction equipment market in the 1970s.
Hanomag was part of the group for a period, building tracked machines and the waste compactor line, in their German factory, but was later sold to Komatsu. The company built a new factory in the UK at Knowsley on Merseyside and machines were also assembled at the Barton Dock road site in Manchester.
Time Line
1959 702 industrial tractor built at - Coventry
1961 702, 203, 205, MF 65 semi Ind - Coventry
1961 Crawlers from Italy
1966 'MF Industrial & Construction Machinery Group established within MF.
1970 Knowsley Plant opened
1970s - (more info require)
1980s - .......
1983 MF Industrial Division created to handle all industrial lines design & production, manufacture, marketing and support.
1992 MF Industrial Division (UK) sold to a management buy-out and Fermec is created
1996 J.I. Case buys Fermec
1997 MF badge dropped, and FERMEC badge adopted
Model Range
Construction Model Range
Massey Ferguson Hanomag

In 1974, Massey Ferguson purchased Hanomag's construction equipment division, completing what was started in 1969. In 1969, Massey Ferguson had purchased Hanomag's Agricultural division, and MF's licensee in Argentina purchased the Rheinstahl Hanomag Cura SA joint venture in Argentina, and manufactured there until the 1990s. IBH-Holding purchased MF Hanomag in 1980, and ran it until bankruptcy in 1984. In 1989, Komatsu purchased a percentage of the company, and then renamed it in 1995 to Komatsu Hanomag AG. In 2002, Komatsu completed purchasing 100% of the company.
UK Preserved Machines
Very few examples of MF industrial equipment appear on the UK show circuit. The odd MF Crawler has appeared in the magazines - If you know of any examples please list them and add a photo.
If you own one how about adding a page for your machine or collection !
Template:PML MF Construction
See also
Collector related
Publications
Reference
Massey-Ferguson Industrial & Construction Equipment (book)

by J.Farnworth
External links
MF Construction Equipment

Under construction - please add missing models

Backhoe loaders
MF Crawler Tractors

44

 •

44 vineyard

 •

134C

 •

135C

 •

174C

 •

200

 •

200 Series II

 •

274C

 •

274CF

 •

294C

 •

376C

 •

376CF

 •

376XCF

 •

1104C

 •

1114C

 •

1124C

 •

3340 C-series

 •

3350C-series

3355 C

 •

3425 C-series

 •

3435 C-series

 •

3445 C-series

 •

3455 C-series

Other Crawler Tractors

44S

 •

Super 44 Mark

 •

Super 44 Mark II

 •

101C

 •

124C

 •

144C

 •

164C

 •

174C 236

 •

178C

 •

194C

 •

200 loader

 •

200B

 •

200C

 •

200D

 •

234C

 •

234CF

 •

244

 •

244CF

 •

254C

 •

254CF

 •

264CF

 •

300

 •

356CF

 •

376XCF

 •

394C

 •

396C

 •

396CF

 •

396TC

 •

2244

 •

3366

Excavators

250

 •

350

 •

450

 •

450 DLC

 •

450S

 •

W350

 •

W450 D

Forklifts
Industrial tractors

MF 20

 •

MF 20B

 •

MF 20C

 •

MF 20D

 •

MF 20E

 •

MF 20F

 •

30

 •

30B

 •

Massey Ferguson 30C

 •

30D

 •

30E

 •

30H

 •

31

 •

35 Turf Special

 •

35X

 •

40

 •

40B

 •

40E

 •

40S

 •

50

 •

50A

 •

50B

 •

50C

 •

50E

 •

50EX

 •

50F

 •

65

 •

100

 •

165

 •

175

 •

200

 •

202

 •

203

 •

204

 •

205

 •

210

 •

220

 •

235

 •

242

 •

250

 •

302

 •

303

 •

304

 •

350 H

 •  •

356

 •

404

 •

406

 •

640

 •

650

 •

660

 •

765

 •

1085

 •

1200

 •

1615 L

 •

2135

 •

2200

 •

2203

 •

2205

 •

3165

 •

3165R

 •

3165S

 •

3303

 •

3305

 •

8500

 •

9500

Wheel loaders
(Some ex Hanomag)

11

 •

22C

 •

33

 •

44C

 •

55C

 •

66C

 •

77C

 •

88

 •

406 tractor loader

 •

911

 •

Work Bull 1001

Skid steers
Tracked loaders
Other

220 Skidder

 •

24 telescopic Handler
Massey Harris range
Massey-Harris tractor range

This list of models is under construction
Please add any missing models or new pages for this make

Early models

Bull

 •

Parrett

-(

No. 1

 •

No. 2

 •

No. 3

) •

20-30

(

Wallis

) •

12-20

(Wallis) •

20

 •

15-22 4WD

 •

20-30

 •

21

 •

22

 •

23

 •

25

 •

30

 •

33

 •

40

 •

44

 •

44D

 •

44 Diesel

 •

44 GS

 •

44 K

 •

44 LP Special

 •

44-O

 •

44 Special

 •

44-V

 •

44-6

 •

50

 •

50 LP

 •

55

 •

55 Diesel

 •

55 LP Western Special

 •

81

 •

82

 •

101

 •

101 Junior

 •

101 Twin Power

 •

102

 •

102 Junior

 •

103

 •

201

 •

202

 •

203

 •

333

 •

444

 •

555

 •

555D

 •

Challenger

 •

Colt

 •

General Purpose 4WD

 •

GSF Special

 •

I-244G

 •

Mustang

 •

Pacemaker

 •

Pacer No. 16

 •

Pony (No. 11)

 •

Pony vineyard

 •

The General

(Cletrac)

Canadian built models

Details required

American built models

Details required

UK built models
French built models

Pony 811

 •

Pony 812

 •

Pony 820

Massey-Harris Combine Harvesters/Swathers

Clipper

 •

21 combine

 •

21A

 •

Super 26

 •

35

 •

60

 •

80

 •

82

 •

90

 •

92

 •

Super 92

 •

630

 •

630 S

 •

722

 •

726

 •

750

 •

780

 •

780 Special

 •

890

 •

20 swather
Massey Harris Ferguson range
M-H-F Work Bull 202
M-H-F Work Bull 303
M-H-F Work Bull 404
Post merger new models
1990s
Massey Ferguson 342

 •

Massey Ferguson 352

 •

Massey Ferguson 362

 •

Massey Ferguson 365

 •

Massey Ferguson 372

 •

Massey Ferguson 375

 •

Massey Ferguson 390

 •

Massey Ferguson 398

 •

Massey Ferguson 399

 •

Massey Ferguson 6220

 •

Massey Ferguson 6230

 •

Massey Ferguson 6240

Massey Ferguson 6250

Massey Ferguson 8110

 •

Massey Ferguson 8120

 •

Massey Ferguson 8130

 •

Massey Ferguson 8140

 •

Massey Ferguson 8150

 •

Massey Ferguson 8160
2000 > 2010
>
Massey Ferguson 3330

Massey Ferguson 3340

Massey Ferguson 3350

?

Massey Ferguson 4435

Massey Ferguson 4445

Massey Ferguson 4455

Massey Ferguson 640

 •

Massey Ferguson 650

 •

Massey Ferguson 660

 •

Massey Ferguson 680

Massey Ferguson 8650

Massey Ferguson 8660

Massey Ferguson 8670

Massey Ferguson 8680

Massey Ferguson 8690
Massey Ferguson Lawn & Garden Tractors
Lawn & Garden by

AMF

Lawn & Garden by

Dura

Lawn & Garden by
Hinomoto (Toyosha)
Lawn & Garden by Ingersoll
Lawn & Garden by
Iseki
Lawn & Garden by
Massey Ferguson & Others
Lawn & Garden by
MTD Products

21-22GC

 •

21-25GC

 •

21-25RD

 •

22-20GC

 •

22-28GC

 •

30-15

 •

30-15RA

 •

30-15RD

 •

30-17

 •

30-18

 •

31-25RD

 •

32-13H

 •

32-16H

 •

32-16HL

 •

33-12H

 •

33-15H

 •

33-16HE

 •

33-20H

 •

33-20HE

 •

36-15RA

 •

36-15RD

 •

36-18RD

 •

36-20HG

 •

36-22HG

 •

36-22RD

 •

38-15SD

 •

38-15SH

 •

38-15ST

 •

41-18RD

 •

41-20RD

 •

41-25RD

 •

42-18SH

 •

42-20SD

 •

42-22SD

 •

48-23RD

 •

48-25RD

 •

50-23SD

 •

50-25SD

Lawn & Garden by
Simplicity

2312

 •

2420

 •

2420 XL

 •

2514G

 •

2514H

 •

2515G

 •

2515H

 •

2516

 •

2516H

 •

2517

 •

2518

 •

2518G

 •

2518H

 •

2520H

 •

2522H

 •

2524H

 •

2526

 •

2606

 •

2614H

 •

2615H

 •

2616

 •

2616H

 •

2617H

 •

2618H

 •

2620

 •

2626

 •

2716H

 •

2717H

 •

2718

 •

2718H

 •

2720

 •

2720H

 •

2722

 •

2723H

 •

2725

 •

2818H

 •

2820

 •

2823

 •

2825H

 •

2827H

 •

2918H

 •

2920H

 •

2920LC

 •

2923

 •

2924C

 •

2924D

 •

2925

 •

2927C

 •

2927D

 •

2927H

 •

2927LC

Lawn & Garden by Snapper

1450

 •

1650

 •

1655

 •

1855
Specialist ranges / subsidiaries
Massey Ferguson Construction/Industrial
MF Construction Equipment

Under construction - please add missing models

Backhoe loaders
MF Crawler Tractors

44

 •

44 vineyard

 •

134C

 •

135C

 •

174C

 •

200

 •

200 Series II

 •

274C

 •

274CF

 •

294C

 •

376C

 •

376CF

 •

376XCF

 •

1104C

 •

1114C

 •

1124C

 •

3340 C-series

 •

3350C-series

3355 C

 •

3425 C-series

 •

3435 C-series

 •

3445 C-series

 •

3455 C-series

Other Crawler Tractors

44S

 •

Super 44 Mark

 •

Super 44 Mark II

 •

101C

 •

124C

 •

144C

 •

164C

 •

174C 236

 •

178C

 •

194C

 •

200 loader

 •

200B

 •

200C

 •

200D

 •

234C

 •

234CF

 •

244

 •

244CF

 •

254C

 •

254CF

 •

264CF

 •

300

 •

356CF

 •

376XCF

 •

394C

 •

396C

 •

396CF

 •

396TC

 •

2244

 •

3366

Excavators

250

 •

350

 •

450

 •

450 DLC

 •

450S

 •

W350

 •

W450 D

Forklifts
Industrial tractors

MF 20

 •

MF 20B

 •

MF 20C

 •

MF 20D

 •

MF 20E

 •

MF 20F

 •

30

 •

30B

 •

Massey Ferguson 30C

 •

30D

 •

30E

 •

30H

 •

31

 •

35 Turf Special

 •

35X

 •

40

 •

40B

 •

40E

 •

40S

 •

50

 •

50A

 •

50B

 •

50C

 •

50E

 •

50EX

 •

50F

 •

65

 •

100

 •

165

 •

175

 •

200

 •

202

 •

203

 •

204

 •

205

 •

210

 •

220

 •

235

 •

242

 •

250

 •

302

 •

303

 •

304

 •

350 H

 •  •

356

 •

404

 •

406

 •

640

 •

650

 •

660

 •

765

 •

1085

 •

1200

 •

1615 L

 •

2135

 •

2200

 •

2203

 •

2205

 •

3165

 •

3165R

 •

3165S

 •

3303

 •

3305

 •

8500

 •

9500

Wheel loaders
(Some ex Hanomag)

11

 •

22C

 •

33

 •

44C

 •

55C

 •

66C

 •

77C

 •

88

 •

406 tractor loader

 •

911

 •

Work Bull 1001

Skid steers
Tracked loaders
Other

220 Skidder

 •

24 telescopic Handler
Other products
Agricultural machinery

MF 701 baler

 •

Massey Ferguson Machinery Range

Attachments

MF Load Control Hitch

 •

MF Loader range

Balers
Cultivation/Implements

Cultivator

add models here

Disc harrow

add models here

Chain harrow

add details here

Row crop toolbars

add details here

Rotary cultivator (Rotavator)

add details here

Rotary harrow (power harrow)

Drills
Grassland machinery
Harvesting
Planters

Massey Ferguson Planter range

Ploughs (Plow in US)
Spreaders
Trailers
Misc equipment

Category:Massey Ferguson Attachments

Combine Harvesters
Note this list is under development and need sub groups adding for the series
please add the model of any page this template is added to
(please fix omission / correct errors of dates)
Early Makes - pre 1940s

1940s to 1980s

Modern post 1980s

Independents
North America

Europe

India & Pakistan

Middle East
(Turkey, Iran,
Iraq, Syria etc...)

Far East
(Australasia, China,
Japan, Korea, Thailand,
Vietnam etc...)

South America
(Argentina, Brazil,
Uruguay etc)

Africa

Asia
(Russia, Tajikstan,
Uzbekistan, Ukraine)

Specialist types of tractor

Notable People - associated with the tractor industry

Inventors