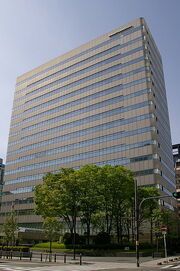 Marubeni Corporation (丸紅株式会社 Marubeni Kabushiki-gaisha) (TYO: 8002, OSE: 8002, NSE: 8002) is a Japanese trading company, one of the largest general trading companies (Sōgō shōsha) in Japan.
and more...
The companies major shareholders are mainly Japanese banks & investment companies.
The company has owns completely or has large holding in many subsidiaries that operate around the world in many markets. These companies in turn own many other local companies or have holdings in joint ventures/ subsidiaries.
AcquisitionEdit
Together with China Winsway Coking Coal Holdings Limited, Marubeni Corporation made joint venture to acquire Canadian Grande Cache Coal Corp. for C$983 million, but the portion of Marubeni Corporation was only 40 percent.[1]
ReferencesEdit
External linksEdit
| | |
| --- | --- |
| | This article about a Japanese corporation- or company-related topic is a stub. You can help Tractor & Construction Plant Wiki by expanding it. |