Obi-Wan Finale - The Loop
Play Sound
This article needs additional

citations

for

verification

. Please help improve this article by adding citations to

reliable sources

. Unsourced material may be challenged and

removed

. (March 2012)
Manganese Bronze Holdings PLC is an engineering company based in Coventry, England. Once an important conglomerate of British motorcycle marques, since the sale of its components division in 2003 the company has only one operating division—LTI Limited, trading as The London Taxi Company—which manufactures and retails London Black Taxis. The London Taxi Company manufactures London Black Taxis and retails and provides maintenance services for taxis in the major cities of the United Kingdom.
History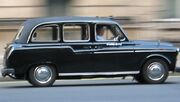 Manganese Bronze originally made ship propellors. In the early 1960s Manganese Bronze Bearings Ltd as it was then known bought Villiers Engineering Ltd, a motorcycle company chiefly known for its range of engines. Now Manganese Bronze Holdings Ltd, the company next bought AMC (Associated Motorcycles), owners of the Norton, AJS and Matchless motorcycle brands, in 1964 and named new products Norton-Villiers.
Manganese Bronze absorbed part of BSA in 1973, under chairman Dennis Poore, as part of a rescue plan initiated by the Government. BSA Motorcycles interests trading as Triumph were combined with current Manganese Bronze motorcycle production to form Norton Villiers Triumph (NVT). BSA Guns was liquidated in 1986. BSA's components businesses became Manganese Bronze Components Division, comprising sintering, precision casting and metal powders: this division was sold in 2003 and went bankrupt a short while later.
In January 2003 MBH launched the Zingo Taxi, an innovative taxi hailing system using mobile location technology. This was sold to Computer Cab in November 2004 for £1. Between July 2003 and November 2004 MBH sold its property portfolio, including the site of its Coventry manufacturing facility.
In January 2007 an Extraordinary General Meeting of the shareholders approved a joint venture with Geely Automobile to manufacture the London Black Cab and other vehicles in China. In June 2008 MBH announced the production of the first prototype TX4 taxi at its Chinese joint venture, LTI Shanghai.[1]
In July 2008 LTI Vehicles announced that its business had not avoided the global economic downturn, and would be laying off 40 employees.[2]
On the 29th of June 2009 Manganese Bronze Holdings PLC advised that Geely Automobile Holdings Limited, with whom they have a joint venture to produce Taxis in China, has a notifiable interest in 6,085,000 of the Company's ordinary shares, representing 19.971% of the issued ordinary share capital.
Taxi production
Further information:
Taxicabs of the United Kingdom
The classic Austin FX3 "Black cab" taxi of 1948 was built by car body builder Carbodies in partnership with Mann & Overton and Austin. More than 7000, mainly destined for London, were produced over ten years. Carbodies concentrated on producing complete taxis, starting with the Austin FX4 in 1958/9; this is the classic cab still common today. They were taken over by Manganese Bronze Holdings plc in 1973. In 1982 Carbodies took over the intellectual rights to the FX4 from British Leyland (which had by then absorbed Austin). Latterly, developed FX4 models were known as the LTI Fairway.
LTI introduced the successor to the FX4, the TX1 in 1997. It was developed into the TXII, which was introduced in 2002. It is powered by a Ford Dura Torq 2.4-litre diesel engine and features an integral, fold-down ramp for wheelchairs. It also has an intermediate step and swivel-out seat for passengers with moderate walking difficulties. For people with hearing problems it has an induction loop incorporated in the intercom system.
The latest model as of 2006 is the TX4. It is powered by a VM R 425 DOHC diesel engine and features many refinements and enhancements.
All taxis operated in London, UK must comply with the Conditions of Fitness, which are managed by the Public Carriage Office (PCO). Formerly a civilian branch of the Metropolitan Police Service, the PCO is now part of Transport for London, under control of the Mayor of London.
Over 130,000 London Black Taxis have been produced at London Taxi Company's Coventry site over the past sixty years. Annual production has averaged between 2000 and 2500 units per year through the past decade. Around two thirds of production goes into London via the London dealership in Islington. The remainder goes largely to the larger cities in the UK that have adopted the PCO's London Conditions of Fitness (including Glasgow, Edinburgh, Liverpool, Manchester, Birmingham, Coventry and Bristol). Outside these cities the market for taxis is now dominated by MPV's that have been converted to make them wheelchair accessible in line with the Disability Discrimination Act 1995.
In June 2007 Manganese Bronze Holdings, The London Taxi Company's parent company, finalised a joint venture with Geely Automobile Holdings Ltd to produce the purpose-built taxi in Shanghai, China. The joint venture company began producing the London Taxi in April 2009 following a successful launch at the Shanghai Auto Show. The vehicle is for sale not only in China but is also exported all over the world by The London Taxi Company. Production in Coventry to the UK market remains and benefits from the supply of lower cost components from China. LTI rebranded to The London Taxi Company in 2010.
Electric taxi
Chinese carmaker Geely Automobile has been in talks over the possibility of converting London's black cabs into electric-powered cars. The company, which owns a stake (see above) in black London taxi-maker Manganese Bronze, says it has held talks with UK government officials about the plan.[2]
See also
References
↑ Manganese Completes First Prototype of Chinese Built TX4 Taxi, Regulatory News Item, 25 June 2008 [1]
External links

{[wikipedia}}