Mancini is the brand for Industrias Mancini S.A.C.I.A., based in General Baldissera, Cordoba, Argentina. Mancini is a manufacturer of Agricultural and construction equipment. It was founded by Don Remigio Mancini, Sr. in the early 1900s.
Mancini manufactures various agricultural trailers and wagons, wheel loaders, backhoes, loader tractors, articulated tractors and sprayers, with backhoe production beginning in 2002.[1]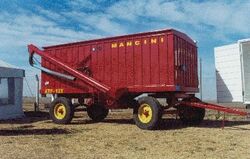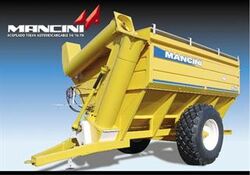 Mancini tractor range

4WD Tractor Models
Construction Models
Early Makes - pre 1940s

1940s to 1980s

Modern post 1980s

Independents
North America

Europe

India & Pakistan

Middle East
(Turkey, Iran,
Iraq, Syria etc...)

Far East
(Australasia, China,
Japan, Korea, Thailand,
Vietnam etc...)

South America
(Argentina, Brazil,
Uruguay etc)

Africa

Asia
(Russia, Tajikstan,
Uzbekistan, Ukraine)

Specialist types of tractor

Notable People - associated with the tractor industry

Inventors
Community content is available under
CC-BY-SA
unless otherwise noted.