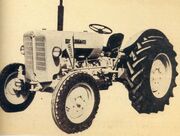 Malkotsis is the trade name for 'Technika S. Malkotsis A.E.', which has historically been the most important engine manufacturer in Greece. Located in Piraeus, Greece, before World War II it produced various types of industrial machinery and diesel engines.
In that respect, it was one of several engine (mostly diesel and semi-diesel) manufacturers that flourished in Greece in the 1920s and (mostly) 1930s, like Dimadis-Kanakis in Volos, Peteinaris in Kalamata, Siderides, BIO, Koutroufis and many others in Athens, etc. After World War II, Malkotsis focused almost entirely on diesel engines (always of its own development), soon becoming the largest company in its field.
Malkotsis engines found use in a variety of industrial applications, while its boat engine models became legendary for their reliability. Its EM-4 series was specifically designed for powering of vehicles and was employed in Malkotsis's own 45 hp (34 kW) farm tractor model (Malkotsis EM-4) introduced in 1962 and produced for several years.
A range of electric motors was produced as well for a time. The company faced financial problems later, due to competition from cheaper imports, and was acquired in 1991 by Drakos-Polemis A.E., a pump manufacturing company which used all Malkotsis infrastructure for its production purposes.
See also
References
L. S. Skartsis and G. A. Avramidis. Made in Greece. Typorama: Patras, Greece (2003).
Early Makes - pre 1940s

1940s to 1980s

Modern post 1980s

Independents
North America

Europe

India & Pakistan

Middle East
(Turkey, Iran,
Iraq, Syria etc...)

Far East
(Australasia, China,
Japan, Korea, Thailand,
Vietnam etc...)

South America
(Argentina, Brazil,
Uruguay etc)

Africa

Asia
(Russia, Tajikstan,
Uzbekistan, Ukraine)

Specialist types of tractor

Notable People - associated with the tractor industry

Inventors
Community content is available under
CC-BY-SA
unless otherwise noted.