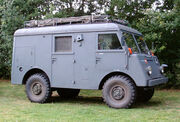 MOWAG is a Swiss company which develops, designs and produces armoured vehicles for military applications in both land-only and amphibious configurations. These range in the 7t to 25t gross vehicle weight. More than 12,000 armoured wheeled vehicles of the type Piranha, Eagle and DURO are in operation worldwide with a large number of armed forces. The company is owned by General Dynamics.
MOWAG, originally MOWAG Motorwagenfabrik AG, was founded in 1950 as a privately owned company by engineer Walter Ruf. During the past 50 years MOWAG has concentrated on the development and production of specialised vehicles.
Its initial success was the development and production of more than 1600 troop carriers "MOWAG 4x4" for the Swiss Army. Contracts for Germany followed, with 750 MOWAG MR series armoured wheeled vehicles produced for the German Bundesgrenzschutz (Federal Border Guard) (also later used by Spain), and built under licence in Germany. Further high-powered wheeled and tracked vehicle series were developed and manufactured for the world markets.
Since October 2003, MOWAG has been a company within the General Dynamics European Land Systems group and at present employs around 750 highly-skilled personnel at the facility in Kreuzlingen, Switzerland. MOWAG continues to operate as a Swiss company, and is organised and incorporated under Swiss law. General Dynamics European Land Systems is part of General Dynamics Corporation (GD). From 1 April 2010 the company is known as General Dynamics European Land Systems - MOWAG GmbH
Current Products
Edit
MOWAG's products are leaders with numerous forces, such as the US Army (Stryker), US Marine Corps (LAV-25), Canadian Army, Swiss Army and Chilean Army as well as in Australia, New Zealand, Sweden, Belgium, Denmark, Ireland, Great Britain, Germany, Spain, Malaysia and some countries in the Middle East, Africa and South America. In addition to production in Kreuzlingen (Switzerland), London, (Ontario, Canada), and the USA, MOWAG vehicles are also built under licence by companies in other countries.
Piranha, Eagle and DURO vehicles are successfully deployed in numerous operations around the world and are combat proven in a wide range of missions, terrains and climatic conditions. Service life extension and re-role programmes for Piranha vehicles, some fielded as early as the seventies (e.g. to the US Marine Corps, Canadian and Swiss Forces), are currently under way, which will allow to extend the service life by many years to come.
MOWAG Piranha
Edit
Since the Piranha 4x4, 6x6, 8x8 and 10x10 family of armoured wheeled vehicles was conceived in the seventies, over 6,500 vehicles have been produced and are today in operation. A further 1,700 Piranha vehicles are now selected, on order and under production in Canada, the USA and Switzerland. The baseline vehicle, the new generation of the Piranha III, enables numerous applications and/or weapon system installations as expected of a modern multi-role vehicle, which is well suited to any battlefield or peace-keeping/peace-enforcing mission anywhere in the world. The Piranha IV 8x8 offers again higher payloads, modular ballistic protection, superior mine protection, and provides increased mobility with its height-adjustable hydro-pneumatic suspension system. The US Stryker vehicle is a modified Piranha design as is the Canadian LAV III.
A new version of the Piranha 5 was released at EUROSATORY 2010.[1]
MOWAG Eagle
Edit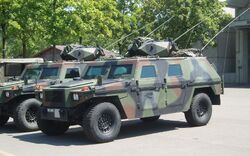 The MOWAG Eagle is a Swiss armoured version of the American HMMWV. A total of 365 Eagle 4x4 reconnaissance vehicles and 120 Eagle 4x4 artillery forward observation vehicles have been built in the past eight years and are in service with the Swiss and Danish Forces.
The newly developed Eagle IV, based on the DURO, is suitable for reconnaissance, communications and observation vehicle as well as for UN missions and border patrol. The MOWAG development on the basis of the proven DURO chassis is distinguished through a very high payload versus a low GVW, with a high ballistic and mine protection level as well as exceptional mobility both on and off-road. Due to the communality with the DURO family of vehicles, the maintenance and training costs can be kept low in a fleet mission.
A new version of the Eagle was launched by General Dynamics European Land Systems - MOWAG GmbH at EUROSATORY 2010 on 14 June 2010.[2]
MOWAG Duro tactical trucks
Edit
DURO stands for DUrable and RObust. Initially developed for Switzerland by Bucher-Guyer AG in Niederweningen, Switzerland, who started production of all-wheel-drive trucks in 1976. An initial 3,000 vehicles order for the Swiss Armed Forces came through in 1994. Over 4,000 DURO 4x4 and 6x6 vehicles are now in service worldwide. Main customers are Switzerland, Germany, Venezuela, Great Britain, and Malaysia. In addition to these, the vehicle is used in many other countries for special purposes. The latest versions are the DURO II and DURO III. Germany has ordered the DURO IIIP 6x6 ballistic and mine protected version.
The Yak is an armored and mine-protected transport vehicle produced by the German company Rheinmetall Landsysteme AG based on the DURO IIIP chassis. The German Army uses the Yak for its military police, EOD teams, and as mobile armoured ambulance.
Former products
Edit
From the beginning MOWAG produced both armoured and unarmoured vehicles, to include motorcycles and fire appliances.
References
Edit
External links
Edit

Community content is available under
CC-BY-SA
unless otherwise noted.