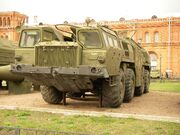 The MAZ-543/MAZ-7310 "Uragan" (Russian: МАЗ-543/МАЗ-7310 "Ураган"/Hurricane) is a Soviet/Belarusian 8x8 artillery truck designed and developed by MAZ (Minsk Automobile Plant), in what is now Belarus. Designed in the 1960s, the MAZ-543 was presented on November 7, 1965 during the Moscow Red Square military parade as part of SS-1с Scud B (9K72 Elbrus) system. It is powered by a 38.9 liter D12A-525 diesel engine producing around 525 horsepower, and gives a maximum road speed of 37 mph.
The MAZ-543P (carrying capacity - 19600 kg) was used for 9K76 Temp-S system.
In 1967 another modification, the MAZ-543A, arrived (with extra carrying capacity up to 22000 kg). It served as the basis for several civilian vehicles, including the 9K58 Smerch, the AA-60(543)-160 aerodrome fire-fighting vehicle (1973), the AA-70(543)-172 experimental emergency vehicle, and the KS-5571 crane.
In 1974 at the All-Russia Exhibition Centre, a new prototype modification (MAZ-7310) was presented. It has been in production since 1976.
MAZ-7310 could operate together with 4WD MAZ-8385 as a road-train (total length - 205.5 m). It was used in Siberia for oil surveying, and also as a tractor on military airbases. It completely replaced the previous 543 model, including a dump-truck MAZ-7510, aerodrome fire-fighting vehicle AA-60(7310)-160.01 (1978) and the crane KS-5573 (1981).
In January 1983 the carrying capacity was increased by 1 more ton with the same dead weight (MAZ-7313 model). In particular this model was used to transport boring rigs, lifting cranes KS-5576 and KS-6571, and aerodrome fire-fighting vehicles AA-60(7313)-160.01 and AA-60(7313)-220.
References

Trucks (older models):

MAZ-200

•

MAZ-205

•

MAZ-501

•

MAZ-502

Heavy trucks:

MAZ-525

•

MAZ-529

•

MAZ-530

Artillery trucks:

MAZ-535

•

MAZ-537

•

MAZ-543/MAZ-7310

•

MAZ-7410

•

MAZ-7910

•

MAZ-7912/MAZ-7917

•

MAZ-547/MAZ-7916

•

MAZ-7904

•

MAZ-79221

•

MAZ-7906

•

MAZ-7907

Modern trucks:

MAZ-500

•

MAZ-503

•

MAZ-504

•

MAZ-505

•

MAZ-509

•

MAZ-511

•

MAZ-515

•

MAZ-516

Medium trucks:

MAZ-4370

•

MAZ-4570

•

MAZ-5336

•

MAZ-5337

•

MAZ-5432

•

MAZ-5433

•

MAZ-5434

•

MAZ-5442

•

MAZ-5516

•

MAZ-5551

•

MAZ-6303

•

MAZ-6317

•

MAZ-6417

•

MAZ-6422

•

MAZ-6425

•

MAZ-6430

Buses:

MAZ-103

•

MAZ-104

•

MAZ-105

•

MAZ-107

•

MAZ-152

•

MAZ-171

•

MAZ-203

•

MAZ-206

•

MAZ-226

•

MAZ-251

•

MAZ-256

Trolleybuses: