MAT-S.A. Craiov is a Romanian company with roots back to 1878. Based in Craiova, Romania, the company builds and distributes tractors and other agricultural equipment.
MAT began as the Romanian agent for the English company Clayton & Shuttleworth. There was 15 years of association with the Austro-Hungarian firm Richard Graepel. The first tractor by MAT was manufactured in 1974. In 2003, the company was privatized and sold to S.C. Autocora Alexandria.[1] MAT also imports ArmaTrac tractors to sell in Romania.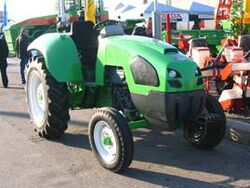 In 2010 MAT began importing 4WD CKD kits from Pauny in Argentina and assembling them in Romania. They are also supplied to Valtec to sell.
References
Edit
External Links
Edit
Early Makes - pre 1940s

1940s to 1980s

Modern post 1980s

Independents
North America

Europe

India & Pakistan

Middle East
(Turkey, Iran,
Iraq, Syria etc...)

Far East
(Australasia, China,
Japan, Korea, Thailand,
Vietnam etc...)

South America
(Argentina, Brazil,
Uruguay etc)

Africa

Asia
(Russia, Tajikstan,
Uzbekistan, Ukraine)

Specialist types of tractor

Notable People - associated with the tractor industry

Inventors