MAN AG is a German engineering company based in Munich, Germany. The company goes back to 1758, and incotperates several well known names including ERF (UK), Steyr (Austria) and shares in Volkswagen and Scania.
MAN is one of Europe's leading manufacturers of engineering equipment and commercial vehicles. MAN supplies trucks, buses, diesel engines, turbine machinery, as well as industrial services and holds leading market positions in all its business areas. MAN AG is one of the top 30 companies listed on the German stock exchange (DAX). It is also the oldest company within the DAX. The company celebrates its 250th anniversary in 2008.[1] In 2007, its 55,000 employees generated annual sales of around €15.5 billion in 120 different countries. The company has joint ventures and other joint venture with local companies in India, Poland, Turkey, and the United States.
MAN is securely positioned in the field of transport engineering, having won numerous prizes. Among those are the Truck of the Year award in 2006 as well as in 2008, the Bus of the Year award 2006, and recently, the German business Innovation Prize[2] (Innovationspreis der deutschen Wirtschaft) in the Major Enterprises category for its innovative 32/40PGI gas engine.[3]
History
MAN traces its origins back to 1758, when the "St. Antony" ironworks commenced operation in Oberhausen, as the first heavy-industry enterprise in the Ruhr region. In 1808, the three ironworks "St. Antony", "Gute Hoffnung", and "Neue Essen" merged, to form the "Hüttengewerkschaft und Handlung Jacobi" (Iron Mining and Trading Company), Oberhausen, which is later renamed "Gute Hoffnungshütte" (GHH). In 1921, GHH bought up M.A.N., the South German predecessor of MAN.
In 1908, the "Vereinigte Maschinenfabrik Augsburg und Maschinenbaugesellschaft Nürnberg A.G.", Augsburg (United Machine Works Augsburg and Nuremberg Ltd.), which came into being through the 1898 merger of "Maschinenbau-AG Nürnberg" (founded 1841), and the "Maschinenfabrik Augsburg AG" (founded 1840) was renamed Maschinenfabrik Augsburg Nürnberg AG, Augsburg, or short M.A.N.
The early predecessors of MAN were responsible for numerous technological innovations, such as the first German rotary printing press for newspapers, the first refrigerating machine "System Linde" (1873), and co-operation in the development of the Diesel engine 1893-97. Rudolf Diesel's ingenious invention was in those years realized with the help of the engineers at the Maschinenfabrik Augsburg.
In 1924, the company showed a diesel truck at the Berlin Motor Show, which was purchased in quantity by the Bavarian Post Office.[4]
During the 1930s, MAN marine diesels were produced under license in the U.S., and installed in fleet submarines, where they proved troublesome and unpopular in the Pacific War.[5]
After the Second World War, M.A.N. GHH lost all its foreign operations and suffered heavy war damage. Allied Forces took control of all GHH companies and broke up the company, placing the steel production facilities into separate ownership. Thus the focus shifted towards the South German plants and commercial vehicles. In 1986, GHH was remerged into MAN with its headquarters in Munich.

The MAN group took over the truck builder Steyr Nutzfahrzeuge AG of Vienna in Austria in 1991, Formerly Known as Steyr-Daimler-Punch AG, which also has truck building works in Turkey (MAN-A.S.) and India (Shakti-MAN).[6]
On 18 September 2006, MAN made a €10.3 billion offer for a takeover of Scania AB, one of the leading truck and bus companies in Sweden. MAN AG bought 15.6% of the voting shares in Scania AB. Volkswagen Group, Scania's largest shareholder, acquired a stake of 20% of MAN, and has since raised that stake to 29%. VW has a majority stake in Scania, owning over 51% of the company. It was widely expected that the two truck manufacturers would be combined, and that a combined MAN-Scania would also absorb Volkswagen's Brazilian heavy truck operations. A more recent interview with VW CEO Martin Winterkorn stated that VW has no immediate plans to attempt to merge Scania and MAN, but he would also not rule out a MAN takeover of VW's Brazilian heavy truck.[7] It was also originally speculated that Volkswagen intended to acquire MAN Truck and Bus division by the end of 2008.[8] This has not been officially confirmed and there has been no current action by VW in attempting to acquire MAN shares, or to buy the company's commercial vehicle division.
In 2008, MAN celebrates the 250th anniversary of the company, with a gala event in Munich, exhibitions in the Deutsches Museum in Munich, the corporate museum in Augsburg, and the Rheinisches Industriemuseum in Oberhausen. One highlight should be an "Oldtimer Truck Convoy" on a historical route from Munich over Augsburg to Nuremberg in June.
Divisions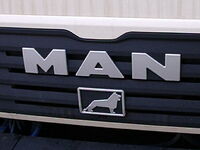 MAN Nutzfahrzeuge AG MAN-mn.com (roughly 50% of overall sales; 88% of division sales come from European market)
Commercial vehicles: trucks (61% of group sales), aftermarket parts and service (18%), buses (14%), engines and components (7%)
Turbomachines: compressors and turbines for process industry and power generation worldwide; used in oil & natural gas, refinery, chemical & petrochemical, fertilizers, industrial gases, iron & steel processing and mining, power generation applications.
Industrial services: projecting, delivery, assembly, including steel-based structures
Vehicle Transmissions, Industrial Gear Units, Marine Gear Units, Slide Bearings, Couplings
Products - MAN Nutzfahrzeuge AG division
Trucks and military vehicles
LE Series
FE Series
HX Series - military
SX Series - military
MAN TGL Series, with hybrid trucks ( MAN TGL OPTISTRANG and TGL EDA).
TGM Series
TGA Series
TGX/S Series
ERF - a UK only brand, bought from Western Star (which soon after became part of Freightliner LLC) in 2000
Hazmat tender
Angloco foam tender
Command unit
Buses
See Wikipedia:MAN AG Buses for details (outside scope of this wiki)
MAN Lion's City|Lion's City city/interurban bus
MAN Lion's Classic|Lion's Classic city/interurban bus
MAN Lion's Regio|Lion's Regio interurban bus
Americana city bus
NM 223/283
NL/ÜL 313/363 F (LF)
NL 202/232 (LF)
NL 262 R
NG 263/313/363 F (LF)
ND 243 F
10.225 FOCL midi coach
11.190 HOCL midi (LF)
12.220 HOCL
14.280 HOCL
12.220 HOCL-NL
MAN 14.220 HOCL-NL
16.200
18.220/ 260/ 280 HOCL-SL
18.220/ 260/ 280/ 310/ 360 HOCL-SÜ
MAN 18.220/ 240/ 260/ 310 HOCL-NL (LF)
18.260/ 310/ 360/ 410/ 460 HOCL
MAN 24.310|24.310/ 360/ 410/ 460 HOCLN
28.310 HGOCL
Electrodynamic moving-off element
MAN EDA concept is examining the stop-start automatic system, the requirement-specific electric drive for secondary units, the implementation of the clutch function, the synchronization of gear changes with the aid of an electrodynamic moving-off element (EDA) and the booster function for extra power.
Two distribution vehicles with parallel hybrid drives are currently being tested: one vehicle features a starter-alternator (MAN TGL OPTISTRANG) integrated in the clutch housing, the other vehicle, an MAN TGL EDA, is equipped with an electrodynamic moving-off element (EDA) developed together with ZF Gearboxes and Transmission components.
The TGL EDA combines the fuel-saving potential of a hybrid drive with the advantages of a wear-free moving-off element. One of the main benefits of the EDA is its compactness; all components can be accommodated in the standard clutch housing. The diesel engine and the electric motor can either be used simultaneously or alternatively. On stopping both the diesel engine and the electric motor switch off thus the TGL EDA does not use any fuel nor does it produce any emissions or noise. As soon as the driver puts the vehicle in gear, the electric motor starts the diesel engine and simultaneously sets the vehicle in motion.
See also
ERF - UK manufacturer taken over by MAN
Ultracap
References
External links