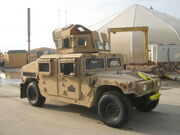 The M1151 Enhanced Armament Carrier is an improved version of the standard High Mobility Multipurpose Wheeled Vehicle (HMMWV) designed to replace the M1025A2 utilized by the United States Armed Forces as a response to United States Central Command requirements.
M1152 Enhanced Troop/Cargo/Shelter Carrier
Edit
Otherwise identical to the M1151, the M1152 is a two-seat or four-seat style variant designed to replace the M1097A2 Heavy HMMWV and M1113 Expanded Capacity Vehicle.[1]
The M1151 HMMWV has a heavier chassis and improved engine that allows for the addition and removal of add-on armor protection. It is built on an Expanded Capacity Vehicle chassis allowing for more passengers or for carrying additional supplies (up to 2,300 lbs). The M1151 supports the US Army's Modularity and Brigade Combat Team units by implementing elements of the Future Combat Systems network.
Contracts
Edit
AM General L.L.C., South Bend, Indiana, USA, was awarded a $59,963,442 contract for 814 M1152s and 31 M1151s and a $19,617,847 contract for purchase and installation of armor kits for the M1151.
References
Edit
External links
Edit
"M1151 Enhanced Armament Carrier". globalsecurity.org. Retrieved on 2008-06-24.
Subsidiaries
Products
Related
Community content is available under
CC-BY-SA
unless otherwise noted.