Locomotion No. 1 (originally named Active) is an early British steam locomotive built for the Stockton and Darlington Railway. Built by George and Robert Stephenson's company Robert Stephenson and Company in 1825. It was the first one to run on a passenger carrying line.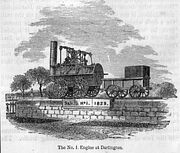 Locomotion used all the improvements that Stephenson had pioneered in the Killingworth locomotives. It used high-pressure steam from a centre-flue boiler, with a steam-blast in the chimney, to drive two vertical cylinders, enclosed within the boiler. A pair of yokes above them transmitted the power downwards, through pairs of connecting rods. It made use of a loose eccentric valve gear,[3] and was one of the first locomotives to use coupling rods rather than chains or gears to link its 0-4-0 driving wheels together.
The locomotive is historically important as the first one to run on a passenger carrying line,[4] rather than for the innovations in its design. It hauled the first train on the Stockton and Darlington Railway on 27 September 1825.
In 1828 the boiler exploded, killing the driver. With advances in design such as those incorporated into Stephenson's Rocket, Locomotion became obsolete very quickly. It was rebuilt and remained in service until 1841 when it was turned into a stationary engine.
Preservation
Edit
In 1857 it was preserved. Locomotion No. 1 was on display in Alfred Kitching's workshop near Hopetown Carriage Works from 1857 to the 1880s. From 1892 to 1975 it was on display along with Derwent on one of the platforms at Darlington's main station, Bank Top. The locomotive is now on display at the Darlington Railway Centre and Museum, located in the same building as Darlington's North Road station, on long-term loan from the National Railway Museum. It is now part of the National Collection.
There is a working replica of the locomotive at Beamish Museum.[5]
References
Edit
External links
Edit

Coordinates: 54°32′10″N 1°33′18″W / 54.536°N 1.555°W / 54.536; -1.555
Community content is available under
CC-BY-SA
unless otherwise noted.