In 1982, the Lo Giudice-Pace company (Lo Giudice Pace S RL - CUIT 30-61523034-7) acquired the IAME Rastrojero production lags and started to assemble them in a plant established in Villa Gobernador Gálvez, Santa Fe, Argentina. After the cessation of production of IAME in 1980, a legendary product of Argentine industry disappeared from the market, as was the Rastrojero Diesel and its older brother the Frontalito truck.
Re-born of Rastrojero by LGP
Edit
In 1983 Rastrojero reappears on the streets in a pick-up version, this time under the LGP Diesel brand, it was not the last version produced by the state industry but the previous one that had a double grill on its front. The box was made of wood and on the back it identified with the LGP legend. But the venture soon faced serious economic and legal problems - the ending of the brand and the parent companies took three years - and ended up closing its doors in 1986. During that time, about 400 units of the pick up and "frontito" models were produced, at a rate of around 15 monthly units.
Massey Ferguson Rastrojero
Edit
The Rastrojero would have to wait until 1989 to see his last attempt at resurrection, this time in the hands of tractor manufacturer Massey Ferguson, who took over both the pickup and the front, by their subsidiary company Imetal SA.
Resurrection
Edit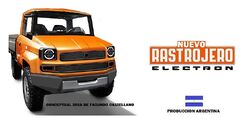 In 2014 the Argentine businessman Carlos Ptaschne accepted the challenge of creating a new version of the Rastrojero, this time electric. Currently the project is in full progress.
For 2017 the brand was registered, although it was registered but abandoned for years. Thanks to a series of necessary legal procedures, the use permit was obtained. It was reported that the vehicle will be electric, will have a lithium battery and will have a range of 300 kilometers. You can load up to one ton and the rails of the cargo area will be foldable to take the form of a table and stools. It is estimated that they will be able to manufacture between 30 and 35 daily units. The project contemplates installing the factory at some point of Avenida Circunvalación de Rosario taking advantage of all the automivilistica industry installed there. 7 In March of that same year, new details were announced such as increased autonomy to 400 kilometers, shift lever at the wheel and its speed will not exceed 115 km / h. While the production is estimated in the year 2025. It was reported that all previous technical and market studies are completed, and the conceptualization of the chassis is being finalized.[1]
References
Edit
External Links
Edit

Community content is available under
CC-BY-SA
unless otherwise noted.